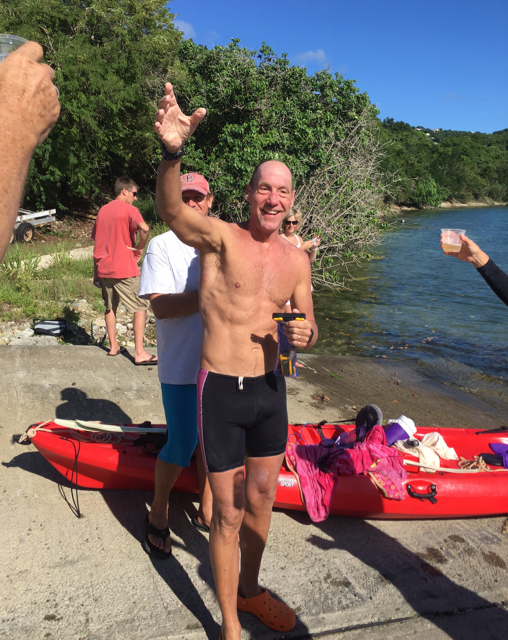 Jeff Miller has done what no one has done before. The 55-year-old fisheries biologist with the Virgin Islands National Park has swum non-stop around St. John, a distance of almost 23 miles.
Estimating that the swim would take 13 to 16 hours – more hours than there are of daylight at this time of year – Miller began his swim at the seaplane ramp in Cruz Bay, St. John, under the moonlight at 3 a.m. Saturday.
He surprised everyone by completing the swim in 12.5 hours, maintaining an average rate of almost two miles an hour and establishing a record that will be hard to beat.
Miller was supported by his wife, Jude Woodcock, and a team of volunteers who accompanied him on kayaks and in powerboats for safety reasons.
For the swim to go down in official record books, Miller followed the regulations set by the Marathon Swimmers Federation. That means that he could only wear swim trunks, goggles, and a swim cap – no mask, snorkel and fins, and no thermal or sun protection such as a wetsuit.
He was not allowed to touch anyone or anything for the duration of the swim, so the team tied a rope to a bucket and floated drinks, snacks and sunscreen over to him. Miller paused to drink an energy drink every hour and ate only some nutritional gel and a few grapes.
"Because you're on your stomach, it's hard to digest food," he said
Miller had been dreaming about the swim for years, and started to train seriously within the last year. He has swum the route before in two stages, but never completed the entire swim at once. Most of the route is familiar to him because of his 20 years of work with the Park Service.
"It's fun to see the stuff that's part of my life and the work that I do," he said.
Nothing in the water scares him very much. He's encountered sharks of all types and even killer whales, but he finds them either indifferent to him or mildly curious.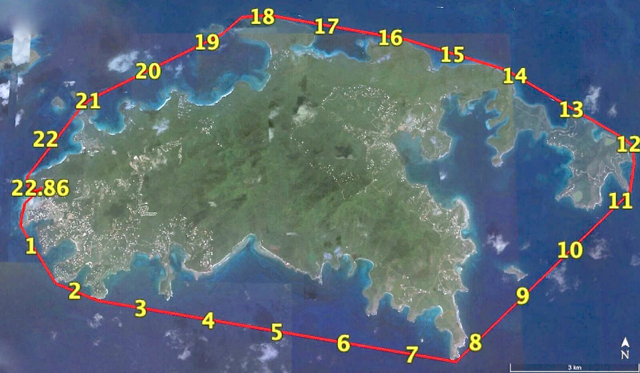 "I'm the alien in their environment," he said.
The challenge really comes in maintaining his focus.
"It's an enormous mental game," he said. "Thirteen hours, that's a long time to be in the water thinking your own thoughts. I try to be in the moment, but keep looking forward."
Miller's pretty modest about it, but he's got a solid pedigree as an athlete. In 1987 he set a record that stood for 23 years, swimming between two of the Cayman Islands. He completed an Ironman Triathlon 25 years ago, and logged almost 7,000 dives since being certified as a scuba diver at the age of 15.
Long distance swimming is relatively easy, he said.
"It's fun not to ache so much after something so long and challenging."
Miller said the swim is actually more exhausting for the kayakers who accompany him and brave the swells as they paddle slowly alongside.
He planned his circuit so that he passed Cruz Bay before there was any morning boat traffic, and headed counterclockwise up the south shore towards Ram Head. While it was still dark, he trailed a chemical glow stick so the support team could keep track of him. Months of studying the winds and currents paid off. He predicted correctly that the current would be going with him but had to fight waves on the south side of St. John.
Miller stayed about a mile offshore and did not swim into any coves or bays. The open water as he crossed Coral Bay was challenging, but as he hit the half way point and turned back towards Cruz Bay, the winds from a passing squall gave him a push.
Well wishers planning to join the flotilla on paddleboards and kayaks had to revise their plans as he made such good time. The online tracking system he planned to use failed, but the boat crew kept his followers informed of his whereabouts through social media.
A group of about 20 were there at the seaplane ramp to welcome him back, but most had to catch up with him as he celebrated an hour later at the Tap Room in Cruz Bay. His team had prepared a "throne" for him, a lounge chair covered with lots of padding, where he reclined and applied ice packs to sore muscles and chafed skin.
Miller wanted the swim to be about more than just his attempt to do something cool and set a record, so he set up a fundraising page on Team River Runner, a group that sponsors trips to St. John for wounded veterans. He wrote on his fundraising page:
"I have worked in marine science for over 30 years, and I've seen amazing things in the water. But one of the most amazing things I've seen was not during a dive, but during the annual Beach to Beach Power Swim sponsored by the Friends of VI National Park here on St. John.
"In 2015, I stood with many others in amazement as Timothy Payne, one of the Team River Runner veterans without the use of his legs, swam the 3.5 mile long course. Since that time, I've met more of the TRR vets and I am amazed by their energy and outlook. I'd like to help more of these amazing veterans travel to and experience the beauty and people of St. John.
"Additionally, like many of you, my life has been affected by loved-ones with cancer. Funds raised and administered by the St. John Cancer Fund go directly to help those in this island community who are battling cancer. … All the funds raised on this page will be split between the Team River Runner and the St. John Cancer Fund."
Although the swim is over, Miller is still accepting donations on behalf of these two organizations. Those who want to donate can follow the link below to his fundraising page.