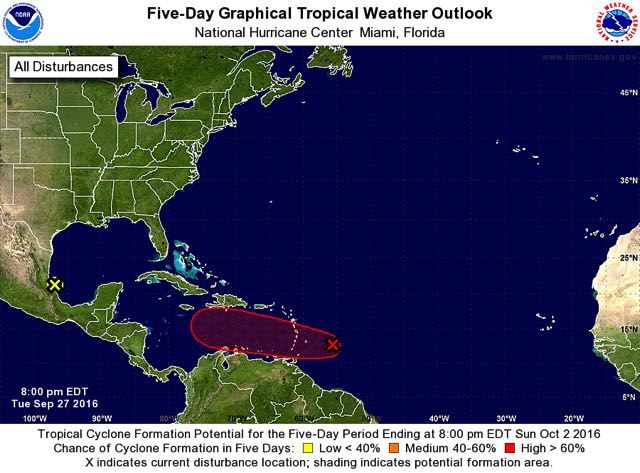 A strong tropical wave approaching the Caribbean neared tropical storm strength Tuesday and is likely to continue organizing, the National Hurricane Center predicted in its 8 p.m. update.
The wave designated Invest 97L was about 250 miles east of Barbados as of Tuesday evening and continuing to move west to west-northwest at 15 to 20 mph, according to the NHC.
The disturbance is producing winds to near tropical storm force, and the associated thunderstorm activity continues to show signs of organization. Conditions are expected to be favorable for development and a tropical depression or tropical storm is likely to form tonight or Wednesday.
The center gave the storm a 90 percent chance of further development within the next 48 hours.
The system is expected to pass over the Windward Islands on Wednesday morning, and move over the
southeastern Caribbean Sea late Wednesday and Thursday.
As of Tuesday night it was not forecast to veer in a more northerly direction towards the Virgin Islands and is not expected to pose a direct threat to the territory. However, its path is by no means clear, and even if 97L bypasses the USVI, it could still bring rain, gusty winds and rough seas.
An Air Force Reserve reconnaissance aircraft is scheduled to investigate the system again on Wednesday morning.
The NHC urged the Windward and southern Leeward Islands – Bonaire, Curacao, Aruba – and along the northern coast of South America to monitor the system's progress
"Regardless of whether the system is a tropical wave or a tropical cyclone, heavy rains and tropical storm-force winds in squalls are expected to spread over the Windward Islands and portions of the southern Leeward Islands," beginning tonight and continuing through Wednesday, the NHC warned.