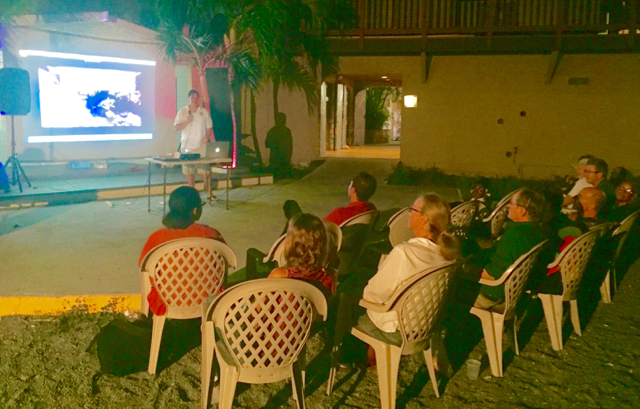 Passersby who strolled the Christiansted boardwalk on Friday evening know a little more about ciguatera fish poisoning, even if they didn't stop to hear the entire outdoor talk being given by a leading expert on the toxic algae.
Tyler Smith, coral reef ecologist and associate research professor of marine science at the University of the Virgin Islands, taught a Ciguatera 101 class to a couple of dozen community members in the small amphitheater near the harbor.
This talk marks the first event in the UVI Science Cafe series, which runs through the school year. There will be nine talks, four each on St. Croix and St. Thomas and one at the end of October on St. John.
"Science Cafes are an initiative to help us take research to the community in informal, accessible settings," said Joey DeMarco, the outreach education and citizen science coordinator for the Virgin Islands Experimental Program to Stimulate Competitive Research (VI-EPSCoR.)
"We want to help make science a conversation," DeMarco said, adding that the event series is in its second year.
Smith explained that ciguatera toxin is a microscopic tropical algae that fish consume as they're grazing on coral reefs. The toxin builds up in other fish as they eat smaller ones. Humans can be poisoned when they eat those bigger fish.
In two to six hours of ingesting fish carrying the toxin, a person can experience nausea, vomiting and cramps. After 18 hours neurological effects set in, the most telling of which is temperature reversal – when something hot feels cold and vice versa, Smith explained.
The toxin's effects can be long lasting too. Without warning, symptoms can recur when more ciguatera-laden fish is eaten. And there's no known effective treatment for the poisoning.
As a global issue, about 400 million are exposed to the toxin worldwide, but the Virgin Islands are a particular hotspot for the toxin for reasons that can be guessed at but remain largely unknown. While it may seem like ciguatera is a relatively new issue, there are reports of ciguatera poisoning in the Caribbean as early as the 1500s.
According to Smith, the Virgin Islands are the ideal place to study ciguatera poisoning due to its high incidence rate of poisoning. The toxin is more common in fish species on the south side of St. Thomas and St. John than it is around all of St. Croix.
Studies have correlated ciguatera outbreaks with coral reef mortality, Smith explained, so scientists think ciguatera "might be an indicator of coral reef health."
The toxin's prevalence on the south sides of St. Thomas and St. John could also be related to the concept of reef disturbance. Because the southern waters around the two islands are relatively calm, they don't get flushed out regularly and the toxin can keep building up. There's more wave action around St. Croix.
To engage audience members and test their knowledge, Smith showed photos of seven types of fish that are commonly found in the territory's waters and asked them to rank their danger level of carrying ciguatera. The winner of the trivia challenge received a lionfish cookbook.
Creole wrasse, queen angel fish, and yellowtail snapper are all low-level risks while school master snapper, lionfish and graysby are a mid-level threat.
Smith said barracuda are the highest level of risk, because of the amount of other fish they eat, allowing the toxin to build up. Fish that feed on plankton have less exposure.
For the last 13 years, VI-EPSCoR funding has helped build the university's research infrastructure, bolstering its capacity to conduct cutting edge scientific studies.
Nick Drayton, assistant director of VI-EPSCoR, said "Our research scientists are transforming how we investigate coral reef ecology."