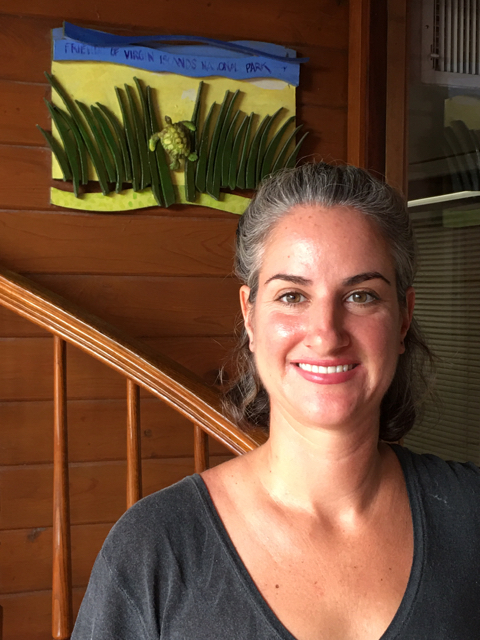 The words of the Persian poet Rumi, "Let what you love be what you do," may be a cliche, but they clearly apply to Tonia Lovejoy, the new development director of Friends of the Virgin Islands National Park.
In 2015, Lovejoy landed on the shores of St. John doing what she loves best, sailing around the world and teaching environmental awareness through technology. She was aboard the vessel Sea Dragon, reporting to classrooms on environmental issues for the Beautiful Nation Project, a free social network for educators, when she first came to Cruz Bay.
Lovejoy and four colleagues founded the Beautiful Nation Project in 2010 to bring global content into classrooms. The project fundraises to sponsor sailing expeditions between New York and Hawaii. As they travel, the on-board team collaborates with those on land to collect data, provide digital media stories for students, share tools and resources for measuring water quality, and develop classroom connections for project-based learning.
Lovejoy was on the final leg of one of these voyages when she first came to Cruz Bay.
"The first day on St. John I walked the Lind Point Trail to Solomon Beach, and I came back and said, 'I think this would be a really great place to live,'" she said.
In January 2015, she returned to St. John with her partner, Vince Altiero, on their 25-foot boat sailboat and dropped anchor in Cruz Bay. As a holder of a 50-ton vessel master's license, she easily found work as a captain in the charter boat industry.
But she wanted to work on her true passion – educating people about marine debris, what the Plastic Pollution Coalition estimates as 46,000 pieces of plastic per square mile in our oceans.
"This debris, whether it's a plastic water bottle, a little bit of a plastic bag or even part of a flip-flop, is washed down through the water system onto coastal beaches, or maybe it's still floating out in the ocean," Lovejoy said in one of her videos. (See Related Links below.)
"Plastics have the average lifespan of a thousand years, and plastic doesn't biodegrade; it photodegrades, breaking into smaller and smaller pieces," she explained.
The plastic particles, which look like food, are consumed by marine creatures and move up through the food chain. Ultimately, plastic is winding up in the food on our dinner plates.
"When you start comparing the data of plastic pollution in other countries … you'll find beaches covered in trash, and this is a serious problem. The good news is that we absolutely have the tools to solve the problem," Lovejoy said.
Within a few months of her arrival, Lovejoy set up a booth for an Earth Day fair sponsored by the Friends of the Virgin Islands National Park. She volunteered to teach a six-week course on Global Citizenship for sixth graders at the Gifft Hill School. She and Erin Lieb founded a group called Get Trashed, which organizes volunteers to pick up trash at different locations throughout St. John. She taught her guests on the charter boats about the dangers of toxic sunscreens and plastic pollution.
"I wanted to be in the community working for positive change," she said. So when she learned that there was an opening for a development director at the Friends, Lovejoy knew she would have to apply, and within a matter of weeks she was working in the Friends' air-conditioned office instead of the sunny, salty cockpit of a sailboat.
As the development director, Lovejoy's role is to raise funds to support the many programs sponsored by the Friends, including the mooring system for pleasure boats, the summer swim program, the eco-camps at the Virgin Islands Environmental Resource Station, and programs to map, collect, and record data on indigenous species, archeological findings, and cultural resources.
"The Friends shares information about all the things the Virgin Islands National Park offers an all the ways we can protect the resources," Lovejoy said.
In order to take the job with the park, Lovejoy had to give up on one phase of a plan that seems like fate in its most visible form. Some months ago, Lovejoy received a Facebook message from a stranger who said he was the owner of a boat her father had built shortly before she was born.
Lovejoy's father, who was in the Navy, had purchased the hull, mast, and engine of a 36-foot sailboat. After completing the interior and rigging, he sailed the boat to his post at Guantanamo Bay in Cuba. He and his family, including baby Tonia, moved aboard and lived a life quite different from one that is possible now at Guantanamo Bay, Lovejoy said.
As a career Navy man, Lovejoy's father was re-posted every two years to new locations, and eventually the boat was sold, then resold twice more. It was the fourth owner who contacted Lovejoy and said he thought she should buy the boat from him, making her an offer she couldn't refuse.
The plan was to sail the boat down with her father, who now lives on a boat in Florida, when the job came through at Friends of the Park. They decided to wait till the end of hurricane season, a wise move as Hurricane Matthew "creamed" Hilton Head, South Carolina, where the boat is moored. Fortunately, her boat suffered only minor damage.
"We were super lucky," she said.
Now the plan has changed. Her father and brother will sail the boat down while Lovejoy uses her practical knowledge and innate optimism to enhance the goals of the Friends.
"I've only been on the job two weeks, so I still have a lot to learn," Lovejoy said.
But she does have a vision for addressing the environmental problems of the Virgin Islands.
"We think of our problems as insular, but the problems we face are bigger than us. We can look at other island communities and see how they struggle to meet these challenges."