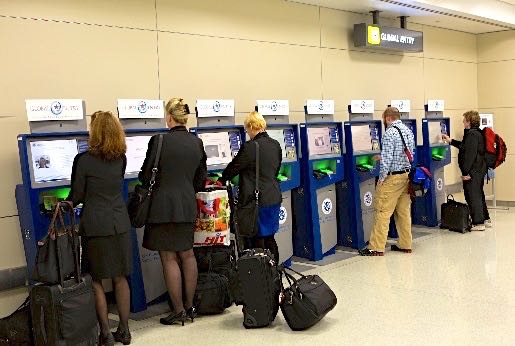 Last week 47 Virgin Islanders took advantage of the first Global Entry enrollment event held by the U.S. Customs and Border Protection field operations on Saint Thomas at the Cyril E. King Airport.
Global Entry is a program that strives to make international travel more convenient by allowing passengers to use kiosks for Customs processing upon their return to the U.S. instead of waiting in line. Travelers using the Global Entry program are able to use the status reentering the U.S. by land and air.
Assistant Area Port Director Todd Bellew said, "We are pleased with the turnout for the first Global Entry Mobile Enrollment conducted here in the U.S. Virgin Islands."
"The mobile enrollment provided a convenient option for U.S. Virgin Islands residents and visitors interested in applying for Global Entry to complete their application process without having to travel elsewhere for their interview," Bellew continued.
To apply for Global Entry, the first step is to fill out an online application on the CBP website. Conditional approval is given to low-risk travelers who must then set up an in-person interview at a CBP office, the closest of which is in San Juan.
The interviews only take about 15 minutes, but traveling to San Juan or elsewhere can be costly and takes a great deal of planning. Unexpected occurrences can also cause appointments to be canceled without notice, such as when Puerto Rico experienced islandwide power outages last month that closed the Global Entry enrollment office for a day at the airport in San Juan.
TSA Pre-Check benefits are an added bonus of Global entry. At participating airports, Pre-Check status allows members to go through a faster TSA security line without having to remove shoes, laptops, liquids, belts and light jackets.
According to a CBP press statement, participants were pleased to have the opportunity to finish their applications here rather than travel elsewhere for the in-person interview and hope the service continues given the convenience it offers.
The San Juan CPB field office held the signup event and in the future plans to setup a remote enrollment center in the Virgin Islands, so there will be more regularly scheduled local enrollment events.