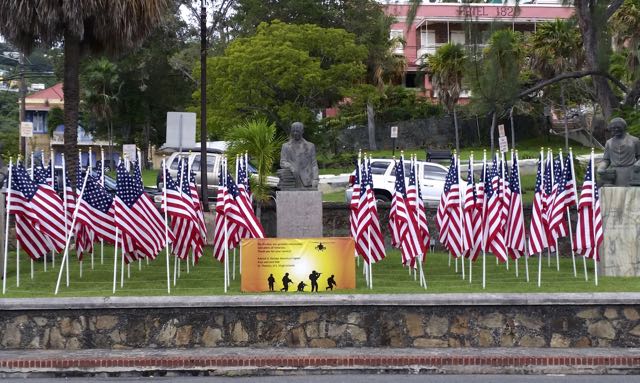 Unofficial general election results Tuesday showed some heavy wins from incumbents in the St. Thomas-St. John Senate race, along with three additions. Running unopposed, Delegate to Congress Stacey Plaskett also regained her spot, while newcomer Brian Smith, also unopposed, gained the senator-at-large seat.
The talk on St. Croix leading up to Election Day by the political cognizant was what standing senator would be unseated by Alicia "Chucky" Hansen.
First results indicate that it will be Sen. Kenneth L. Gittens. The other standing senators have hung on to their seats.
Gittens was in the parking lot outside the Board of Elections as results were posted. At the end of the race he was 70 votes behind Neville James, who had 4,100 votes and was the seventh top vote getter. Gittens told the Source, "Whatever the outcome, I will be satisfied."
According to the unofficial numbers for the St. Thomas-St. John district's Senate race, the top vote getter for another year was sitting Sen. Marvin Blyden, who was the only candidate to break 5,500 votes. Blyden rounded out the night with 6,186 votes, or 11.5 percent of those counted overall.
"I feel blessed and highly favored," Blyden said after the unofficial numbers were printed in the St. Thomas-St. John Elections System offices around 9:30 p.m. "I know I've never stopped working for the past two years. From the moment I got in, I hit the ground running and I've been running ever since."
Blyden's lead was steady throughout the night, from the time the first set of results came in from Oswald Harris Court around 7:30 p.m. Speaking afterward, Blyden added that during his first term, it took him time to get used to the process, but receiving "constructive criticism" from and working with voters has helped him grow.
"I think I have been able to adjust well based on the feedback I've gotten," he said. "It helped me grow and once I also got used to the process, I adjusted well, I worked well and I look forward to still improving."
Blyden said that the territory's financial issues, particularly those surrounding the Government Employees Retirement System, are top on his priority list going back in, along with educational and youth initiatives.
Sitting Sen. Janette Millin Young slid into the second spot Tuesday with 5,030 votes, followed by Sen. Tregenza Roach with 4,813 votes; Sen. Myron Jackson with 4,200 votes; Sen. Jean Forde with 4,023 votes; newcomer Kevin Rodriguez with 3,929 votes; and Dwayne DeGraff with 3,631 votes.
Both DeGraff and Rodriguez have won on their second bid for the Senate and, speaking after the results were announced Tuesday, Rodriguez attributed his success this time around to being able to get out into the community and talk to residents. Both candidates launched large social media campaigns over the last few months and have been out consistently canvassing the district's neighborhoods.
"I did run in 2000, but I think this time around I really had the opportunity to be out there, talking to people and hearing their concerns," Rodriguez said. "And when you hear, for example, from a mother that has to work two jobs to feed her children, or a senior that has to choose between paying for rent or for medication, or from government employees that have worked 20 or 30 years and are now facing a significant reduction, you just have to take action."
Rodriguez said that bringing in new revenue streams, helping to plug GERS's $1.7 billion deficit and creating programs that help young men in the community find "gainful employment" are his top priorities.
In eighth place in the district, with just a few votes difference, is Janelle Sarauw with 3,631 votes.
Newcomer Smith won the senator-at-large race after picking up nearly 64 percent, or 1,975, of all votes cast. While Smith was unopposed, St. John resident Stephen Payne has been waging a write-in campaign that, according to the numbers, brought in 1,132 votes.
The top vote getter in the St. Croix Senate race was Kurt Vialet. He was celebrating with supporters in the parking lot between the Board of Elections office and the Water and Power Authority's office. He told the Source that he owed his success to his team, which was "very organized and strategic." Secondly, he added, "The residents know that I worked on their agenda and they rewarded me with their confidence to continue the job."
Vialet said his agenda would be to achieve at least parity for St. Croix with St. Thomas. He said that St. Croix needs more because of its economic situation. His goal would be to get the big island's "economic engine running again."
Novelle Francis was second with 5,126 votes, about 500 votes behind Vialet. He pointed out to the Source that in the four elections (primary and general elections) he has consistently finished second. He contributed his success foremost to his dedicated staff and supporters.
"My constituents showed they were satisfied with the job I have been doing, moving the St. Croix agenda forward." Francis pointed to his advocacy for a "free-trade zone" from Limetree west to the industrial park. He said he anticipates that such a zone could create 1,000 jobs.
Francis envisioned the zone being home to light industrial and manufacturing concerns. "We could export into the global market products, something we have not been able to do so far."
He also mentioned one of the pillars of his campaign, "breaking the pipeline from schools to prison" that many youths seem to be caught in. He said, "A youth with a bright future does not follow a dark path."
District board member Barbara Jackson McIntosh was also in the crowd at the parking lot. She said, "It went well. No issues at all to report."
The St. Croix Senate race numbers as reported at 9:30 p.m. Tuesday: Vialet, 5,667; Francis, 5,126; Hansen, 4,513; Samuel Sanes, 4,447; Positive Nelson, 4,221; Nereida "Nellie" Rivera-O'Reilly, 4,170; Neville James, 4,100; Gittens, 4,030; Norman Jn Baptiste, 1726; Robert Moorhead, 1,647; Patricia James, 1,567; Danny Emmanuel, 991; and Duane Howell, 770.
Elections System officials said they will be moving this week to begin counting early voting, absentee and provisional ballots but did not have the numbers on how many of those ballots were outstanding as of 10 p.m.
Other winners Tuesday include:
Board of Elections, St. Thomas:
– Arturo Watlington Jr. with 2,135 votes
– Lydia Hendricks with 1,938 votes
– Maurice Donovan with 1,831 votes
Board of Elections, St. John:
– Alecia M. Wells with 2,638 votes
Board of Education, At Large:
– James Provost with 1,938 votes
Board of Education, St. Thomas-St. John
– Ara C. Lockhart with 2,161 votes
– Kyza A. Callwood with 2,563 votes
Board of Elections, St. Croix:
– Glenn Webster, 2,497;
– Lisa Harris Moorehead, 2,836;
– Lillian Belardo de O'Neal, 3,258
– Epiphane Joseph, 1,775 votes.
The results are not certified and reportedly 170 provisional and walk-in ballots still have to be counted on St. Croix.