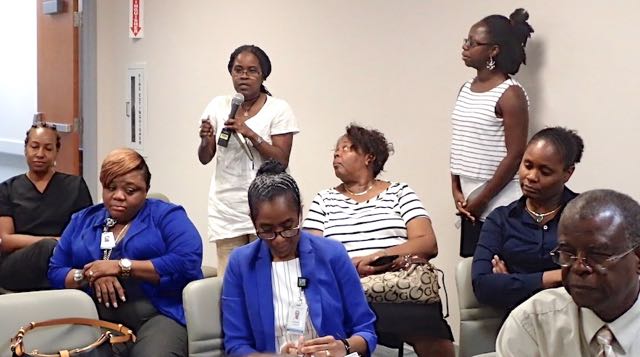 Upper management from the Gov. Juan Luis Hospital told an audience Tuesday night during a town hall meeting about efforts to improve services by hiring more medical staff and reopening the mental health unit. Hospital representatives also responded to comments and complaints from the more than 30 observers.
Physicians, nurses and nurse practitioners are needed, especially in the emergency room, according to Richard Evangelista, acting chief executive officer. An active recruitment drive has been underway for the last few months, Evangelista said.
He didn't say if anyone has been hired although there have been several interviews.
Evangelista said it has been especially difficult to hire medical staff because the physician salaries offered by JFL are low compared to stateside wages. However, due to recent government appropriations, physicians will be offered a more competitive $300,000 salary per year, he added.
Evangelista asked the audience to spread the word about the openings at the hospital.
Historically JFL's emergency room has struggled to take care of patients within a reasonable period of time and hours can be spent in the waiting area, but thanks to a donor, Evangelista said, the waiting area is scheduled for a renovation. When staffing is sufficient, physician's assistants will treat the less critical cases thus speeding up treatments.
The JFL mental health unit was closed in 2012 and psychiatric patients have had to seek treatment off-island since then. Currently long-term patients are in facilities in California, Georgia, Puerto Rico and Texas at a cost of $5 million a year, according to Sen. Kurt Vialet, chairman of the Legislative Health, Hospital and Human Services committee, who spoke during the meeting at the V.I. Cardiac Center.
Evangelista said work will begin soon to reopen the ward since $1 million was just received from the Legislature. Until its completion, tele-psychiatry with Frederiksted Health Care Inc. and the V.I. Health Department is being arranged. Additionally six beds near the emergency department can be put to use as soon as staff is hired.
Evangelista reminded the public that the hospital is an acute care not a long-term care facility.
"We stabilize you but don't house you," he explained.
Vialet pointed out that several questions from the audience did not involve areas over which the hospital has control, adding that issues about elder care should be addressed to the Department of Human Services and mental health issues are handled by the Department of Health.
Evangelista added the hospital will meet with Health, Human Services and Frederiksted Health to discuss housing for the elderly.
Vialet said the V.I. Government plans to purchase Sea View Nursing Home on St. Thomas and to expand the Herbert Grigg Home for the Aged on St. Croix. Arrangements are also in the works to provide housing for mentally ill homeless residents, he said.
Several members of the audience criticized service at JFL. A former hospital employee, who did not want to give her name, said she had had two or three bad experiences but the most recent visit was a "very positive experience."
Barbara James Petersen complained that her granddaughter with asthma was forced to take turns and share oxygen with another asthmatic patient for hours.
Evangelista responded that staff is undergoing customer service training and that patient advocates are available to register complaints and compliments. When appropriate, disciplinary action will be taken, he added.
Questions and comments from the audience included suggestions that hospital staff communicate about a shortage of staff to patients in the waiting room and better explain the charges on a bill.
Evangelista said that often people are quick to complain but he requested positive experiences also be shared to improve staff morale.
"We're in this together. This is a community hospital," Evangelista said.