p>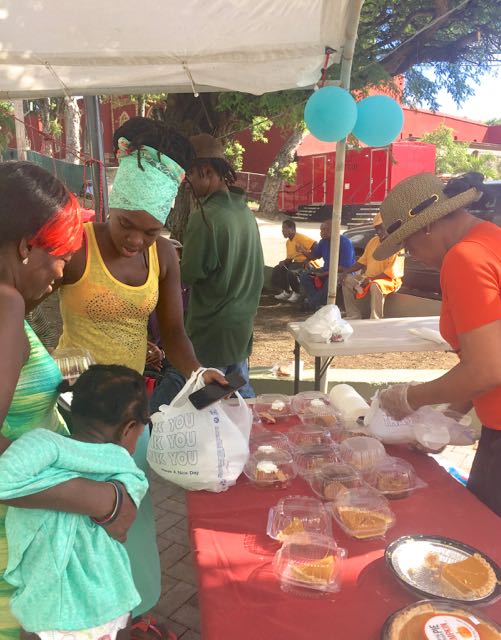 After several days of heavy rains, clear skies returned to St. Thomas on Thursday just in time for the community to come together to celebrate the Thanksgiving holiday.
Outside Ulla F. Muller Elementary School in Charlotte Amalie, volunteers served all the traditional Thanksgiving fixings and then some, including turkey, ham, roast pork, rice, macaroni and cheese, and a number of desserts.
Rae Rouse of Caribe Tradewinds Lodge 7, a service organization that volunteers at the annual meal, said the event has been going on for more than 20 years.
"We serve everybody at this meal, including the less fortunate and people who are working on Thanksgiving and don't have time to cook or who maybe don't want to cook because they could have recently lost a loved one," explained Rouse.
Sponsored by the West Indies Co. Ltd., Budget Car Rental and Caribbean Food Supply, among others, more than 800 people were served throughout the day.
The event welcomed a special guest this year from the Prince Hall Grand Lodge of the Caribbean and Jurisdiction, which is the service organization that oversees the Caribe Tradewinds group. Firebrace, the organizations grandmaster, came all the way from Barbados to volunteer and to meet other Lodge members.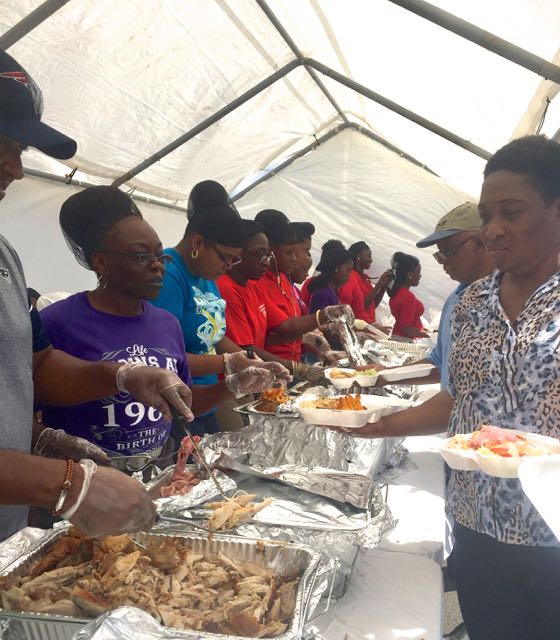 "I see brothers and sisters and friends that have all come together for a good cause – not all of us are in a position to feed ourselves," Firebrace said.
Tisha Alexander, who volunteered on behalf of the service organization Ladies of the Labyrinth, cooked so much food that she said she lost her appetite, as many do after spending too much time in the kitchen.
"Last year I came as a guest and this year I volunteered, because this is what we're supposed to do," Alexander said. "We're supposed to help others, especially on a day we're giving thanks."
Across town at the Salvation Army, more than 200 meals were served to the needy from the surrounding neighborhood.
According to Mary Ann Brown, donor relations director for the Salvation Army on St. Thomas, those who came for the meal were impressed by how good the turkey and ham turned out.
Alpine Energy donated the meats, while the Frenchman's Reef and Morning Star Marriott Beach Resort and the Ritz-Carlton of St. Thomas cooked them.
Like the abundant spread of food, Brown said volunteers were plentiful and included students from Addelita Cancryn Junior High School, Rotary Club of St. Thomas, Rotary Sunrise, Rotaract Club of the University of the Virgin Islands, Rotaract Club of St. Thomas II, employees from Tickles Dockside Pub, a family of four vacationing from Seattle and Jason Charles from Alpine Energy.
Julien Smith from Rotaract Club of St. Thomas II said that he loves having the opportunity to contribute to something greater than himself. "I believe in service before self," he said.
Down by the Charlotte Amalie waterfront at Emancipation Garden, community members were relaxing after eating their meals as the afternoon sun wore on.
Francine Penn-Scipio, who founded the event 20 years ago, said that after working in the mental healthcare sector, she was inspired to give back to those struggling with hunger in the community, since they often have mental health issues as well.
"Events like these are needed, since the holiday is tough on a lot of people and the more fortunate don't always realize the difficulties facing others," Penn-Scipio said. She added that a number of people volunteered for the event, including from service-oriented youth organizations and even her own grandkids.
Penn-Scipio said she tries to add one new dish every year. This Thanksgiving she made callaloo to add some Caribbean flavor to the festivities.