The St. John community got lucky last January when jazz saxophonist Dennison Blackett realized he was tired of cold, bleak Boston and decided to spend the rest of the winter season in tropical paradise.
Blackett called a friend on St. John, hopped a plane, and took a job as a server at Oceans 360 in Cruz Bay. While waiting on tables a couple of months later, he met piano instructor Luba Dolgopolsky who was dining with her daughter. Sensing deeper talents, Dolgopolsky asked him, "You're an artist, aren't you?"
"And that was when the St. John magic happened," said Blackett with a laugh, explaining how a chance conversation with a customer led him to become a faculty member of the St. John School of the Arts (SJSA).
Dolgopolsky introduced Blackett to Kim Wild, the executive director of SJSA. The timing was perfect. The SJSA had recently formed a partnership with Dion Parson's United Jazz Foundation, and was looking for an instructor to lead the fledgling Youth Jazz Ensemble.
The school got more than it bargained for, discovering that in addition to being an alto and tenor saxophonist who plays jazz, classical, and contemporary music, Blackett has a passion for electronic music production and design. He is also a gifted teacher.
Blackett is now teaching a class in the production of song to seventh and eighth graders at the Julius E. Sprauve School in Cruz Bay through an ASCAP Foundation Grant, and a course in electronic music production at the Gifft Hill School.
On a Friday afternoon, when teachers typically struggle to keep their students on task, Blackett is presiding over a class of eight rapt students, ears ensconced in headphones, who are laying down drum tracks on their Mac computers at Gifft Hill.
When Blackett warned them that the class would end in ten minutes, one said incredulously, "We've been in here 40 minutes already?"
"Time flies in here," remarked another.
"That's how we can do eight-hour studio sessions," Blackett said. "Time doesn't exist when you're creating."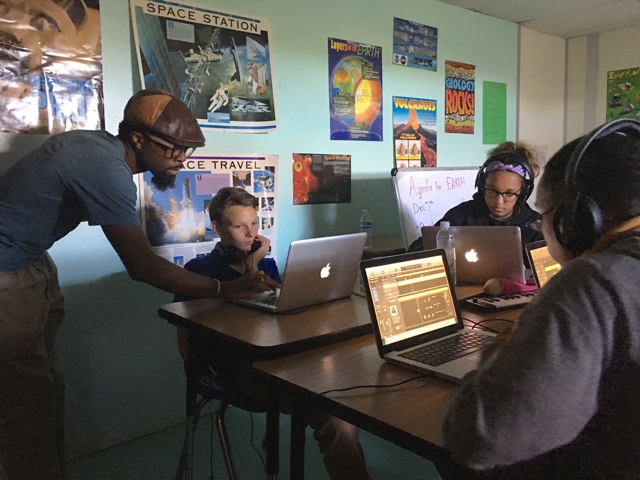 After playing some of their compositions, he instructed them on how to "bounce" their files, saving their work for the next session, telling them, "Whenever I do a first bounce, I put it on my iPod and listen, and start not liking things. Then I know what I have to work on. That's my process—it might not work for you."
The challenge in teaching the class, Blackett said, is working with a range of students, from eighth through 12th grades. Some are classically trained musicians, some know how to swing, and some have no musical background at all. Some have studied electronic music production with Gary Cramer, who taught at SJSA last year, and some are experimenting with the software for the first time.
"I teach to open possibilities and to encourage. I feel everyone in class should be in a collaborative moment," Blackett said, explaining his philosophy. "I'm open, but I'm on top of things. I expect high standards."
He said his greatest sense of accomplishment comes with "seeing someone break into their creative self" in a collaborative setting.
Blackett grew up in Dorchester, a part of Boston, in a family with three older sisters. His parents, Kathleen and Dennis Blackett, were both born in Grenada. He grew up listening to soca and calypso, and gives thanks to his parents for their guidance and support.
Blackett said he fell in love with the sound of the saxophone as a seven-year-old. When he was nine, his parents enrolled him in an after school program, "not unlike the St. John School of the Arts," and he started playing the sax.
Blackett went on to one of the top public high schools in Boston. "At Boston Latin, I met Mr. Paul Pitts, my music mentor who is now my education mentor," he said. Blackett was a member of a school jazz band that won gold in multiple competitions.
Attending Berklee College of Music, renowned for its programs in jazz and contemporary music, was a natural next step for Blackett. He has an abiding love for "straight-ahead" jazz – Sonny Stitt, Miles Davis, Duke Ellington, but at Berklee he widened his horizons and studied contemporary composition and production.
Soon he was playing keyboard in rock bands, and in recent years he has performed with DJ Prism, K-Man the Phantom, and DJ Joe Nice.
St. John residents have heard Blackett play with the Youth Jazz Ensemble at an opening a couple of weeks ago at the Kimberly Boulon Fine Art Gallery, and most recently at the Coral Bay Bizarre Bazaar.
Those to want to hear him perform more will be pleased to learn Blackett just got a job playing at the Landing in Cruz Bay. He hopes to include his girlfriend, singer Tavonna Miller.
"She's a great singer. She lives in New York, but she's down here now for an extended stay," he said.
When he isn't studying music, Blackett likes to study food and wine.
"I'm deep into farm-to-table," he said. "If music didn't exist, I'd be a sommelier. But I hope to travel the world with my music."
Blackett said his drive for perfection is his greatest challenge and he finds he has to remind himself of the saying, "Perfection is a path, not a destination."
"I want everything to be awesome right now. It's a beautiful challenge," he said with a grin.