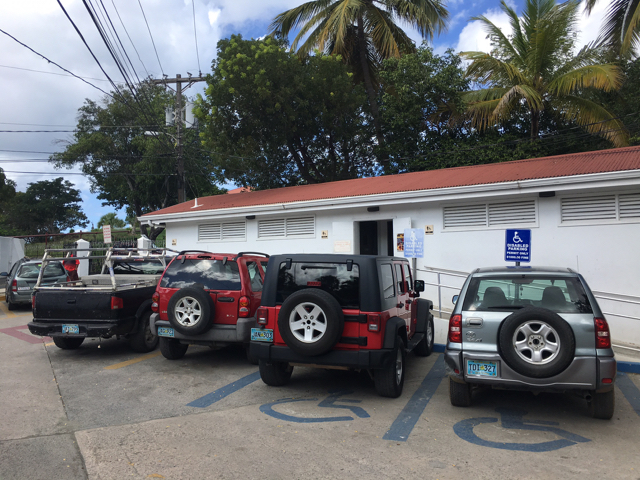 Finding a decent bathroom on St. John is not challenging at all – as long as you stay in the Cruz Bay area.
In the last year or so, the public bathrooms located just a few hundred feet from the ferry dock were renovated, much to the relief of passengers who were coming and going and needed to find a clean, well-lighted room.
As soon as you get off the ferry, turn left, walk along the coconut tree-lined street that borders Frank Powell Cruz Bay Park, and head into the building in the parking lot near the Customs Dock. There you'll find it all – clean toilets, sinks with running water, and soap – items that, up until recently, could not be taken for granted. The only problem is these public restrooms are locked up at night, so after dark you'll have to explore other options.
Fortunately, if you're in Cruz Bay after dark, you're probably going to be stopping at a bar or a restaurant, and these days just about all of them have commendable bathrooms. In the olden days – say up until five years ago – the staff at one popular Cruz Bay restaurant directed customers to the bathrooms at a nearby bar because their own were so marginally functional.
Cruz Bay has been blessed to have Glen Speer as one of its residents and principal developers. As the architect who designed Mongoose Junction and the Marketplace, Speer has always considered the practical as well as the beautiful when designing his projects. Unlike some other developers, he's always made provisions for adequate parking and pleasant public bathrooms.
For all his planning, the demand for parking sometimes exceeds the capacity, but the bathrooms can handle their traffic.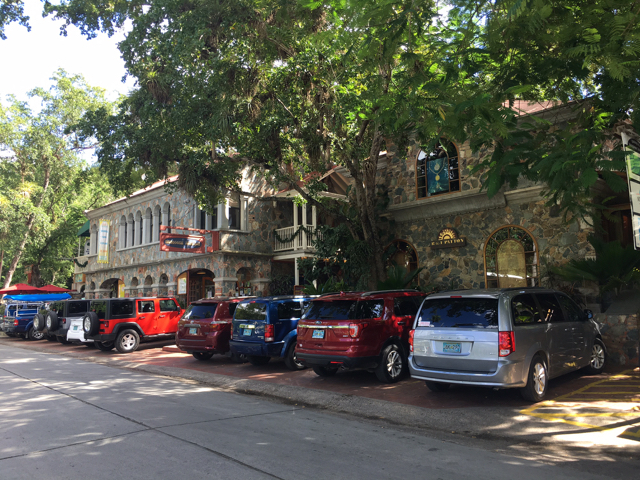 At Mongoose Junction, public bathrooms are located in the back parking lot as well as near the entrance from the side parking lot. But it's wise to walk with your wallet because there are so many tempting stores in the vicinity. You might come for the bathroom, but leave with a set of placemats, a pair of silver earrings, a unique piece of island artwork, and a six-pack of locally brewed beer.
The Marketplace, located less than a half mile from the ferry dock on Route 104 (on the way to the Westin Resort), is where the island's largest supermarket, only drugstore, and most efficient hardware store are located. Locals as well as tourists take advantage of the air-conditioned, well-maintained bathrooms on each of the three levels.
From Cruz Bay, three roads head out towards Coral Bay, the small community eight miles towards the east. On one road, Route 104, public restrooms are scarce. We don't recommend trying to find them at the Westin unless you know exactly where you're going, although there are some gorgeous ones near the ballroom. The resort is not designed as a haven for day trippers.
On the second road, Route 10, also known as Centerline Road, there are no public bathrooms until you reach Coral Bay, a half hour's drive. There is a little cluster of shops and a restaurant at Bordeaux Mountain about half way to Coral Bay, but there's no municipal water or sewage system that far from town. This lack of infrastructure is regrettable because tour operators often stop there to show visitors the stunning views of the East End of the island.
On the third road, Route 20 (also known the Northshore Road), bathrooms are available at three spots within the Virgin Islands National Park. At Hawksnest Beach, the facilities are essentially latrines, and there's no running water. Most people choose to use them only for true emergencies.
At Trunk Bay, the popular beach where day trippers from cruise ships arrive in droves, there are massive stone buildings with toilets, changing rooms, and showers. But you have to pay an entrance fee of $5 per person to get in, and the facilities close around 4:30 p.m. when most of the visitors head back to the ship.
The Cinnamon Bay Campground is the best choice for a bathroom break – or it will be. Under new management as of this fall, the campground is undergoing major renovations. Some of the bathroom facilities, more than 40 years old, are dark, dank and cramped, but campers tend not to expect very much in the way of luxury. No doubt visitors will be wildly delighted when Redwood Parks, Inc., the new concession operator, completes the campground's upgrade. In the meantime, it does offer an alternative to the bush.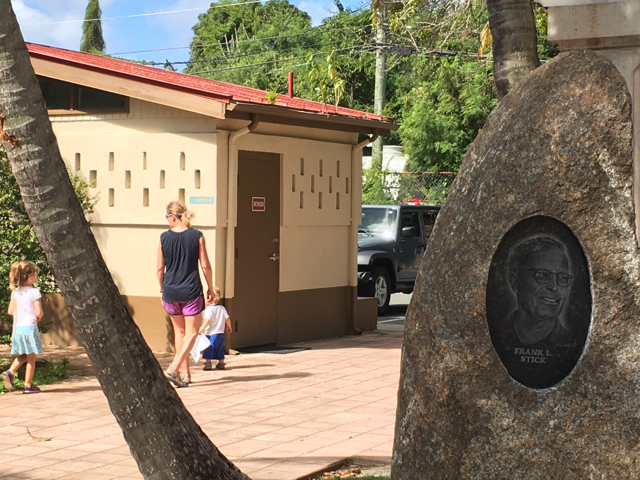 Once you're out in Coral Bay, there are several small shopping centers and restaurants with reasonable bathrooms. Just about all of them have signs warning customers about their precarious plumbing systems.
Since there is no marina in Coral Bay, the two simple bathrooms at the Skinny Legs Complex are all that's available to boaters when they come ashore. Considering their popularity, these bathrooms are in great shape. We recommend stopping at Skinny Legs for its renowned hamburgers, world-famous same-day service, and the opportunity to soak up some local color.
The bathrooms at the Coccoloba shopping center are more upscale than those at Skinny Legs but are equally as delicate in terms of plumbing. They are slightly less accessible – you must ask for a key at Aqua Bistro, the bar and restaurant at the center of the complex – but the staff is always obliging.
Aside from the restaurants and bars further out 107 (including Skippers Brit Pub, Shipwreck Landing, Miss Lucy's, and the restaurant at the Concordia Eco Resort), there are no public bathrooms. The National Park maintains one lonely latrine at the beach at Salt Pond Bay, a 10-minute walk from the parking area.
We recommend folks heading into the National Park carry their own supply of tissue as well as a Ziploc for containing used paper. And if you do step off the trail (as you should) and into the bush for a bio break, it's worth knowing how to identify stinging nettle, a very ordinary but prickly vine, and "Christmas Bush," the attractive plant that looks like holly but gives you a rash you'll never forget.