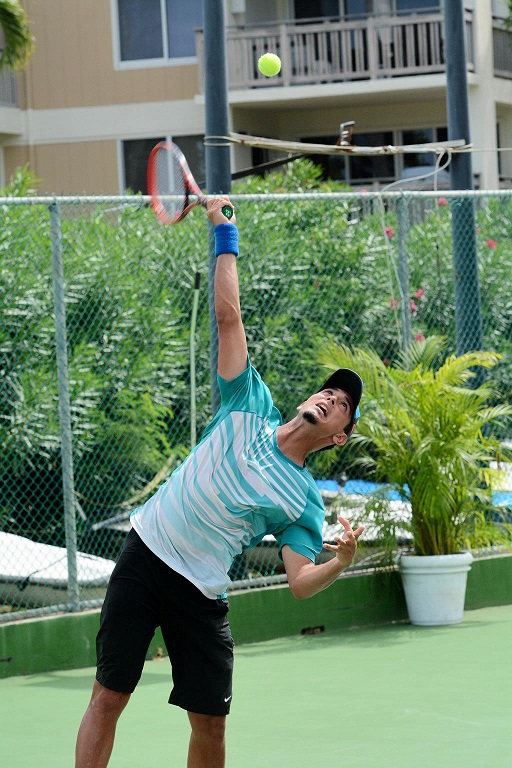 The Innovative-Choice Wireless VI Open Tennis Tournament, known as the "Wimbledon of the Caribbean" and hosted by the St. Thomas Yacht Club (STYC), will take place Feb. 27 to March 5. Interested persons are encouraged to register soon.
"The goal this year is to increase the size of the draw to 120 to 125 players and encourage some of the best tennis athletes from throughout the U.S. and Caribbean to enter and play," said tournament director Val Wilder, a five-time United State Pro Tennis Association 'Pro of the Year' and now pro at the STYC. "My vision is to develop the event into a first-tier professional tournament, like a futures tournament."
Players can compete in a total of 13 divisions in this USTA-sanctioned tournament, the only tennis tournament in the U.S. Virgin Islands sanctioned by the USTA's Caribbean District. There are two Open Divisions for men's singles and doubles. In the B Divisions; there are men's and women's singles (NTRP rating 4.0 and under, and 3.0 and under), men's, women's and mixed doubles (NTRP rating 6.0 combined, and 8.0 combined), and men's doubles (for players age 60-plus years).
Play will be best of three sets for all divisions. Draw will be closed at 16 for doubles and 32 for singles.
The entry fee is $75 per person for singles and $100 per doubles team in the Men's Open divisions. In the B Divisions, entry is $50 per person for singles, $75 per doubles team. The fee includes an event-logo microfiber performance shirt, souvenirs and a welcome buffet dinner at the STYC. The deadline to register is 5 p.m., Feb. 17. Registration forms will soon be available to download at www.styc.club
Matches will take place on courts at the STYC, the host location for semi-finals and finals play, as well as at the Anchorage Condominiums and Sugar Bay Resort & Spa. Matches will be officiated by USTA officials. The public is invited to come out and watch the action.
The Innovative-Choice Wireless VI Open Tennis Tournament is sponsored by Innovative, Choice Wireless, the U.S. Virgin Islands Department of Tourism, Capitol Air, Sugar Bay Resort & Spa, the STYC and USTA Caribbean.
For information, e-mail: styctennis@gmail.com. Also for more information, contact Carol Bareuther at 774-2736 or 998-3650 or e-mail bareuther@earthlink.net.