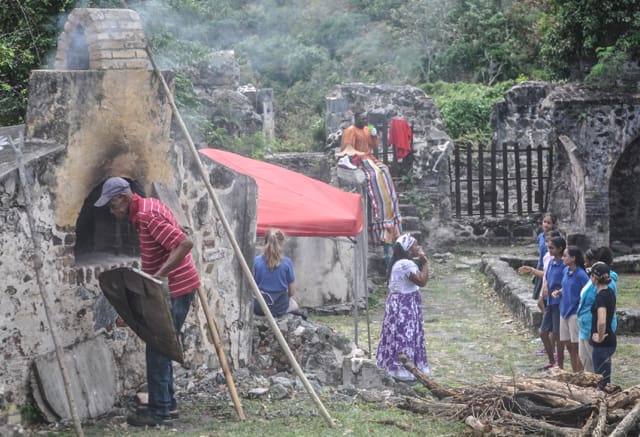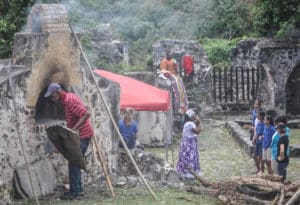 An extensive list of activity stations and performers convened around the mill of the Annaberg Plantation ruins on Thursday and Friday for the Virgin Islands National Park's 26th Annual Folk Life Festival.
At the festival, visiting school groups from around the St. Thomas-St. John district, as well as adults from the V.I. and beyond the territory, had the opportunity to learn about and participate in traditional Virgin Islands culture.
At the activity stations, Edmond Roberts and Justin Todman demonstrated old-time broom making. Raymond Todman showed festival attendees how to make homemade sugarcane juice using a press. Henry Powell exhibited and explained a collection of historic tools and implements used for agricultural and household purposes. Numerous V.I. culture bearers set up vendor tables around the ruins to sell crafts and foods for which the recipes and skill sets had been passed down for generations.
Participants expressed consensus that the best part of the festival was witnessing and being a part of the passage of those traditional arts down yet another generation.
"The kids! I love to see the kids interact and participate, and not be afraid to do it," said Allegra Christopher of Macislyn Bamboula Company, who was busy teaching the V.I.'s traditional Afro-Caribbean dance to school groups. "I love to watch their faces. That's my favorite part."
"We're trying to re-instill and restore the bamboula to our community. It is sort of the underdog to the quadrille even though it was here first," said Christopher. "It has rebellious as well as spiritual purposes. It can be a fighting dance or it can be a very sensual courtship dance."
"I just love watching the children appreciate each other and others," agreed storyteller Glen "Kwabena" Davis.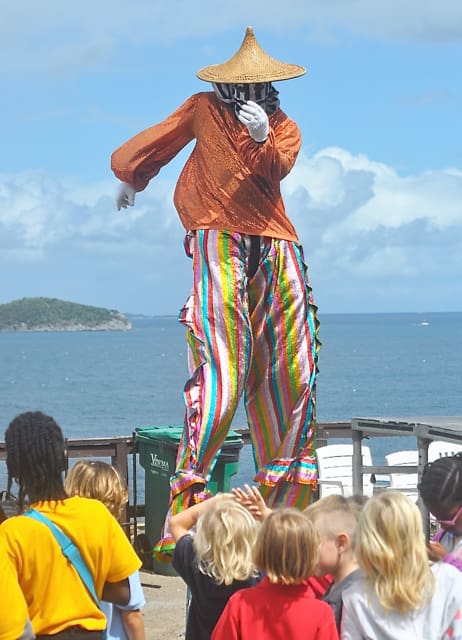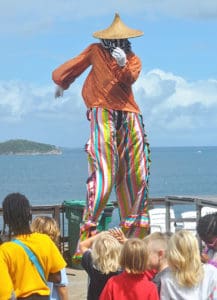 Davis said he had brought two of his own young apprentices to the festival, one to join him in telling traditional V.I. stories, and another to give demonstrations on "how to build a good maubi."
"The steel band music has been wonderful," Davis said when asked what his favorite parts of the festival's first day were. "The Cancryn School choir was beautiful. Their harmony was so tight. I really enjoyed it. And the children were just in awe of the mocko jumbie."
That mocko jumbie was Yisrael Petersen, whose towering stilts were mobbed by crowds of excited school kids as he danced in front of the mill.
"Once you're up there you have to keep a good 360 degree view," Petersen laughed, describing how he skillfully weaved through the throng of youngsters.
Petersen and Christopher both said their services as culture bearers and teachers have been in high demand during the transfer centennial year, and that they have been pleasantly exhausted trying to keep up. This year's Folk Life Festival was promoted as part of the territory's centennial commemoration, which the National Park termed a celebration.
"I'm making dumb bread in the old-time style. You've got to reach back into historical times for the process," said Donald Christopher, standing by the smoking oven of the plantation ruins.
Sonia Sprauve, who was selling homemade juices and pepper sauce, responded quickly when asked what she enjoyed most about the festival.
"The kids, as much as they harass you," Sprauve said. "And also that priceless view [toward Tortola]."
Anthony "Tony T" Peets, who emceed the festival, said that this year it was dedicated to longtime participant Mario Benjamin, who passed away in January.
"He was part of this for a lot of years," said Peets. "He was a mason for the V.I. National Park Service from 1966 to 1996. At the festival he always displayed his craft of fishnet making. We hope the community will always remember him for his exquisite skills."
Performances on the schedule for 2017's Folk Life Festival included music by Chester Brady, the Echo People, Eddie Bruce, and Mahlon Pickering. Park Archaeologist Ken Wild and historians Gilbert Sprauve and Charles Turnbull were scheduled to make remarks on St. John and Virgin Islands history.