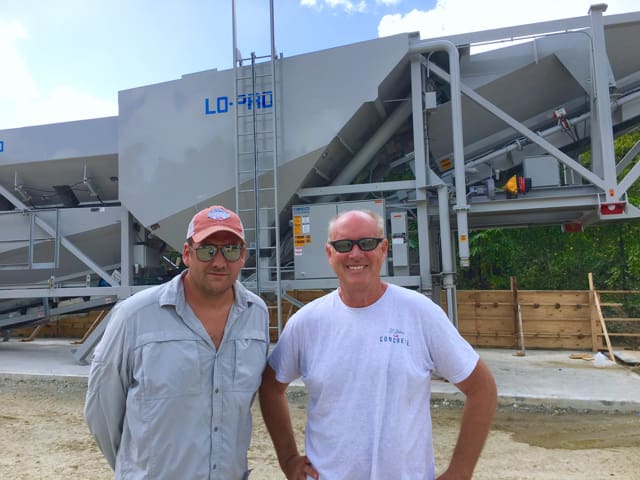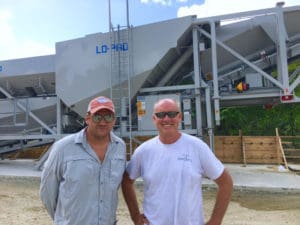 The January start-up of St. John Concrete's new, state-of-the-art batch plant has brought relief to St. John contractors who faced a shortage of concrete.
Since the recession in 2009 brought on the closing of two concrete plants on St. John, concrete had been arriving by barge almost daily in trucks owned by Heavy Materials, St. Thomas's dominant concrete company.
But last summer St. John's construction industry practically came to a standstill when one small barge – out of a fleet of four – became the only means of transport for commercial traffic between St. John and St. Thomas.
Contractors estimated that 10 to 15 construction projects were halted and as many of 250 people were laid off for several weeks while barge companies scrambled to make repairs to their vessels and pass Coast Guard inspections.
St. John builders and their clients were disgruntled.
"We're strangled," one veteran contractor said. "None of us can deliver to a deadline."
One builder who lost patience with the situation was Tom Buttermore.
"I got really frustrated as I waited for concrete for six to eight weeks between pours," Buttermore said.
A software writer and high-tech network manager by profession, Buttermore was taking a break from office work to build a six-unit villa complex on Bordeaux Mountain on St. John.
As builders looked for an alternative to barging in concrete from St. Thomas, all eyes turned towards Adam Cook. Six years ago Cook leased property on Centerline Road which had been the home of St. John Concrete, one of the two defunct concrete plants on the island.
It turns out that Cook's business, Botanica Home and Garden, was situated on the only piece of land currently zoned for concrete production on St. John.
In August Buttermore had a conversation with Cook.
"I'd known Adam for years," said Buttermore. "He was my septic and landscape guy. He said, 'People keep asking me to sublease my land and set up a concrete plant.' I said, 'I can help you with that.'"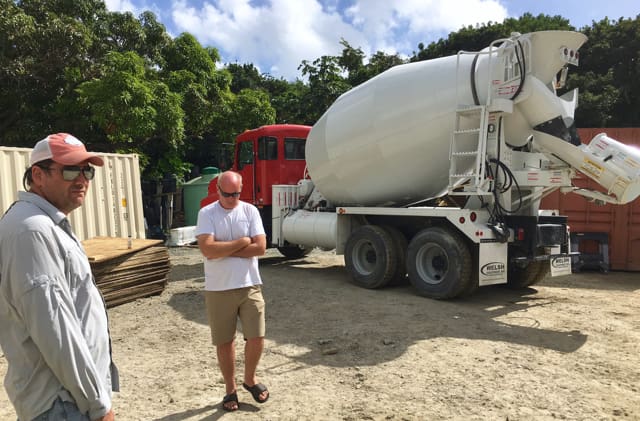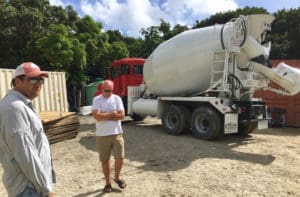 With Buttermore's expertise in finance, the two men went to work researching options, calculating what they could do on the one-acre site. Cook met with St. John builders and consulted with Jim Sturgess of Majestic, once the largest concrete company on the island. When Cook and Buttermore decided to go into business together, they revived the name of the company that had been there before – St. John Concrete.
Cook, who has a background in engineering, spent the next several months "getting a Ph.D. in concrete," joked Buttermore. He studied at night, then flew all over the Midwest to meet with manufacturers, visit batch plants, and attend pourings.
The more Buttermore and Cook looked at concrete production options, the more they became convinced that purchasing state-of-the-art technology was the way to go. They ended up buying a LO-PRO 327, a high-efficiency plant manufactured by CON-E-CO that can produce as much as 200 cubic yards per hour.
"We're able to do precise mixes," said Buttermore. "When you make concrete, it's more than sand, cement, and aggregate. It's a recipe. The difference between making concrete, and making perfect concrete that has all the technology behind it, is worth it."
Cook said what intrigued him about the project was the science behind the manufacture of concrete to get the desired stability, compression, and quality.
"To bring the kind of science we're applying is almost unheard of in most of the Caribbean," said Buttermore. He mentioned one other plant with similar capabilities located on St. Kitts.
"I never knew how much I'd learn about concrete," said Buttermore, who serves as business manager of St. John Concrete while Cook heads up operations. The company has invested "well over a million dollars" in the batch plant and a fleet of trucks, specially designed to go up and down St. John's steep terrain, to deliver their products.
"The batch plant is cranking it out and everyone loves the quality," said Buttermore. "People are asking for mix designs, but not the fancy ones. We've been scheduling a lot of orders."
He added that fresh concrete does not require chemicals to delay it from hardening and is better for the environment.
How to produce concrete was one aspect of the challenges they faced. They also had to figure out how to procure raw materials, as their major competitor on St. Thomas, Heavy Materials, was the only local source.
St. John Concrete sought out arrangements to purchase materials from ten quarries around the Caribbean and South America. Cook said when word got out that they planned to open a concrete plant, people from other islands showed up at his door bearing samples of sand they wanted to sell.
At a recent delivery of materials, eight independent truckers brought materials up from the cargo port at Enighed Pond in Cruz Bay to their manufacturing site three miles up Centerline Road.
Buttermore said St. John Concrete is committed to using local businesses, including truckers and barge companies.
"The Caribbean was built by small guys who worked hard and built their businesses. We want to support the entrepreneurs in the community," he said.
Plans call for the company to employ a total of eight people, including Cook and Buttermore.
Perhaps the most challenging aspect of starting the business was getting the LO-PRO 327 up the winding road to its new home in Estate Adrian. The LO-PRO, which is considered a mobile batch plant, weighs 44,000 pounds when it's empty and measures 61 feet in length.
In early January, when word got out in the construction trade that the machine was ready to move from the barge to the road, a crowd gathered to cheer on the machine in its four-hour journey. Details of the laborious process can be seen on videos posted on YouTube and St. John Concrete's Facebook page.
Both Cook and Buttermore expressed surprise at finding themselves so deeply immersed in their new trade.
"We've been working seven days a week for three months," said Buttermore. "St John Concrete was not why I came down, but it just sort of happened."
They try to maintain their sense of humor as they go about their busy days and have enjoyed thinking up clever tag lines for their four trucks: "Keep left, pour right," "Made fresh daily," "USVI slab of approval," and "Get a load of this!"