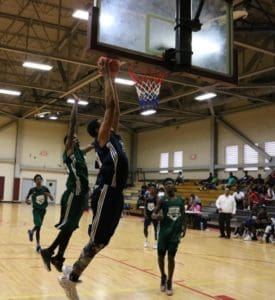 The Virgin Islands Department of Education (DOE) in conjunction with the Bertha C. Boschulte (BCB) Middle School and Island Ballers have been hosting the first Hoops in Paradise Invitational Tournament at the BCB Gymnasium, April 23-26. On Monday, April 24, Gov. Kenneth E. Mapp attended the tournament along with Education Commissioner Sharon Ann McCollum Ph.D., and other DOE officials.
Following a nail-biter between the Charlotte Amalie High School Hawks and the British Virgin Islands (BVI) Future All Stars team, which bested the Hawks 66 to 63 in double overtime, the governor praised the tournament's participants and organizers.
"This is the first time in the Department of Education's history that we're promoting inter-island competition among our high schools in all of the territories — the U.S. Virgin Islands, Puerto Rico and the British Virgin Islands," said Mapp. "I want to thank you for coming and all of the people that worked hard to put this together. I want to thank you all and commend you on the sportsmanship and the work you are doing."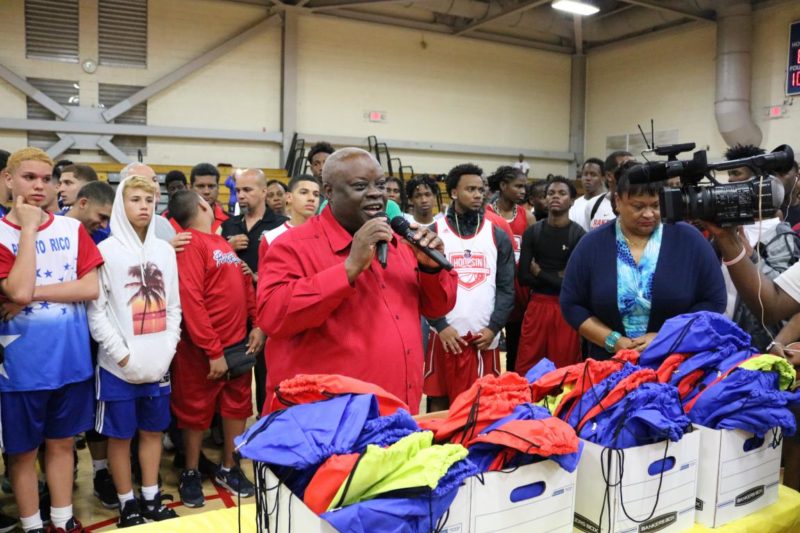 Commissioner McCollum expressed her satisfaction with the first-time effort that has brought together teams from St. Thomas, St. John, St. Croix, the BVI and Puerto Rico.
"This initial endeavor of bringing together the surrounding islands is a positive start," she said. "We will move forward growing this event and others into a bigger competition for our students."
Ramon Galvez and Ferdinand Cedeno, coaches of Coqui and Van Scoy teams from Puerto Rico, traveled with a delegation of 56 that included athletes and chaperones.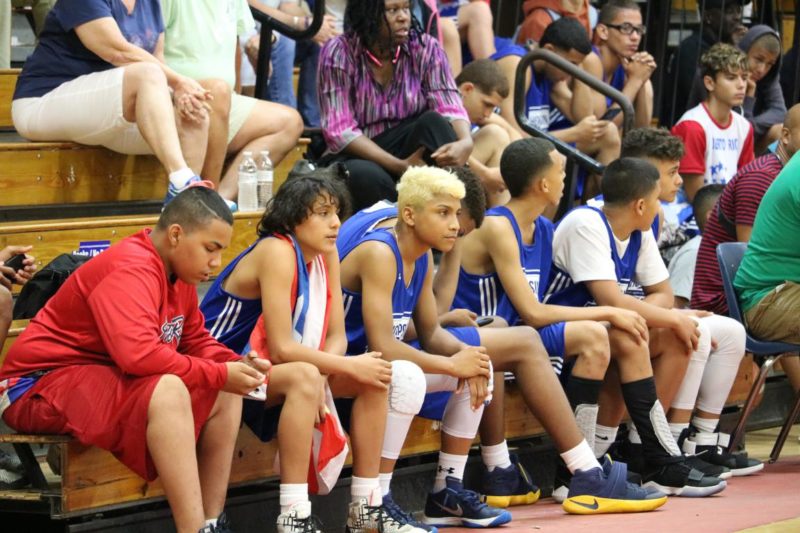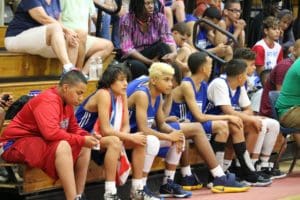 "This is a very good tournament and we are happy to participate," said Coach Cedeno. He noted that his relationship with BCB began last year when the BCB Blazers basketball team participated in a tournament held in Puerto Rico.
Derwin Scatliffe, coach of BVI JV All Stars, BVI Stars and BVI Future Stars, brought 28 students and chaperones to the games.
"It's always great to participate in [tournaments] because it helps our students expand their reach, get seen by scouts and have the opportunity to obtain scholarships for college," he said. Coach Scatliffe pointed out this was the first time many of his athletes have traveled outside of the British territory, offering them the opportunity to grow their basketball skills and expand their horizons.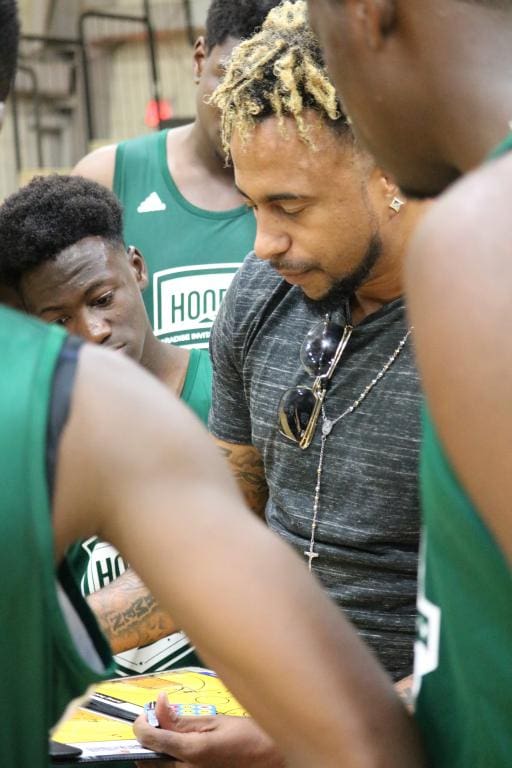 Donald Bough, coach of the St. Croix Central High School Caribs, said his team — comprised of 10 JV and varsity players — is pleased to attend the tournament, and he pointed to both the athletic and cultural benefits students are enjoying.
"This is a great time for our students to be here on St. Thomas to compete in basketball and also to experience the Carnival," he said. "I commend the Department of Education for organizing this activity because it shows their genuine concern for students."
Members of the Caribs team will also participate in the St. Thomas Children's Parade on April 28.
Teams from Gifft Hill School on St. John and the Ivanna Eudora Kean High School JV basketball team are also participating in the tournament. The Hoops in Paradise Invitational Tournament continues through Wednesday, April 26, at the BCB Gymnasium beginning at 10 a.m.