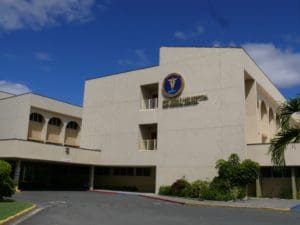 Gov. Juan F. Luis Hospital's sewage drainage system was compromised mid-day Monday leading the hospital to take steps to limit visiting and staff to reduce use of the system, according to the hospital.
Some of the sewage drain lines on the first floor were compromised, and JFL's administration was told about the problem shortly after noon Monday. Hospital staff worked to fix the issue and when the found they needed more than they had on hand, the hospital's management activated what they are calling an "internal code yellow," just before 6 p.m. JFL's Emergency Response team was activated, and the management consulted with a local contractor to determine the next steps, according to hospital staff. The affected areas include the restrooms in the Emergency Department and other areas adjacent to the ED.
The Department of Public Works and Waste Management Authority both had teams at the hospital assessing the situation and VITEMA Director Mona Barnes was also on hand.
Meanwhile, JFL officials say they are working with local agencies and professional experts to diagnose the problem and develop the plan of action. The staff has been directed to use other restrooms on site and visitors to the ED were provided with alternative accommodations. The hospital's statement did not say what those alternative accommodations were. Visiting hours will be limited Tuesday morning to minimize the traffic, and the hospital's non-essential employees will be granted administrative leave to help limit the demand on the sewage system.
In their statement, JFL's management apologizes for the problem, said they want to assure the community that at no time was patient safety compromised that they are working to quickly resolve the problem.