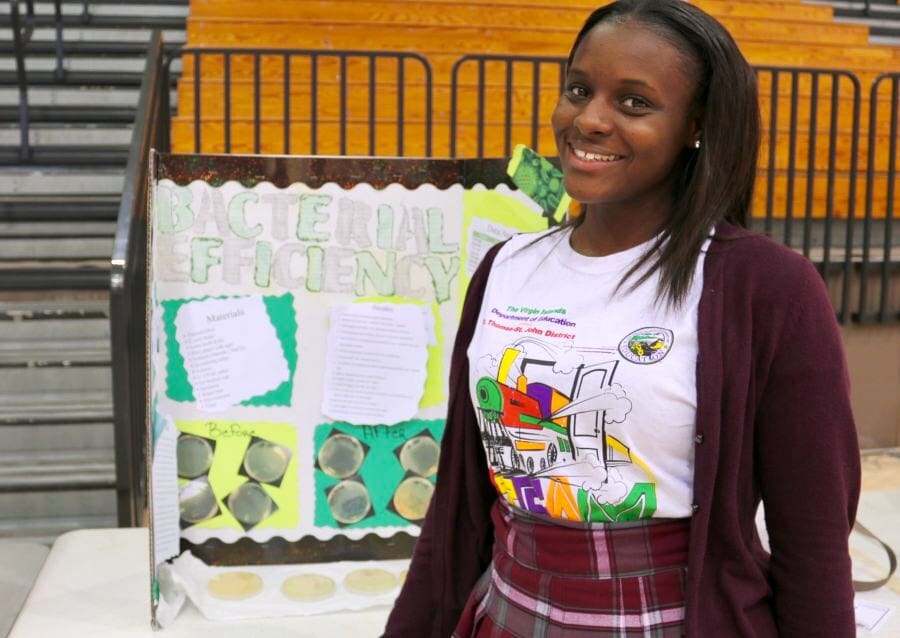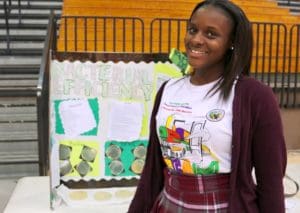 The V.I. Education Department spent most of last week hosting students at the University of the Virgin Islands Sports and Fitness Center for a Science, Technology, Engineering, Art and Math (STEAM) fair that showcased everything from new computer applications to real-life wind turbines built from scratch.
STEAM fair winners were announced Tuesday. St. Thomas-St. John District Technology Coordinator Kisha Corbett said after the fair wrapped up that in order to make it to the UVI event, students have to participate in individual fairs within in their own schools.
"Some of the projects that we saw within the schools were really great," Corbett said. "Some of the students that we have here have been part of the fair since elementary school, and every year, they try to make their projects better and stronger so that by the time they're in high school, what you see them doing is just phenomenal."
Ivanna Eudora Kean High School senior Ariyanna Watson was one of those students, and said last week that she had been participating in the STEAM fair for at least the past four years. This year, she focused her project on bacterial transformation, specifically, how bacteria within the body can clone to make more bacteria. For the project, Watson ordered actual DNA found in the intestines and worked to see if she could make replicas.
"I'm really interested in studying microbiology," she said. "I've always been interested in science but with events like the STEAM fair, I can experiment more often and it gives me the opportunity to show off what I know."
The fair was broken up into several sections, including science and math for elementary, junior high school, and high school students, along with a full day technology showcase for kindergarten to 12th graders. This year's technology section for junior high school students also featured practical demonstrations that showed how to do, explain or solve something.
"The blind spot is located in the back of your eye, it's called the optic nerve," All Saints Cathedral School's Eric McAllister explain. McAllister said he was interested in designing a demonstration that gave fair-goers the chance to discover exactly where their own blind spot was.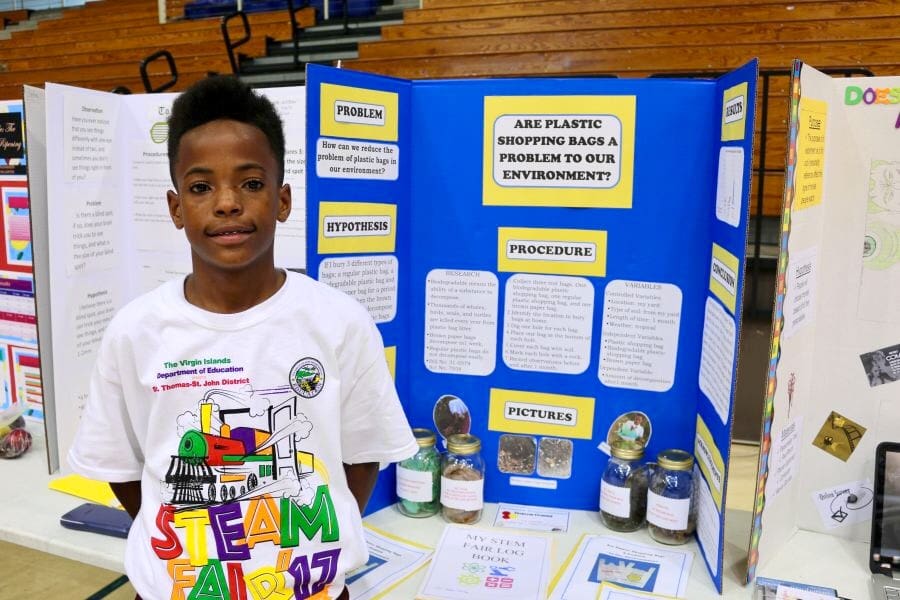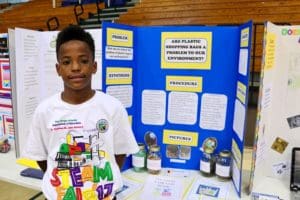 Others, such as Addelita Cancryn Junior High School eighth grader, Tasheem Fleming, designed experiments that explored every day issues. Inspired by the recent plastic bag ban in local stores, Fleming designed a project using brown paper bags, decomposable plastic bags and regular plastic bags, that showed which decomposes the fastest.
"Between the three, it's the paper bag, so people should really use that," Fleming said.
In order to find out the answer, Fleming said that he buried each bag and checked on the results after a month
Finally, an engineering section gave some of the older students the chance to show off their building skills. Charlotte Amalie High School senior Jadan Jacobs, for example, built a wind turbine from scratch, starting with the creation of blades made out of a bucket that Jacobs said had a "natural curvature." Inside the turbine was one small generator with a wooden base, and a measuring tool that showed that the wind turbine generated between 1.5 to 2 volts.
While Jacobs said he wanted to pursue a major in bio-technical engineering, he said he was excited to do the project because it allowed him to work with his hands.
This year's winners are:
Technology Winners
App Creation
Intermediate
Tae'Zha Maduro 1st Place Tips & Tiaras by Tae Ulla F. Muller
Rhonda Simon 2nd Place Kids Make A Difference Ulla F. Muller
Jr. High School
Shantelle Simon 1st Place Natural Hair & All Its Beauty Addelita Cancryn
Orin Hayes 2nd Place Cashflow App Homeschool
High School
LaKeysha Murray 1st Place One Tap Language Ivanna Eudora Kean
Love Vergland 2nd Place Hair 2 Eternity Ivanna Eudora Kean
Shamyah Joseph 3rd Place RF Customs Ivanna Eudora Kean
Graphic Publishing
Primary
Kheli Maharaj 1st Place Food Group Collage Ulla F. Muller
Jazmine Huggins 2nd Place The Beautiful Virgin Islands Ulla F. Muller
Intermediate
Jaelyn James 1st Place Poisonous Fish Collage Ulla F. Muller
Khechelle Albert 2nd Place Y.E.M.B.S. Emojis Yvonne Milliner Bowsky
Aniyah Anselm 3rd Place Identify the States Ulla F. Muller
Junior High
Nolan Hamilton-Kraft & Omahri Allamby 1st Place Cool Ways to Recycle in Your House
Zandra Smith 2nd Place Acne and the Face Addelita Cancryn
Kamoy Charles 3rd Place Why Recycle Bertha C. Buschulte
High School
D'Kai Rios 1st Place V.I. Dream Ivanna Eudora Kean
Alanica Canonier 2nd Place Digital Scrapbook/Water Color Art of Meiosis
Jahvante George 3rd Place Jahvante's Cottage Ivanna Eudora Kean
Individual Web Page
Primary
Aalaisha Edward 1st Place Seeing Double Ulla F. Muller
Nirisi Griffith 2nd Place Blogging with Nirisi Ulla F. Muller
Intermediate
Mikhail Duboboy 1st Place Madlife Website and Blog Homeschool
Tyrique Smith & Deandre Thompson 2nd Place Vinicelife.Simplesite.com
Kalyn George & Delorn Samuel 3rd Place Kayln & Delorn's Education Express
Junior High
Malik Donovan 1st Place Lab Safety Bertha C. Boschulte
High School
Ellaina Wyllis 1st Place Use of Stem Cells for Bioengineering Eudora Kean
Adriel Fung 2nd Place Web Page Charlotte Amalie
Rajah Persad 3rd Place Artificial Intelligence All Saints Cathedral
Multimedia
Primary
Shahera Bazzar 1st Place My Life Ulla F. Muller
Ian Wallen 2nd Place It's A Big Deal Jane E. Tuitt
Darion Stanislaus & Ta'Maya Davis 3rd Place Different Ways to use PhotoPeach Slides
Intermediate
Kirabo Stephens 1st Place Goliath Spider Birdeater Gladys Abraham
Krishiv Amarnani 2nd Place Dog Skin vs Human Skin All Saints
Le'Caydi Pierr 3rd Place Virgin Islands Tour Ulla F. Muller
Junior High
Ammal Abdullah & Kisha Coulanges 1st Place STEM Fair Trailer
Raynel Charlery 2nd Place Lung Capacity Ivanna Eudora Kean
David Persad 3rd Place Why are Reefs Dying Bertha C. Boschulte
High School
Mikhael Joriz Parohinog 1st Place My Personal Career Profile Addelita Cancryn
Natalia Charles 2nd Place Sources of Jobs Leads Addelita Cancryn
Stephan Warner 3rd Place Part of Speech Bertha C. Boschulte
Video Presentation
Primary
Kaelene Poole 1st Place The Effects of Bullying All Saints Cathedral
Michael Torres Jr. 2nd Place Super Lego Heroes Ulla F. Muller
Mina Mohammad 3rd Place V.I. Nice Ulla F. Muller
Intermediate
Grace King 1st Place My Red Footed Tortoise Homeschool
Hasna Bazar 2nd Place Scavenger Hunt Ulla F. Muller
Andrew White 3rd Place Nintendo Switch All Saints
Junior High
Ricky Jervier 1st Place Mind Craft Montage Addelita CancrynPaul Castleberry & Amoi
Dore 2nd Place The Litter Ghost Bertha C. Boschulte
High School
Jose-Ann Chapman & Ki'Andre Thomas 1st Place Tour of St. Thomas, VI Eudora Kean
Shelaya Mathurin 2nd Place Dynamite Rays Marching Band Promo Eudora Kean
Destynee Hill 3rd Place Natural Teeth Whitening Eudora Kean
Programming
Primary
William Hayes 1st Place Maze Navigation in Scratch Homeschool
Daryl Griffith II 2nd Place Wizard vs Knight vs Secret Dragon Ulla F. Muller
Asia Francis 3rd Place Dance Hall Ulla F. Muller
Intermediate
Timothy Hayes 1st Place Vertical WebCrawler Homeschool
T'Nique Small 2nd Place Fetch the Ball Ulla F. Muller
Miles Simon 3rd Place Mbot: Programmable Robot All Saints
Junior High
Mireille Boumedine 1st Place The Functions of Robotics All Saints
Drishti Tejwani 2nd Place Coding All Saints
High School
Liliana Francis 1st Place Wonder Quest Game Sts. Peter & Paul
Guido Caceres 2nd Place Shattered Ivanna Eudora Kean
Victor LaPlace & Isaiah Benjamin 3rd Place Pixel Fun All Saints
Music and Sound Design
Intermediate
Naseem Bazar 1st Place Beat Creator Ulla F. Muller
Junior High
Electra Allembert & Le'Vanni Harrigan 1st Place Chordbot Lite All Saints
High School
J'ahmor Marrishow 1st Place Endurance (A Journey Long Last) Ivanna Eudora Kean
Ronald Lee & Jalen Francis 2nd Place Purple Rain Ivanna Eudora Kean
Nyrah Daniel & Nisha Punwani 3rd Place Transition Sts. Peter & Paul
Math Winners
Real World Problem Investigation
Primary
Che'Nai Donadelle 1st Place Pixel Measurement Gladys Abraham
N'Kosana Phillip 2nd Place What's in the Bag Ulla F. Muller
Intermediate
Diego Kean 1st Place Methane Energy Sts. Peter & Paul
K'Nard Callendar 2nd Place Cracking the Cube Ulla F. Muller
Avion Samuel 3rd Place Your Phone Won't Die Gladys Abraham
Jr. High School
Gabrielle Quetel 1st Place Scientific Notation Learning Game All Saints
Sandrea Dominique 2nd Place Golden Ratio Bertha C. Boschulte
Breena Sajwani 3rd Place Pythagorean Theorem All Saints
High School
Dai'sha Webster 1st Place Spatial Analysis of Open Dumping in Smith Bay and
Frydendal Charlotte Amalie
Kajal Gopwani & Dionne Thompson 2nd Place The Moon & the Tides All Saints
Kejuan Harrigan 3rd Place Fine the Center of the Universe All Saints
Engineering
Primary
Luis Hernandez 1st Place Solar Car Jane E. Tuitt
Yadiel Rogers & Yaliya Rogers 2nd Place Robotic Arm All Saints
Shah-Nkosi Poole 3rd Place Hero's Engine All Saints
Intermediate
Keleil Fleming 1st Place Making A Robot Ulla F. Muller
Nathan McCarthy & Nathania McCarthy 2nd Place Rocket Fun Gladys Abraham
Caleb Santanta & Thomas Ledee 3rd Place Virtual Reality Glasses All Saints
Junior High
Kaeli Chung 1st Place Reverse Osmosis Addelita Cancryn
Dasmine Maynard 2nd Place The Incredible Homopolar Motor Addelita Cancryn
Teji Francis & Matthew Kusewski 3rd Place The Evolution of Rockets Sts. Peter & Paul
High School
Makalia Smith 1st Place Self-Generating Generator Ivanna Eudora Kean
Nicholas George 2nd Place Build A Remote Control Car All Saints
Pierre Meraut & Osayande Francis 3rd Place Transforming Mechanical Energy CAHS
Science Winners
Demonstration
Primary
Tiffany Boston 1st Place Naked Egg Jane E. Tuitt
Samya Donastorg 2nd Place Construct a Camera Joseph Sibilly
Joshenique Hendrickson 3rd Place Rain Cloud in a Bottle E. Benjamin Oliver
Intermediate
Jessica Joshi 1st Place Home Made Electroscope All Saints
L'Quania Lavinier 2nd Place Microwavable Light Bulb E. Benjamin Oliver
Kayla Bellew 3rd Place Can You Make Ice Cream Without an Ice Cream Maker
Jr. High School
Shernice John-Pierre 1st Place Aquaponics Bertha C. Boschulte
D'Shawn Hodge 2nd Place Making Liquid Soap Adelita Cancryn
Shande Rivera 3rd Place Fixed Based Building vs. Isolated Buildings Cancryn
High School
Hezekiah George 1st Place Super Cooled Water Ivanna Eudora Kean
Nikayal Bryant 2nd Place Hydrolic Lift Ivanna Eudora Kean
K'Shard Callendar 3rd Place Fire Ball High School CAHS
Experiment
Primary
Iaaiah Torrice 1st Place Germinator Jane E. Tuitt
Ben Magee 2nd Place All About Worms Homeschool
Naitik Jhanwar 3rd Place Bouncing Balls All Saints
Intermediate
Dev Chiannani 1st Place Brain Freeze: How Does Temperature Affect Your Mind
Kezia Corbett 2nd Place Testing Slime Elasticity E. Benjamin Oliver
Amber Laplace 3rd Place Nature vs Chemicals Joseph Sibilly
Junior High
Tasheem Fleming 1st Place Are Shopping Bags A Problem to our Environment?
Chloa Rudder & 2nd Place DNA Extraction Sts. Peter & Paul
Cheyanne Rudder
Nikoya Browne 3rd Place Holy Moldy Bertha C. Boschulte
High School
Erin Hughes 1st Place Sunscreen Science Homeschool
Ludovic Atemazem 2nd Place Extraction of Hydrolysis Charlotte Amalie
Mykal Martin 3rd Place House Hold Spices Charlotte Amalie