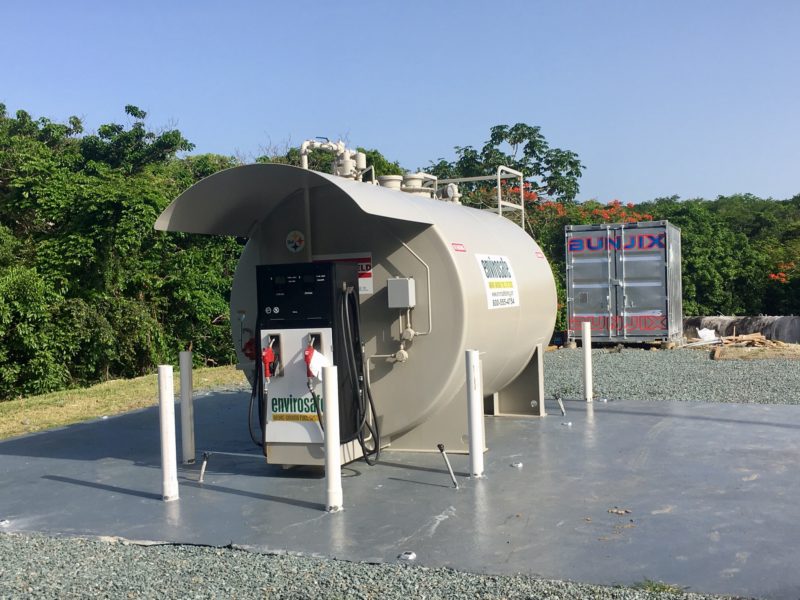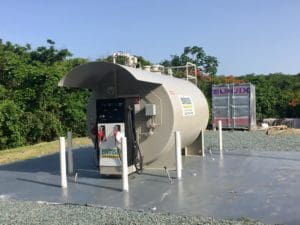 Coral Bay residents will have three fewer miles to travel in order to buy gasoline for their vehicles starting this fall.
Brothers Guilderoy and Gerren Sprauve are planning to open a full-service gas station on family land in Estate Adrian. "Our goal is to open up this fall. We're working aggressively on that," said Guilderoy.
The gas station will be located next to St. John Concrete on Centerline Road, nearly three miles east of Cruz Bay.
A proposal to build a gas station at this site has been in the works since December 2010 when a public meeting was held by the Department of Planning and Natural Resources to grant a zoning variance to allow for commercial development. (See link: http://www.stjohntradewindsnews.com/estate-adrian-gas-station-proposal-draws-no-opposition.)
A building permit had hung on a tree for years, until site preparation was underway and the tree was cut down to provide easier access from the road to the site. During the last several months, residents have noticed changes at the site including the installation of an above-ground distribution tank, and more recently, two gasoline pumps.
The construction of a new gas station comes as welcomed news to residents of the eastern portions of St. John, who have had to travel across the island to Cruz Bay to buy gas since the final shutdown of the Domino Gas station in Coral Bay several years ago.
At the Adrian location, the Sprauves are getting ready to install additional wiring, "power up" the site, and calibrate the pumps. Although they don't yet have their business license, they've got a name: Bunjix Energy.
"Bunjix" is one of many nicknames given to their father, Guilderoy "Roy" A. Sprauve Sr., a pioneer in the marine transport industry. A renowned diesel mechanic, he was instrumental in launching ferry service from St. John to St. Thomas in the mid-1960's, and he later supplied diesel engine parts throughout the region.
"We wanted to keep his memory going," said Guilderoy Jr. "He had a clear set of values about how to serve his customers and his community."
Gerren and Guilderoy Jr. will serve as co-managers for the company owned jointly with two other siblings, Gylschris and Gamira Sprauve.
"One of our goals is to create an experience for our clients," said Gerren. "Typically going to the gas station is not a fun experience. That's why people let their gauges go down to 'E.' We want them to drive away and say, 'That was a cool experience.' We want to interact with the community."
Right now, the 4,000-gallon tank that is visible from the road is emblazoned with its manufacturer's name, Envirosafe, but the Sprauves have plans to "wrap" it with their company name and logo.
Envirosafe builds steel, double-walled, above-ground tanks. "Their mission is to be eco-friendly and safety-conscious," said Guilderoy. "We have a ghut close by. We promised the St. John community that we would be mindful of the ghut, and, God forbid, if there were a spill, to have protocols in place."
The Sprauves are planning to bring in three to four tanks, each with the capacity of 6,000 gallons, for additional storage located towards the back of the one and a half-acre site.
Future site plans call for adding landscaping, paving the gravel area, and constructing a canopy to shelter the tanks. "We're playing with the design; we want something unique. We like the idea of solar lighting to make it more of a green project," said Gerren.