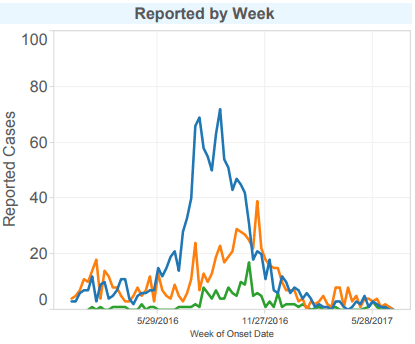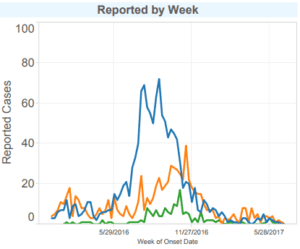 The V.I. Department of Health on Wednesday announced 18 new cases of Zika virus, 17 of which were reported in pregnant women.
According to territorial epidemiologist Esther Ellis, the uptick in reported cases is the result of the length of time it took for confirmatory results to be completed, and doesn't mean there's a sudden spike in recently acquired cases.
"These were older cases that were 'probable' and we were waiting for confirmatory testing before they could be categorized as 'confirmed,'" Ellis explained.
Ellis said the cases occurred approximately three months ago and that they are spread throughout the territory. Because Zika can cause birth defects in fetuses, pregnant women are being regularly tested for the virus.
Since the outbreak was first detected in the territory in late January 2016, a total of 1,293 people, including pregnant women, have tested positive for the virus.
Excluding cases in pregnant women, St. Thomas now has 682 confirmed cases and St. Croix has 251, while St. John stands at 89. Since the first local case was announced in January 2016, a total of 3,000 cases have come back negative and 23 are currently pending results.
Zika can cause unborn babies to be born with developmental defects like vision issues and microcephaly, a condition in which an infant's head is smaller than average. In May the territory reported its first case of Zika-related microcephaly.
In early June the U.S. Centers for Disease Control found serious birth defects have been seen in about one in 12 – or eight percent – of fetuses or infants of pregnant women with Zika infection in the first trimester. Based on data collected from U.S. territories, the report found that more than 120 pregnancies have resulted in Zika-associated birth defects.
Zika's most common symptoms are headache, fever, rash, joint pain and red eyes (conjunctivitis) and pain behind the eyes, which can make it difficult to distinguish from dengue. Conjunctivitis is not caused by dengue, however, so it can be a telltale sign of having Zika.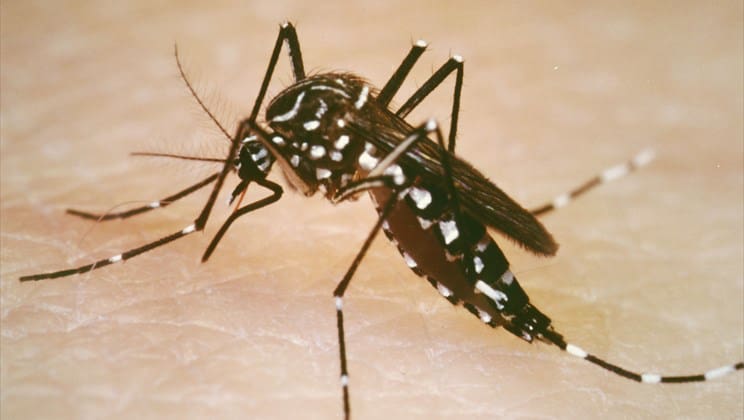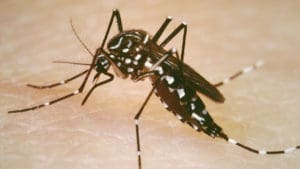 According to Health, people can protect themselves and their families from mosquito bites by following these three cautionary measures that start with a D:
– Dress: Wear protective clothing such as long sleeves, long pants and light colors;
– Drain: Get rid of water containers in and around your home;
– Defend: Use repellant on exposed skin and treat clothes with one of several EPA-approved repellants.
While Zika is primarily spread by infected Aedes species mosquitoes, the virus can also be spread sexually. To reduce the possibility of being infected with Zika, condoms should be used correctly during intercourse.
Free Zika testing is available for pregnant women regardless of if they show symptoms or not. Educational materials are being distributed in English and Spanish. Prevention tool kits with items such as mosquito nets, insect repellent and condoms are being given free of charge to pregnant women at the following locations:
On St. Croix
– Department of Health MCH Clinic
– Department of Health WIC Clinic
– Juan F. Luis Hospital and Medical Center
– Frederiksted Health Center
On St. John
– Health Care Connection
– Myrah Keating Smith Community Health Center
On St. Thomas
– Department of Health MCH Clinic (Pediatric)
– Department of Health Community Health Clinic (Prenatal)
– Roy Lester Schneider Hospital
– East End Medical Center
Local information about Zika virus is available by calling the Department of Health Emergency Operations Center at 340-712-6205. More general information about the Zika virus is available toll free by calling 1-800-CDC-INFO.
Health is also partnering with several labs and clinics throughout the territory to provide free virus testing for anyone who is showing symptoms. The department said that anyone who is turned away from testing or told to pay for testing can call Health, since it has agreements in place with several facilities. The following sites should not charge for Zika testing:
On St. Croix:
– Acute Alternative Medical Group, 772-2883.
– Beeston Hill Clinical Lab, 773-4990.
– Clinical Laboratory Inc. (Sunny Isle), 778-5369.
– Frederiksted Health Care, Inc., 772-0260.
– Gov. Juan F. Luis Hospital & Medical Center, 778-6311.
– Primary Care PLLC, 718-7788.
On St. John:
– Myrah Keating Smith Community Health Center, 693-8900.
On St. Thomas:
– Community Medical Laboratory, 776-7444.
– Cranston/Dottin Biomedical Lab, 774-6256.
– Doctors Clinical Laboratory, 774-2760.
– Havensight Medical Laboratory, 774-5515.
– Roy Lester Schneider Hospital, 776-8311.