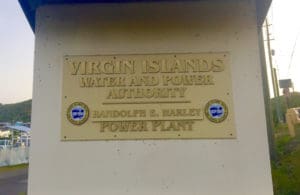 Electrical service in the St. Thomas – St. John district was fully restored Friday morning just after midnight, about four hours after three generating units tripped off line at the Randolph Harley power plant.
The units falling off line had an eventual cascading result on all feeders in the district, according to a news release from the V.I. Water and Power Authority.
According to WAPA, the service interruption began at 7:33 p.m. when a fault, detected on the transmission and distribution system, caused Unit 18 and subsequently Unit 25 to fall off line. While plant personnel were attempting to restart one of the units, another generating unit, Unit 26, tripped, causing the loss of all feeders.
Over the next few hours, plant personnel worked to restart the units, stabilize the power plant and restore service to all feeders. The restoration of service to customers began at 10:06 p.m. Thursday and was completed just after midnight.
WAPA Executive Director Julio Rhymer, Sr. thanked WAPA personnel who worked throughout the night to restore service to all customers and apologized to the public for the inconvenience caused by the Thursday night electrical service interruption.