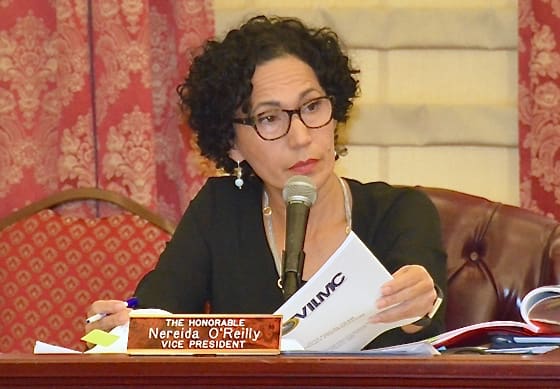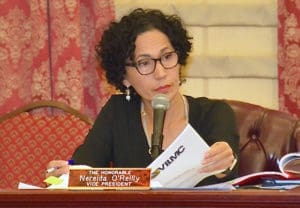 When V.I. Office of Veterans Affairs Director Patrick Farrell presented its budget request of $790,344 for his office in 2018, down from the $834,000 budgeted for the current fiscal year, most members of the Senate Finance Committee were positive.
Sen. Nereida Rivera-O'Reilly, however, had some pointed questions about the office's outreach to Spanish-speaking veterans.
Farrell admitted that he did not have any Spanish speakers on staff. The office has five paid staff and one volunteer. He also said that the radio program his office has for veterans has no Spanish component. He said the United States Armed forces are English speaking.
"No one asked them if they could speak English when they asked them to die for their country," Rivera-O'Reilly replied.
Rivera-O'Reilly also asked questions to determine the effectiveness of the office's programs. When Farrell said his office was not doing well in documenting all the veterans in the Virgin Islands and where the deceased are buried, she asked why. He said it was because the office did not have enough staff. He did say that presently there are between 16,000 and 18,000 veterans living in the territory.
As has been the tendency of Sen. Kurt A. Vialet, chairman of the Committee on Finance, asked the director what he has been doing to keep rent costs down. The office is presently paying $18,000 a year. Farrell said the office is looking to find space in government buildings on both islands to eliminate that cost. Vialet suggested that Farrell look into space at the old Hovensa training center on St. Croix. Vialet said that building, now owned by the government, was not being fully utilized. Farrell said he would look into it.
Sen. Tregenza A. Roach noted the drop in travel costs for veterans over the last year. He said that was good in that the office was cutting expenses, but questioned whether it was hurting veterans by not being able to travel to get the medical care they needed.
In his opening testimony, Farrell highlighted the Choice Provider Agreement extended last year. The agreement is with Roy L. Schneider Hospital, Juan F. Luis, St. Thomas East End Medical Clinic and the Frederiksted Health Care Clinic.
"This agreement allows more flexibility with being able to access medical care locally instead of traveling to Puerto Rico for what is most times a preventive care appointment that lasts for all of 25 to 30 minutes," Farrell said. "The Choice program has allowed us to realize significant cost savings. Because of this program we have seen a decrease in the travel of veterans going to Puerto Rico for appointments. In fiscal year 2015 veterans traveled 335 times at a cost of $114,144; in fiscal year 2016 veterans traveled 297 at a cost of $103,933; and so far this fiscal year only 182 veterans have traveled at a cost of $69,403."
The office expects to receive about $117,000 in non-appropriated funds from the Virgin Islands Lottery and the Taxi-Cab Commission. The amount is based on lottery sales and the auctioning of taxi medallions. It goes to cover everyday operation of the office.
Farrell also told the senators that he is looking at the purchase of two acres east of the present cemetery on St. Thomas for a veteran's cemetery.
He said that the office pays on an annual average about $150,000 in veterans' death benefits but so far this fiscal year is on a trend to be significantly lower than the average.