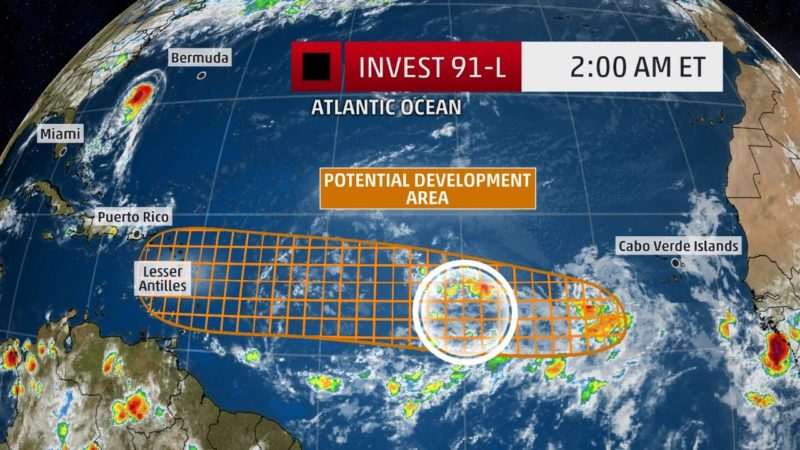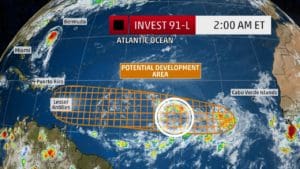 Hurricane forecasters are keeping an eye on a couple of disorganized areas of disturbed weather which may become the next tropical storm of the Atlantic hurricane season.
The weather systems are embedded within an elongated area of low pressure a few hundred miles west-southwest of the Cabo Verde (Cape Verde) Islands.
Senior Hurricane Specialist Lixion Avila at the National Hurricane Center said early Tuesday morning that only slow development is anticipated during the next day or two, but "conditions are forecast to become a little more conducive for tropical storm development by later in the week while the system moves westward at about 15 mph over the tropical Atlantic."
The system, designated as Invest 91-L, had top winds of 30 mph as of Tuesday morning. Forecasters have estimated a 20 percent chance of formation during the next two days and a 60 percent chance of formation through five days.
"It still has a medium chance of development so we will watch these odds from the National Hurricane Center and see if they adjust in the coming days," Weather Channel meteorologist Danielle Banks said Monday night. Banks cautioned that the weather system could wind up being a threat for the Lesser Antilles late this week and into the weekend.
"If it does develop and become a named tropical storm, it will be given the H-name, Harvey," she added.
On Monday, Crown Weather Services forecaster Rob Lightbrown suggested that slow but gradual development will occur with the system this week.
"Given that Invest 91-L will probably slowly develop, it will likely take advantage of the lower level wind flow and move on a general west to west-northwesterly track. This means it is fairly likely that Invest 91-L will move directly across some part of the central and northern Lesser Antilles and into the eastern Caribbean by about Friday or Saturday."
He said it remains to be seen whether Invest 91-L tracks directly across the major northern Caribbean Islands or just south of the northern Caribbean islands, he added.
In urging people in the northern Lesser Antilles to monitor the development of the weather system during the next few days, Lightbrown said the islands of Dominica, Guadeloupe, Antigua, St. Martin, Anguilla, St. Croix and Puerto Rico are at highest risk right now for tropical storm conditions from Friday into Saturday.
Elsewhere, Hurricane Gert poses no threat to the Virgin Islands or the Caribben region. Also, another impressive-looking tropical wave now located over western Africa is forecast to emerge into the far eastern Atlantic Ocean in about two days.