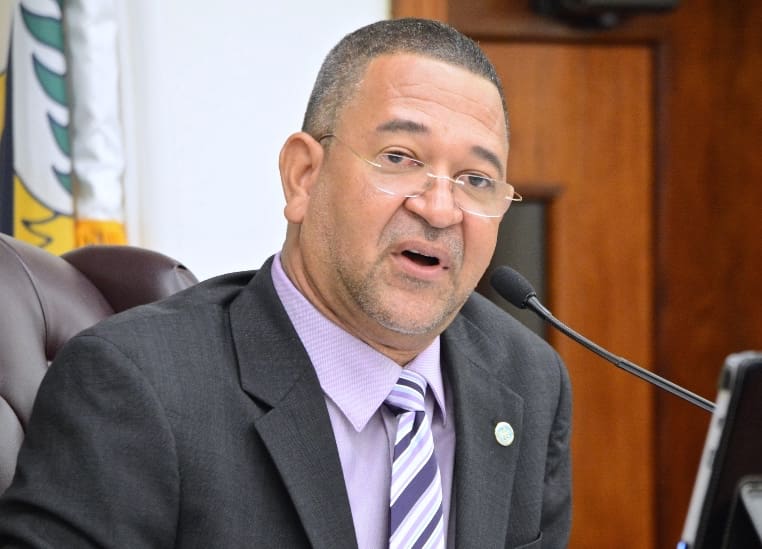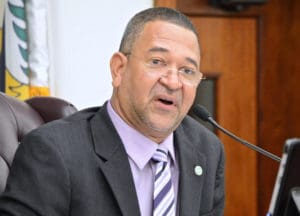 Sen. Jean Forde was not happy Wednesday when Gov. Kenneth Mapp called a press conference on school readiness for 10:30 a.m. Two weeks earlier his Senate Committee on Education, Youth and Recreation had scheduled a hearing on the same topic at 10 a.m. Officials arrived after the press conference, after noon.
Forde opened his hearing commenting, "The governor in his wisdom or lack thereof" scheduled a press conference for this morning. … While the governor continues to grandstand we will continue to work."
Scheduled testifier Sharon A. McCollum, commissioner of the Department of Education, sent a note to Forde a few minutes before 5 p.m. Tuesday saying that she and members of her staff would be very late because they had to attend the governor's press conference.
Forde also appeared aggrieved by the executive branch not releasing until two weeks ago $1.7 million the Senate had set aside for school maintenance, leading him to believe that not a lot maintenance had been done at the schools to date.
Representatives from the V.I. Board of Education – Emmett Hansen, James Provost, and Kyza Callword – were present when the hearing opened. In his testimony Hansen referred senators to the 2016-2017 School Management Accountability Report. Hansen said the report was the culmination of months of visits to schools by Callwood and other members of the board's School Plants and Facility Committee. The 44-page report points to problems in the number of school counselors, supplies in the school libraries and waste at the cafeterias because students were not eating the healthy food.
Hansen suggested that the report be used as a "reference to achieve academic excellence."
Sen. Novelle Francis suggested the report's release date could have been earlier than July 28 so more response could be given before the start of school.
Hansen responded that the release date was delayed because information from the Department of Education was slow coming in.
Representatives from the Department of Education – Joseph Sibilly, territorial facilities manager, Charlesworth McCarty, director of maintenance and plant operations, and James Bernier, engineer in charge of capital projects – appeared after the committee took a lunch break
Forde at that time noted that some work at the schools had been done, but added, "We expect much more."
McCarty narrated a slide show showing work being done at the territorial schools. The work included lighting replacement, electrical repair, rooms painted, air conditioning units replaced, new cabinets installed and drainage areas cleared.
Bernier said the roofing projects at Juanita Gardine and Pearl B. Larsen elementary schools, both funded by the U.S. Department of Interior, will be completed this fall. Gardine should be finished in early October and Larsen later in that month.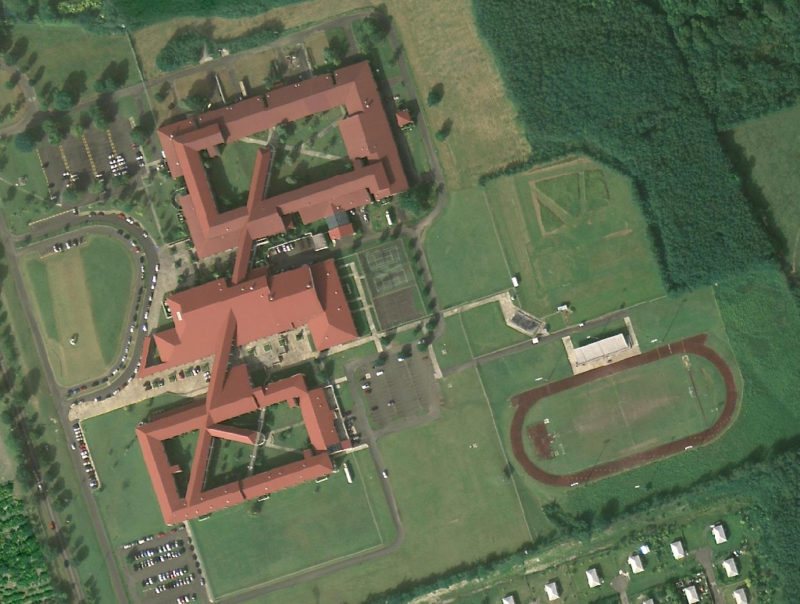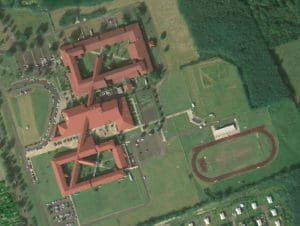 The Ivanna Eudora Kean High School track project, which includes fences, benches, bathrooms and a concession stand, is almost 50 percent finished, Bernier said. A track project at St. Croix Educational Complex, which includes new bathrooms and a storage room, is expected to be completed in mid-November.
A project redoing the kitchen at the E. Benjamin Oliver Elementary School, converting it from electrical to propane, and a fence project at Joseph Gomez School have recently been completed, Bernier added.
When Sibilly was asked to grade school readiness on a scale from one to five with one showing the most prepared, he gave the grade of two. Forde cautioned Sibilly, "We keep hearing, year after year, the schools are ready, then we have the first rain, there are leaks, then the mold."
Forde continued, "We still have a lot of work to do." Sibilly agreed. The department representatives blamed much of the school's problems on deferred maintenance. The U.S. Army Corps of Engineers has estimated that more than $70 million in preventative maintenance has been deferred by the department. The maintenance is "kicked down the road" because of budget concerns.
McCarty said the situation is "financial perplexing" but preventative maintenance is done on a limited basis. He added that finances make some of the challenges tough.
Francis asked Sibilly if there was any word on whether Elena Christian Junior High School would be unshuttered. Sibilly answered that he knew of no plans to reopen the school but he would check on it.
Neither the Board of Education nor the Department of Education representatives could give figures on vacant teacher positions.
Francis said he felt he had to hold many of his questions until the Commissioner of Education appeared before the budget committee.
Noting the absence of many Department of Education's leaders, Forde said, "I am very disappointed. We are not going to get a clear picture of our schools' readiness."
Sen. Janelle Sarauw pointed out that the Department of Education was able to quickly give enrollment figures (13,100 students this year) while the Board of Education did not have them. She said, "There seems to be a disconnect; there is a problem."
Sens. Tregenza Roach and Brian Smith also attended the meeting.
Sens. Neville James, Kurt Vialet, and Myron Jackson were absent.