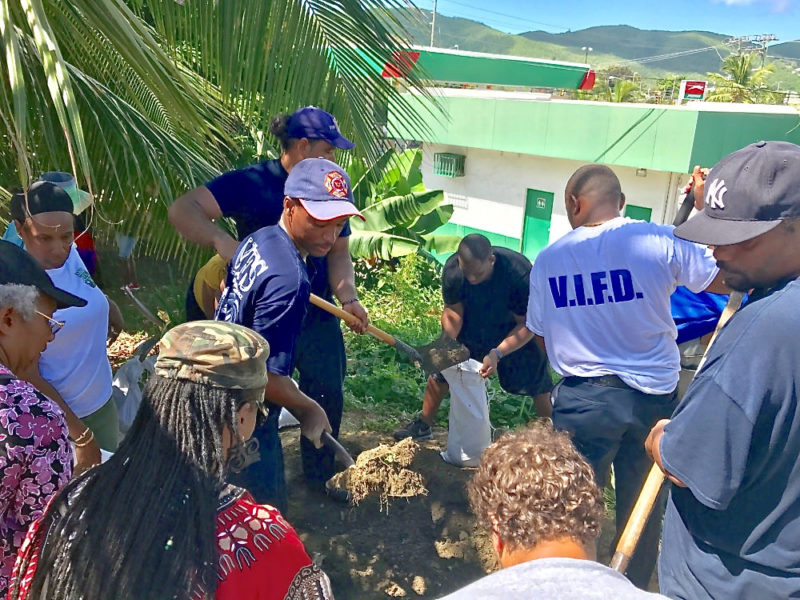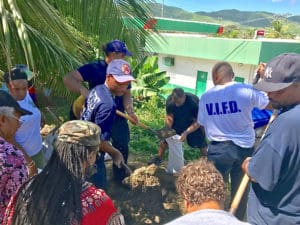 With Hurricane Irma currently tracking to pass just 40 miles north of St. Thomas, Gov. Kenneth Mapp urged residents Monday afternoon to assume that the Category 4 hurricane will "be more over us than away from us," and to prepare accordingly.
"Forty miles north of St. Thomas is not a lot of space, not a lot of distance," Mapp said at a press conference held at Government House on St. Croix. "If that storm in the next 36 hours moves more to the south, the eye will be closer to the south and if it moves even further south, we could see the strongest part of the storm. Even a Category 3 directly over the islands could affect us in a tremendous way."
At the time of the press conference, Mapp had not declared a state of emergency but said it was bound to happen once some of the details on Irma – such as its track and wind impact – were more concrete. In a news release this afternoon, Mapp declared a state of emergency effective at 12:01 a.m. Tuesday and had activated the V.I. National Guard.
At Monday's press conference, Federal Emergency Management Agency officials were on hand to reassure residents that certain assets and resources had been assembled on Puerto Rico and were ready to move once the storm passed.
In the meantime, Mapp said public schools, which were scheduled to open Tuesday, will remain closed, with administrators, officials and teachers expected to report early in the morning to make classroom and office preparations. With the state of emergency, certain schools and Human Services' facilities across the territory will be ready to open as shelters, which will be staffed by American Red Cross volunteers and filled with the resources necessary to take care of anyone – including the homeless – who needs them.
Shelters on St. Thomas are Lockhart Elementary, Nisky Moravian School, Knud Hansen Complex, Sugar Estate Headstart and the DHS community center at Schneider Regional for residents with special needs. On St. John, Julius Sprauve School and Bethany Methodist Church will open as shelters, while St. Croix's shelters are Claude O. Markoe Elementary, St. Croix Educational Complex and the Herbert Grigg Home for the Aged.
While a final decision on government-wide shutdowns had yet to be made as of Monday evening, Mapp said meetings have been ongoing with cabinet members. Based on the discussions, the governor said he is "confident" each agency is ready to respond once Irma hits.
"On Wednesday morning is when we expect to begin experiencing the effects of this storm," he said. "At that time, I want everyone to understand that Irma is going to be in our region and that it could be more over us than away from us. I'm asking the people of the Virgin Islands to really prepare for a serious event."
Government Readiness
Mapp said meetings with cabinet members, FEMA administrators and V.I. Territorial Emergency Management Agency officials will continue into Tuesday, and another press conference will be held in the afternoon to discuss updates. In the meantime, he added that agencies across government – including the V.I. Water and Power Authority and Public Works – are prepared to hold down the fort.
WAPA, Mapp explained, has a month of diesel and propane on hand to keep the territory running and has plans to keep the lights on during the storm. Water tanks have been filled and the governor added that residents should disconnect their downspouts late Tuesday to make sure that water reserves are not contaminated by runoff.
Public Works is also prepared to clear debris, deal with downed trees and road blocks, he said, while ambulances are being positioned at local fire stations to better deal with emergency response to injuries.
The governor encouraged boaters to continue working with Planning and Natural Resources to secure their boats, which can be anchored at safe harbors in Flamingo Bay (St. Thomas,) Chocolate Hole (St. John) and Salt River (St. Croix.)
Residents are encouraged to stay away from beaches as Irma gets closer and told the 5,000 visitors staying in the territory to be careful during the storm, stay inside, and not see the hurricane as "part of the vacation experience."
He also asked hoteliers, who might be seeing in influx of both residents and tourists relocating from low lying areas, to keep their prices down as rooms book up.
"This is not a bonanza," he said. Mapp added that the state of emergency declaration allows the government to regulate the prices of commodities and keep them in sync with price listings submitted by businesses each month during hurricane season.
Seaports will be closed by 8 p.m. tomorrow, but Mapp said he would be making a final announcement about ferry service between St. Thomas and St. John, which he said is necessary for residents making final supply runs. Without knowing if service can be extended beyond 8 p.m., Mapp encouraged residents to get their shopping and errands finished up during the day. At the airports, flights appear to be running as usual on Tuesday but the territory is seeing some cancellations starting Wednesday, he said.