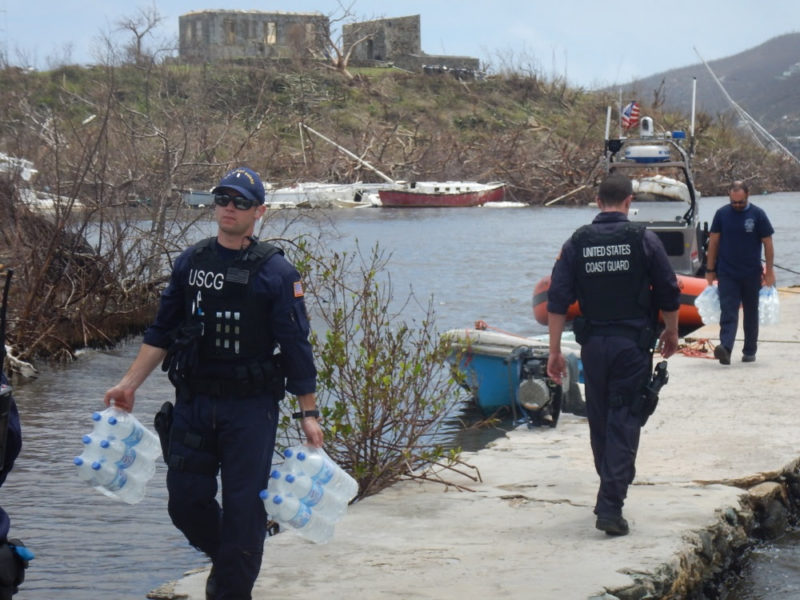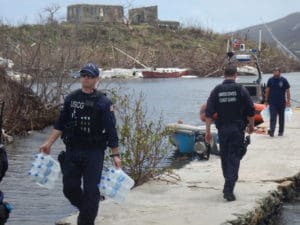 The V.I. Government Friday suspended the curfew for St. Croix from noon to 4 p.m. to allow residents to get supplies. But for many residents, still suffering from the lashing Hurricane Maria gave the island Wednesday morning, it was an exercise in frustration.
One of the four emergency distribution centers – the one at Juanita Gardine Elementary School – did not get supplies in a timely fashion and residents waited for hours before receiving anything. Gov. Kenneth Mapp, updating reporters on recovery efforts Friday evening, apologized for the incident. He said that the delay resulted when someone did not follow orders and that person would "be relieved of their duties."
The curfew will be suspended again noon to four on Saturday, and Mapp assured residents that distribution points would have supplies and lines that moved quicker. He said a C-17 and 737 were landing on St. Croix to off load emergency supplies that evening.
William Vogel, coordinator for the Federal Emergency Management Agency, saidthe Navy's USS. Wright was docking on St. Thomas Saturday with 1 million ready-to-eat military meals for distribution. The curfew is being shortened on St. Thomas so people will be able to get supplies from 9 a.m. until 6 p.m. Saturday.
The St. Croix distribution centers include Cotton Valley Fire Station, Juanita Gardine Elementary School, Alexander Henderson Elementary School, St. Croix Educational Complex and newly added Eulalie Rivera School. Residents of Whim Gardens, Flamboyant Gardens and Sunny Isle Elderly Housing are asked not to go to the distribution centers as they will be provisioned individually.
Emergency food and water will be distributed on St. Thomas at Bordeaux ball field, Dorothea Fire Station, Kirwan Terrace Ball Park, New Fire Station at Barbel Plaza, Tutu Fire Station, the Legislature building, and Ivanna Eudora Kean High School; and on St. John at the Guy Benjamin School and at the Coral Bay Fire Station.
Mapp also noted at the briefing that there was one fatality, a drowning, that would be attributed to Maria, but he was not releasing the name until an autopsy was completed.
"We are not saying the hospitals are closed," said Mapp. However, he stated that both the Juan F. Luis Hospital and Medical Center on St. Croix and Schneider Regional Medical Center on St. Thomas were offering only limited services and patients who needed to be evacuated would be. First on the list of medical evacuees are those who need dialysis treatment. Mapp said those who needed it would be transported on a military plane starting Saturday morning. Mapp said evacuation of the dialysis patients "was our only option."
For those without medical problems who want to get off the islands, Mapp said a cruise ship will offer transport to Florida next week for about 2,000 residents. The Department of Transportation will also offer "mercy" flights to residents next week. Mapp cautioned that the flights would not take residents to their destinations, just to a hub airport on the mainland. On the cruise transport people would not get private cabins on the trip to Florida.
Mapp noted that many people in the private industry would be missing work because of the storm and that they should apply for unemployment benefits. He also said that some businesses might have to close shop until they can repair their facilities. On the optimistic side, he said he was meeting with business leaders on St. Thomas and on St. Croix to see if they could have the islands ready for cruise ship visitations in about 30 days.
Mapp expects commercial flights at Cyril E. King International Airport to resume on a limited basis towards the middle or end of next week. Because of the additional work still required at Henry E. Rohlsen Airport on St. Croix, he did not give an expected date when commercial service would return there.
Mapp said he told U.S. Secretary of Housing and Urban Development (HUD) Ben Carson to address the conditions of residents in public housing. He told Carson that HUD needs to mobilize forces and resources to get their clients into better housing conditions quickly.
Delroy Richards, commissioner of the V.I. police department, told reporters, that he was not satisfied with the response of some of his officers during the crisis. He said he was relieving his deputy chiefs on St. John and St. Thomas of their duties and was probably going to make changes on St. Croix.
A news release from the U.S. Coast Guard Friday stated, "Coast Guard Cutter Joseph Napier crews offloaded 450 liters of water for residents of Coral Bay, St. John, Friday. The Napier's crew also provided the local fire department diesel fuel."
According to a news release from FEMA, U.S. Social Security Administration (SSA) offices in the Virgin Islands and Puerto Rico will remain closed until further notice. As of Friday, SSA requested that the United States Postal Service (USPS) hold all checks destined for Hurricane Maria affected areas for 45 days before returning them to the Department of the Treasury for canceling.
As of Friday also no date had been established for when postal service would return to the territory. The postal service says, "As soon as it is safe to do so, USPS will begin to re-open postal facilities on the islands. Depending on the scope and level of damage, this could necessitate the use of temporary quarters on the islands and mainland plant processing."
The U.S. Department of Energy reports on its website that on Thursday several bucket trucks and digger derricks were being transported to Florida to be shipped to St. Thomas to help the Water and Power Authority (WAPA) in its effort to restore power to the community.
WAPA sent out a press release Friday that had the following statement, "Assessments will be made over the next few days to determine the extent of damage to WAPA distribution systems. Restoration plans for both districts will then be developed and made public once the damage assessment process is completed. The restoration plans cannot be developed until the conclusion of the assessment phase."