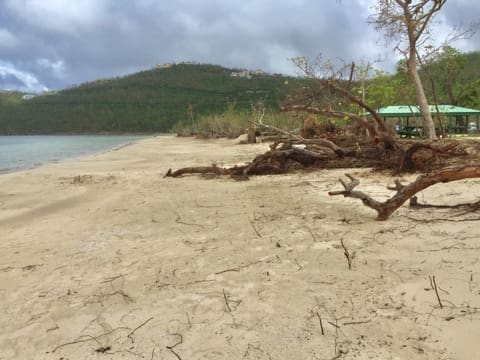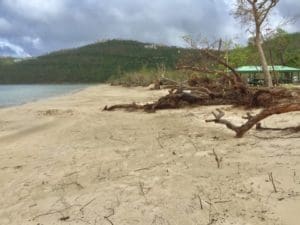 It has been dubbed one of the 10 most beautiful beaches in the world by National Geographic, and may still be even after two category five hurricanes swept her brilliant white, mile-long shoreline at 175 miles per hour. Now, Magens Bay is just beginning to reveal her losses.
On Saturday morning, as dozens of local volunteers made their way to the island's gathering place, most for first time since the two storms, the devastation was at first incomprehensible.
"I drove in and went all the way to the end first," said island resident Brad Kappel, his eyes moistening. "It's unbelievable – the damage."
The sea grape trees that have, for as long as time, provided the demarcation between sea and land and provided shade from the tropical sun for locals and tourist alike, are stripped and upended. Roots naked, glaring darkly out at the now innocent looking bay whose waters no doubt played their part in ravaging them.
"We are hoping to set them upright and re-root some of them," said Robert Moron, Magens Bay Authority board member and former chairman, emphasizing that renewal and restoration of the tourist destination was going to take time.
The concession should be back up and running for the season, he said. The water has been tested and has cleaned itself, though submerged debris is still a hazard.
If you've never been to Magens Bay before, the beach will sparkle and invite tanning and wading in the clear water. For many who know of the renowned beach, it's all about the sand and water. But there's much more and most of it severely damaged by Irma and then Maria.
Arthur Fairchild, an industrialist and arborist, deeded the beach and surrounding land – referred to as the "bowl" – to the people of the Virgin Islands on Dec. 27, 1946. His only requirement: the formation of an autonomous authority that would not rely upon or be controlled by the local government. His strong desire was for Virgin Islanders to have a protected area that was above politics and money.
And for many, many years, Magens has kept that agreement by being financially self-sustaining and maintaining a strong authority that lives up to Fairchild's generosity.
Fairchild had another passion. Trees. He spent years gathering and planting trees from across the globe in the arboretum that used to lie completely hidden – and protected – just a few hundred yards from the sand behind a green wall of ubiquitous tamarind trees and other fast growing bush and small trees.
Those hundred yards that house four sheds and bath houses provide a space where, on Sundays, families and friends gather to pray, party and frolic in the sea. Any day of the week swimmers, runners, joggers, walkers and workout groups can count on Magens Bay for a perfect place to find themselves through exercise.
On Fridays friends gather for "happy hour," and in the summertime church groups and others conduct camps for school children.
In April Rotary Sunrise conducts a kids triathlon and for the past three years, the Montessori M2M charity walk-run has finished at Magens.
But for a few, it is the arboretum that provided a sacred ground among the giant trees for quiet reflection and a few deep breaths.
Neat rows of looming Royal Palm trees provided the only hint that Magens Bay might be more than just another pretty white beach and turquoise bay.
Neither Royal Palms nor the other plethora of exotic plants are indigenous, but they were the pride of many who understood the history of this sprawling, legally protected 56-acre nature preserve, that has many times been threatened by "man" clamoring to develop it, but never devastated as it was last month, by nature.
Hurricane Marilyn in 1995 took a few of the trees, and months afterwards, again, a group of volunteers, chopped and lopped along with the Magens Bay Authority ground crew and brought the grove and many of the imported trees back. Before the time of Irma and Maria, few would have been able to calculate those losses.
On Saturday, however, the loss was fully exposed. There is no longer a barrier to hide what was felled between the sheds and the bottom of the denuded hills set well back behind the beach. Giant trees lie twisted and indistinct on top of each other in a jumbled cluster of trunks, branches, roots and leaves.
Volunteers with varying levels of energy, experience and understanding used chain saws and loppers in the areas between the sheds to cut and pile the unredeemable fallen trees and bush into mounds that would later be picked up by huge back hoe type equipment and somehow disposed of.
But that's only the beginning of the task ahead. The arboretum will require a much more delicate and expert hand.
"We plan to find someone who knows exactly what the legacy trees were, and replant where we cannot save them," Moron said, re-emphasizing that there will be no quick fix. "We are going to do it right."
Few locals would disagree with Moron. Magens Bay is history. It is nature. It is home to lizards, and frogs and birds and bats, a few of which cannot be found anywhere else. The flora and fauna of the bay provide a sense of wonder on an island that has been steadily under assault by cement for the last 50 years.
Biologist Renata Platenberg was reassuring about the short-term survival of much of the wild life including the frogs, but "the bats, I'm not so sure," she said.
Plantenberg leads groups, often at twilight, through the arboretum and nearby nature trail that switches back and forth for about a mile and a half up the steep mountainside of the bowl, to a road up above.
She regularly monitors the birds and other wild life with audio devices and other means.
"We were going to do a bat night next week," she said, surveying the downed trees and barren landscape. "I don't know where we will go now."
But Platenberg is no pessimist. "It will come back better," she said.
Moron, fierce about the hard work of the steady, caring, long-term crew, including Magens Bay manager Hubert Braumant, who have been working on restoration since the day after both Irma and Maria, is also confident.
"We will restore it," he said. "We just have to be patient."