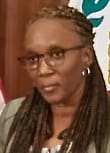 The Department of Human Services announced Wednesday that the D-SNAP (Disaster-Supplemental Nutrition Assistance Program) sites in the territory will be consolidated for the final three days of the application process.
"After careful review of our operations, the Department of Human Services will begin adjusting components of the program to improve overall efficiency," said DHS Commissioner Felecia L. Blyden in a news release. "Effective Thursday, Nov. 16 until Saturday, Nov. 18, 2017, there will be a total of three D-SNAP sites in the Virgin Islands."
The sites will be:
– St. Croix – The DHS Mars Hill offices in Frederiksted;
– St. Thomas, the Tutu Park Mall;
– St. John, the DHS Multipurpose Center.
The sites hours will remain from 7 a.m. to 6 p.m. except on Saturday, Nov. 18, when the sites will operate from 8 a.m. until 1 p.m. The U.S. Department of Agriculture approved a three-day extension of the D-SNAP sign-up period until Saturday.
Territory-wide, the DHS has processed a total of 15,157 D-SNAP applications. There have been 13, 670 presumptive eligible applicants, and 1,487 ineligible applicants, according to the department's news release.
While the D-SNAP sites have been consolidated, the department encourages residents to continue to apply for benefits prior to the last day of operation. Applicants also can call 340-715-4960 for further assistance.
"We continue to maintain that the feeding needs of residents must be met. It is the underlying goal of D-SNAP, and it is also our priority," Blyden said.
In its news release, the Department of Human Services reminds D-SNAP applicants of the following:
– Applicants can access their benefits by using (866)884-2868,
– Benefits are available for one year from the date of issuance,
– EBT cards can be used at authorized USDA Retailer nationwide,
– D-SNAP can only be used to purchase food products and for plants and seeds to grow for households to eat.