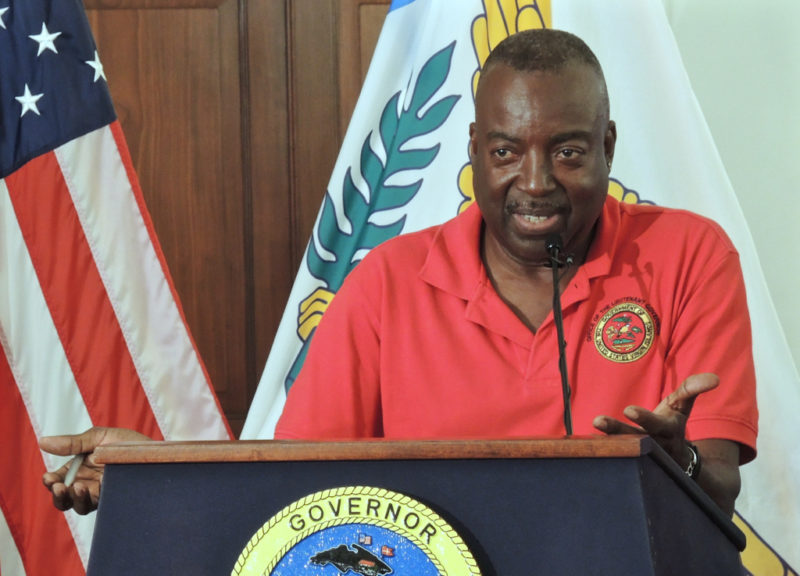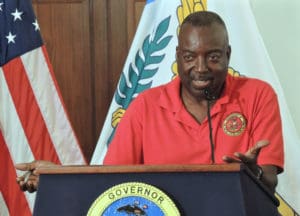 Lt. Gov. Osbert Potter, acting as governor while Gov. Kenneth Mapp is out of the territory, announced Wednesday that "Friday is not going to be a holiday" for government workers and that, unlike last year, no administrative leave will be given on that day.
All government workers are expected to report for a full day of work, Potter said at a Wednesday news conference at Government House on St. Croix.
All schools will be in session on Friday with the exception of those students attending school at Central High School, which will be closed due to a water problem at the school. WAPA will be working at Central High School to repair the problem.
Other issues discussed at the news conference include:
– Acting Commissioner of the Department of Human Services Evril Powell announced that the numbers of those in shelters in the territory is decreasing. There are 24 individuals on St. Croix, 117 on St. Thomas and 12 on St. John.
– The Disaster Supplemental Nutrition Assistance Program – known as D-SNAP – had 27,877 applicants, and more than $23 million was given out in benefits. Powell said 81 percent of DSNAP cards have been loaded and are ready for use, with 19 percent yet to be loaded.
"Due to connectivity issues, loading of cards was delayed," Powell said,.
– Deputy Superintendent for St. Croix schools Faith Dane George-Boone reported that attendance has been growing at all territory schools and that "our students are returning back to us." By January, George-Boone said she hopes for 90 percent of students to be back at schools in the territory.
– Department of Labor Commissioner Catherine Hendry reported that her office received a $3 million grant to place dislocated workers to assist with the restoration and clean-up of damaged non-profit agency properties.
Any non-profit agency that may have been damaged due to the hurricane can contact aclockhart@vidol.gov to apply for the program.
Other programs are also available to place dislocated workers in temporary distribution jobs to aid disaster victims. All individuals who have lost their jobs or are looking for jobs can go to the Department of Labor website, vidol.gov, visit the department location on each island.
Hendry also reminded businesses that the minimum wage in the US Virgin Islands is $9.50 per hour as of June 21 except for those employed in tourist services or restaurant workers who are tipped employees, where the minimum wage is 40 percent of the minimum wage – $3.80.
– WAPA Executive Director Julio Rhymer, Sr. said that 40 percent of the territory is now energized. Additional linemen arrived on the territory today to help with the effort. Water Island is 75 percent energized.
– Potter announced that Basketball Travelers donated $25,000 to the USVI for recovery efforts at the Paradise Jam college basketball tournament, which is usually held in ST. Thomas but had to relocate this year due to damage from the hurricanes. In addition, proceeds raised by the tournament will be given to the USVI. At this time, proceeds are at $15,000 and growing due to an online effort.
"The love and the connection with the Virgin Islands has gone a long way," Potter said, referring to the promoters of the tournament.