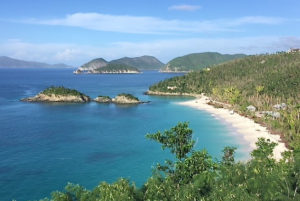 Trunk Bay Beach is not only cleared and open for visitors; it is receiving international recognition again.
FlightNetwork, which bills itself as is one of the largest Canadian-owned online travel agencies, recently named Trunk Bay as the 10th best beach in the world.
FlightNetwork calls its list, "the most definitive list of beaches ever assembled – a diverse collection of off-the-beaten-path slices of paradise from every hidden corner of our planet."
In creating its list, it said it consulted more than 600 of "the world's best travel journalists, editors, bloggers and agencies."
The Virgin Islands National Parks announced Trunk Bay, Honeymoon Bay, and Hawksnest Bay were open Nov. 21 after a massive cleanup effort.
Most of the hiking trails are also open on St. John. They include Honeymoon Trails, John Horn Trail, Leinster Bay Trail, Tamarin Trail, Caneel Margaret Hill Trails, Ram Head Trail, Drunk Bay Trail, Yawzi Point Trail, Tektite and Cabritte Horn Trails.
Christiansted National Historic Site and Buck Island Reef National Monument on St. Croix were also completely open by the end of November. Limited access to those parks and Salt River National Historic Park was allowed in late October.
The Virgin Islands National Parks receive more than half a million visitors a year.
Being named a top world beach is nothing new for Trunk Bay. It has been named a top beach by a variety of notable travel publications, including Conde Nast Traveler. National Geographic Society ranked it as the best in the world.
A contributor to TripAdvisor wrote on that website Thursday that he had visited Trunk Bay last week and the beach was empty. He said, "So beautiful, why no people."
FlightNetwork says on its website that it is the second most visited traveler's site behind only Expedia.