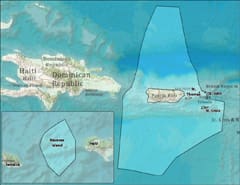 Ocean and Coastal Observing — Virgin Islands (OCOVI) invites friends, associates and the public to participate in its first meeting from 10 a.m. to 1 p.m., Saturday, Dec. 16, at E's Teagarden & Things, 12 Commandant Gade, St. Thomas (two doors from the traffic light on Back Street). This is expected to be an annual meeting in the future.
OCOVI is hoping that Julio Morell, the CARICOOS executive director, will attend and provide updates on Caribbean Integrated Coastal Ocean Observing System (CARICOOS) developments, according to Roy Watlington, project director.
The last hour of this meeting will be for the OCOVI Board of Directors' business meeting when vacancies will be filled and officers will be elected.