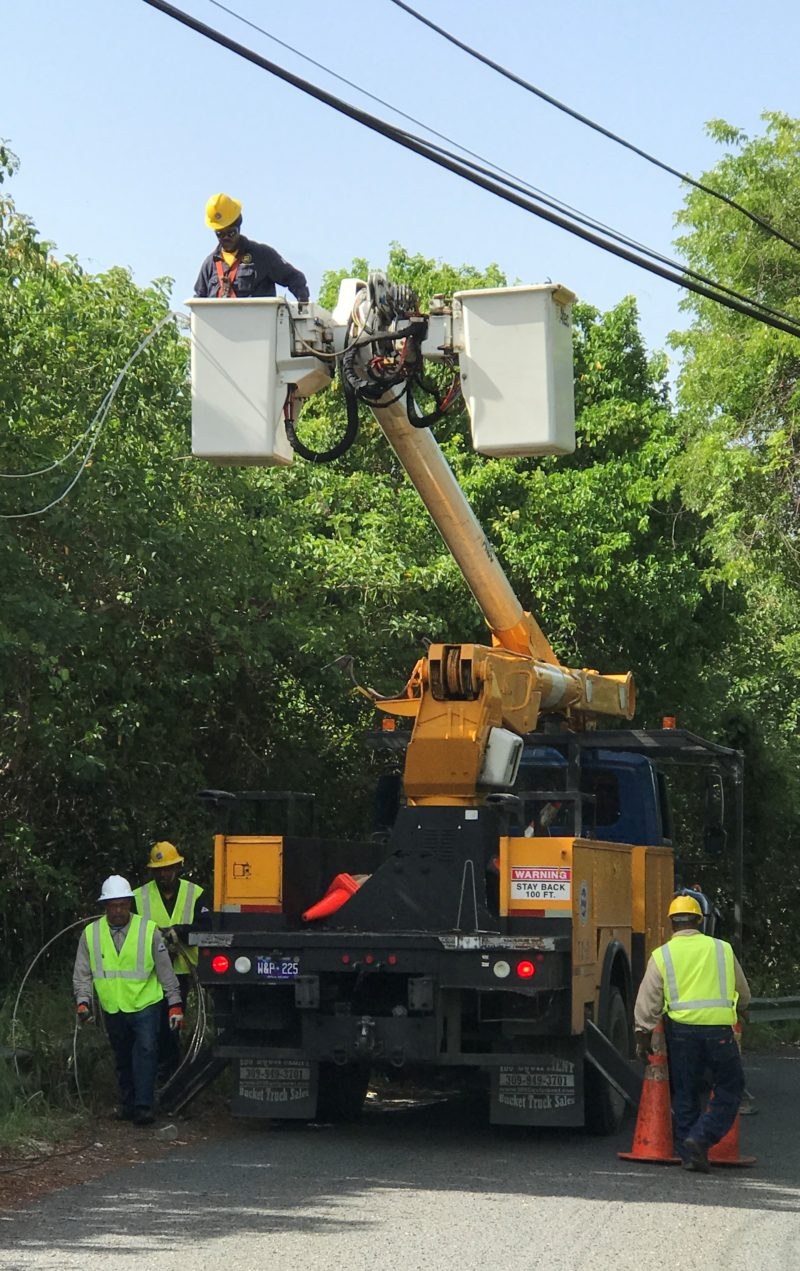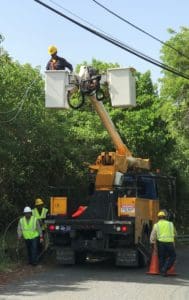 HURRICANE RESTORATION UPDATE
ELECTRICAL SYSTEM
On St. Thomas, Friday, some customers were restored in Frenchtown, the Demarara community, Old Tutu, Estate Mafolie, Altona and Welgunst, Mahogany Estate, Mariendahl and Nadir. The Arturo Watlington Sr. Post Office in Frenchtown was also energized. Over the weekend, crews will continue reconstruction work along Skyline Drive, in Sub Base from the Pueblo Supermarket to MSI Building Supplies and near the cargo building at the Cyril E. King Airport.
On Saturday, the Valdemar Hill Sr. Drive (Skyline Drive) on St. Thomas, will again be closed to vehicular traffic from 8:30 a.m. to 4 p.m., as crews perform reconstruction work. The road closure will be in effect from the intersection of Louisenhoj Castle to the Donoe Bypass. Area residents will be allowed to access their homes during the road closure. Alternate routes are available for motorists who must traverse the area.
On St. John, some customers in Pastory, Pocket Money Hill, Gifft Hill, Fish Bay and Roman Hill Road were restored. Reconstruction and restoration work will continue in Coral Bay, Zootenval, Freeman Ground and Bordeaux. Additionally, crews continue to plant poles along Centerline Road.
On St. Croix, additional customers were restored in Herman Hill, which is now at 100 percent, in Catherine's Rest, Tan Tan Terrace, Sion Farm, the western side of Mary's Fancy, Barren Spot, Strawberry, William's Delight, Mars Hill and Mount Pleasant. Over the weekend, crews will continue to plant poles in Calquahoun. Other crews will work from the intersection of Routes 75 and 79, up to Route 80, which will be closed to vehicular traffic on Saturday. Traffic flow may also be impacted on Midland Road from Glynn Gas Station to Frontline.
**************
Through an agreement reached with the Department of Planning and Natural Resources, WAPA will restore electrical service to homes with temporary roofs (blue roofs) once a licensed electrician has certified, in writing, that the structure is safe to energize.
Customers and electricians are reminded that it is against the law to remove or otherwise destroy meter seals. If work needs to be done to repair a damaged meter base and/or weather head, customers must call the Emergency Call Center at 774-1424 on St. Thomas-St. John or 773-0150 on St. Croix. The call centers operate seven days a week, 9 a.m. to 5 p.m.
If your electric meter was removed by WAPA personnel to facilitate repairs to either a meter base and/or weather head, once repairs are completed and a licensed electrician certifies the work in writing, customers are required to contact the Customer Service Office to ensure that the meter will be reinstalled and resealed prior to the restoration of electrical service. All fees usually associated with meter removal and reconnection have been waived. Customer service offices are operating Monday through Friday, 9 a.m. to 4 p.m. at Sunny Isle on St. Croix and Port of Sale Mall on St. Thomas.
Reconstruction, restoration and hurricane debris removal crews are deployed across the islands. Motorists are asked to exercise caution when driving through the work areas and to heed the directions of flaggers and VIPD officers who are assisting with traffic control.
WAPA urges residents to shut off standby generators when line crews are in their neighborhoods restoring electrical service. A standby generator has the potential to back feed electricity to the grid, which poses a severe safety risk to restoration crews.
POTABLE WATER SYSTEM
There are five days of emergency water storage on St. John, eight days on St. Thomas, and five days on St. Croix. Customers on St. Croix's west end may experience a loss of water pressure as efforts continue to build capacity at the Kingshill storage tank.
WAPA urges clean-up contractors and homeowners in both districts to exercise caution when piling debris on and around potable water meters. There are a growing number of instances where water meters are being damaged by clean-up equipment grading debris and causing damage to the roadside water meters. The continued damage by heavy equipment poses difficulty in maintaining or restoring potable water service to customers.
OTHER INFORMATION
Emergency Call Centers operate 9 a.m. to 5 p.m., seven days a week.
St. Thomas-St. John district, 774-1424; St. Croix district, 773-0150
WAPA telephone contact: St. Thomas-St. John District, 774-3552; St. Croix district, 773-2250
Customer Service Offices operate Monday through Friday, 10 a.m. to 4 p.m. at Sunny Isle on St. Croix and at Port of Sale Mall on St. Thomas
WAPA website: www.viwapavi / Facebook: Virgin Islands Water and Power Authority