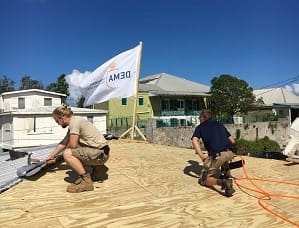 The Danish Emergency Management Agency (DEMA) donated $25,000 worth of supplies and equipment to the U.S. Virgin Islands Fire Department at a ceremony that was held at 10:30 a.m., Thursday, Dec. 14, at the Richmond Fire Station on St. Croix. DEMA is donating large 15×24 tents, as well as a package of electrical tools and equipment, including generators.
The purpose of the donation is to assist the USVI Fire Department with future recovery efforts and to bolster capacity. It will also benefit the department in carrying out their daily responsibilities.
DEMA deployed a task force of 31 tradesmen (carpenters, electricians and mechanics) to the U.S.V.I. Their mission began on Monday, Oct. 2, and will end on Friday, Dec. 15. DEMA has completed 37 projects throughout the territory. Some of the projects included emergency repairs to eight schools/education facilities, five churches, three homeless shelters, six homes for children and/or the elderly and four historical landmarks. DEMA also repaired many roofs, replaced boarded doors/windows, welded gates, and fixed generators and powerlines.
Call 773-2244 for more information.