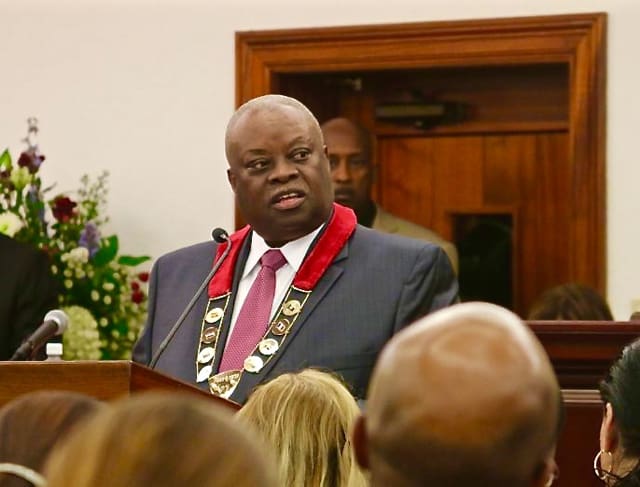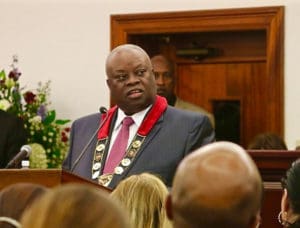 Gov. Kenneth Mapp has called a legislative session for Jan. 22 to present his annual state of the territory address. The annual speech is mandated by the federal Revised Organic Act of 1954.
The address will be carried live on the Legislature's online stream and Viya cable television channel 5 at 7 p.m., Jan. 22.
Governors traditionally not only speak about the current state of the territory but also lay out their agendas for the upcoming year. This will be Mapp's fourth state of the territory address, the final one of his first term in office. He has indicated he will seek a second term.
Money woes have played a prominent role in each of Mapp's previous three addresses and with enormous damage from hurricanes Irma and Maria, this year is likely to look at budget concerns too.
The resilience of the V.I. people in the face of adversity may be touched upon too.
Budget woes were prominent in Mapp's first address in 2015.
"In short, the current $91.2 million shortfall does not include $176 million in additional obligations," Mapp said that year.
Those included $42 million in unpaid utility bills at both hospitals, $41 million in unpaid employer contributions to the soon-to-collapse government pension system and another $7.5 million in increased contributions under pension reform legislation enacted the previous year.
In 2016, Mapp pledged action on pension reform.
"My finance team and I will work with members of the GERS board, its consultants, its administrator and our financial advisors to present a comprehensive plan to the community and retirees on how we believe we can fix this vexing problem once and for all," he said that year.
The situation has worsened since then, with the government only making partial payments of its regular contributions.
Budget woes were less prominent, due to the one-time $220 million windfall from the sale of the Hovensa refinery.
"I'm heartened to report to you that the Government of the United States Virgin Islands is receding from the brink of financial collapse; that our territory is surely entering into a state of economic and financial recovery," Mapp said.
He emphasized government pay increases that year.
In January 2017, in his third address, Mapp tempered optimism about the economy with warnings about the state of the government's finances.
"Well, on one hand our economy is stronger than ever and growing, but on the other we need to address the cash-flow issues in the public sector," Mapp said. "We have financial challenges, which require real action on all our parts," he said.
Gov. John deJongh Jr. too emphasized budget concerns in several of his addresses from 2007-2014. In 2014, deJongh proposed a budget crisis summit.
"All of us are acutely aware of what this means in terms of the operations of the government. To spend more money now is to completely run out of money sooner," deJongh said of that year's $70 million shortfall. He proposed changing V.I. tax break laws to make hotel projects on Water Island and other locations eligible for tax incentives and loan subsidies and to reduce the amount tax break recipients had to pay to get those benefits. Those changes were later enacted.
DeJongh's 2012 address warned about the damage the closure of the Hovensa refinery that year would cause to the territory's finances.
In 2011, deJongh warned the territory was at "a tipping point" and had to rein in expenses and raise more revenue.
In years past, legislators have often met past warnings of budget woes with irritation and disbelief. (See "Senate: DeJongh Blowing Budget Woes Out of Proportion" in related links below.) This year, the territory is facing at least a $200 million shortfall, assuming it receives $300 million in federal disaster loans to help with revenue lost due to the two hurricanes this year. No one is currently saying the budget crisis is being exaggerated.