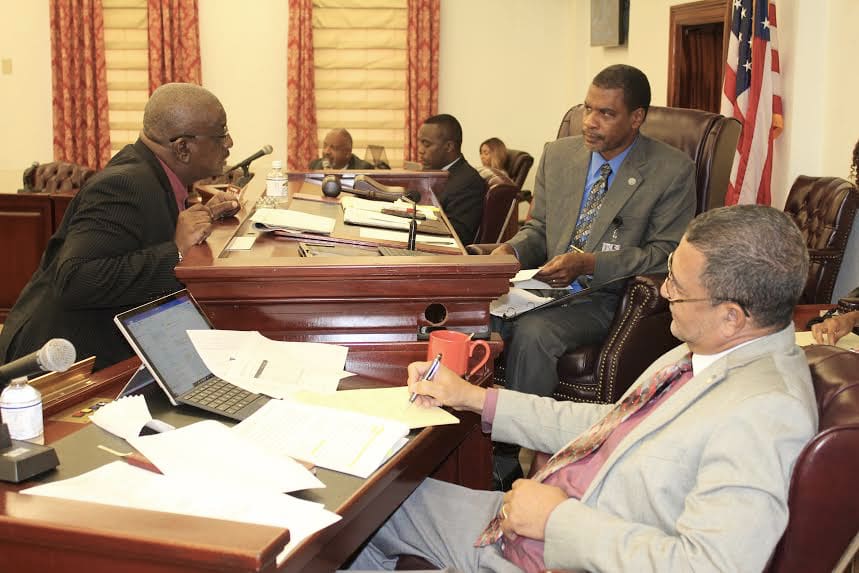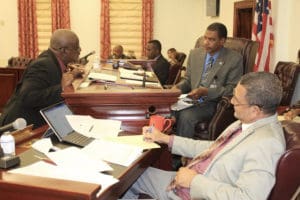 The absence of the V.I. Waste Management Authority's executive director, Roger Merritt, at a legislative hearing Tuesday, and a lack of much data on the authority's emergency contracts frustrated senators' attempts to find out why some waste haulers haven't been paid nearly five months after Hurricanes Irma and Maria.
Multiple senators said they have been approached by local waste haulers claiming the VIWMA has been slow in paying them for the work they've done to clean up the territory after September's storms.
The issue does not apply to debris removal contractors, who have been paid regularly by the Department of Public Works.
Sandra David, director of procurement for the VIWMA, provided senators a list of all contracts the authority has entered since the storm, but said all questions about their payment would have to be directed to the authority's finance department. She said she did not know whether VIWMA had the money to pay contractors, how much the authority's disaster-related contracts cost in total, or how much had been paid out to waste haulers since September.
"You don't have a total amount even in your head of how much you've paid so far?" asked Sen. Positive Nelson. "I mean you should expect that to be one of the big questions of the day."
The purpose of the hearing was to discuss recovery-related contracts executed by the V.I. Government.
David said she was tasked with giving testimony at the last minute because Merritt, who was invited to the hearing, is off-island. The statement appeared to irk Sen. Marvin Blyden, who said it is "disturbing" how often hearings with the VIWMA have to be cancelled or postponed due to the absence of its executive director.
"He's off island. That sounds too familiar when it comes to the Waste Management Authority. I'm sorry," Blyden said.
In her testimony, David said that the VIWMA recently submitted invoices for garbage hauling services from September 2017 to January 2018 to Witt O'Brien's, a consulting firm hired in early December to help maximize federal funding for the V.I.'s recovery. When pressed by Blyden she said "recently" meant within the last two weeks.
David said that many contractors were themselves late in submitting their invoices for work related to the hurricanes.
"Several times we've had to continually ask contractors to submit their invoices," she said.
According to David, the VIWMA has executed 25 contracts for hurricane recovery-related work. Nine out of the ten companies that did not have existing contracts with the authority and who were hired for emergency work were hired to haul waste on St. John.
Although senators raised no complaints of unpaid debris removal contractors, Commissioner of Property and Procurement Lloyd Bough Jr. said he could not answer senators' questions about how much debris removal contracts were costing the V.I. government in total.
He said contracts that his department prepared for debris removal listed the cost of the work at a rate of $38 per cubic yard. Beyond that, he said, each contract depends on "the magnitude of the area of debris to be cleared."
Public debris removal and waste clean up work related to Hurricanes Irma and Maria will be 100 percent reimbursed through FEMA if corresponding departments provide the necessary reporting before March 20.
Bough said that during the 2017 hurricane season, the Department of Property and Procurement preemptively executed 23 contracts for debris removal from roads, emergency roof repairs, and generator repair. In the aftermath of the storms, 53 additional emergency contracts were executed for extra work needed in those areas.
In addition, five emergency janitorial services contracts, four emergency diesel supply contracts, one contract with a hotel to provide emergency shelter, and one contract for trucking services to transport relief supplies were executed.
Present at Tuesday's information-gathering hearing were Sens. Blyden, Nelson, Nereida Rivera-O'Reilly, Brian Smith, Tregenza Roach, Dwayne DeGraff, Neville James, Kurt Vialet, Janette Millin Young, Janelle Sarauw, Jean Forde.