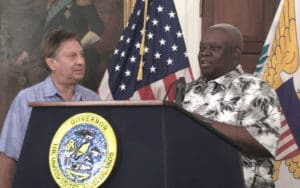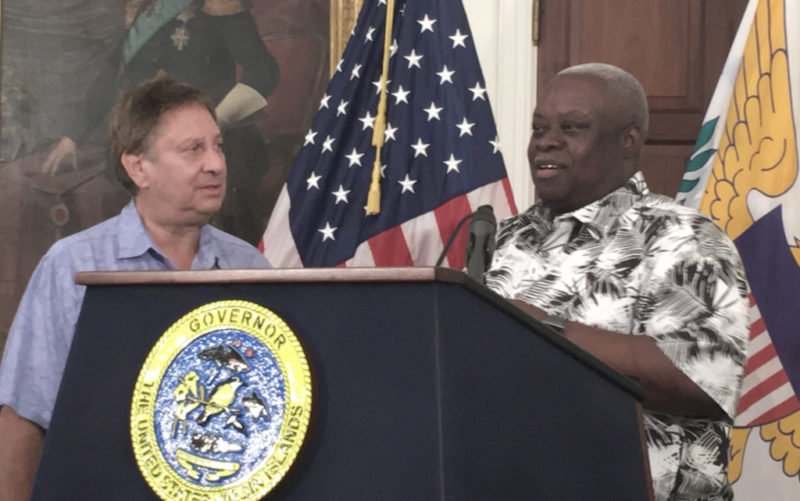 Officials from both the V.I. government and nonprofit organization continue to defend charitable grants made to private radio stations, arguing they are a normal, legitimate and small part of the charitable works donors to the Fund for the Virgin Islands are financing.
But the IRS has disallowed charitable donations to private radio stations in the past.
At a news conference Feb. 7, Gov. Kenneth Mapp gave out checks of charitable hurricane recovery donation money to several private radio stations that operated during the hurricanes.
JKC owns WJKC Isle 95; The Mongoose 104.9 FM, Sunny 99.5 FM WVIQ,, Caribbean Country 93.5 WVVI and La Nueva Rumba 98.3 FM.
WSTX Radio AM 970 and FM 100.3, and The Reef 103.5 FM/1620 AM also received checks from charitable disaster recovery donations.
The grants have become controversial for many reasons, but particularly because they are private for-profit businesses. Also, private radio stations in the territory play a major role in political campaigns in the U.S. Virgin Islands, airing commentary, letting some candidates and officials host radio shows, and airing large numbers of political advertisements.
Mapp is running for reelection this fall. Mapp did not announce any other charitable grants at his press conference. although the charitable fund, managed by the Community Foundation for the Virgin Islands, gave out millions of dollars and the radio grants were less than 5 percent of the total.
For all those reasons, many have questioned whether this was inappropriate self-dealing of some sort. Mapp and administration officials strongly deny that, as does CFVI Executive Director Dee Baecher Brown. Mapp does not personally have the power to direct those funds.
Back in October, Mapp established a V.I. Hurricane and Resiliency Advisory Group, under the Office of the Governor. (See: "Mapp Appoints Panel to Help Guide Hurricane Recovery" in Related Links.) It includes local officials and community members, business and environmental experts, and thought leaders from around the United States. One of its responsibilities is tracking and monitoring distribution and spending of federal disaster assistance funding and private donations, including the Community Fund for the Virgin Islands, the source of the money that went to the private radio stations. The fund is administered by the Community Foundation of the Virgin Islands. A task force within it actually makes those decisions, at least on paper.
Asked about how the decision to spend those funds were made and who was on that task force, Government House spokesperson Sandra Goomansingh said it was a group effort.
"Proposals are reviewed by CFVI Executive Director Dee Baecher Brown, at least one CFVI board member, Hurricane Advisory Task Force Chief Executive Officer and Government House Policy Advisor Dina Leroy, Task Force Chairman Clifford Graham, Government House Chief Counsel Emile Henderson and Jarrod Bernstein and David Schmid of Bloomberg Philanthropies," Goomansingh wrote in an email.
As a practical matter, Graham, a former St. Thomas senator, represents the task force and looks over the proposals, she said.
"Ms. Brown did give the Task Force members an update about proposals at the last meeting and she reported the radio stations were being considered for grants. Ms. Leroy stated that this move was supported as members understood that these stations served as emergency broadcasters at great expense and sacrifice at a very difficult time," Goomansingh said.
Defending the grants given so far, she said "those stations recently awarded grants demonstrated that they were on air immediately following the storms and operating as emergency broadcasters – allowing local and federal officials unlimited access to the airwaves, running no or limited advertising and doing their best to help keep the public informed during the aftermath of the hurricanes."
Not all of the stations owned by the companies receiving charitable funds were up and running during and immediately after the storms and of those that were, some played music most of the time, rather than public information. Other stations that were up and running and playing news, including the University of the Virgin Islands station WUVI, were not included in the cash gifts. Other news outlets, including the V.I. Source and VI Consortium also were not given cash grants. The Source, for example, had a massive spike in readership during and after the storms as individuals with no electricity but wavering cell signals accessed it online and received texts of information from stateside family and friends. Print papers, including the V.I. Daily News, were reporting and giving out information in print and online in the immediate aftermath of the storm.
Goomansingh did say Tuesday that "all radio stations and other entities that serve or served the public in hurricane response or recovery are welcome to apply for grants."
Brown similarly argued the payments to radio stations were normal and part of a much larger set of grants.
Reached over the weekend, she pointed to the much larger number of grants given to other organizations. That one fund has had about $7.7 million donated to it and CFVI oversees about $13 million in hurricane-related charitable funds, overall, she said. CFVI began distributing grants back in September, with $250,000 to 10 charitable organizations throughout the territory. In November, they gave out a second round of $675,000 to 27 recipients, and in December gave $150,000 to the Queen Louise Home for Children, she said.
"We also assisted with the governor's children's holiday parties and we did that so we could ratchet up the quality of the parties given how stressed the families are," Brown said.
While the governor knew about the grants "he was not part of the process," she said.
The current group of nearly $2.5 million in grants goes overwhelmingly to established charities too, she pointed out.
Asked about the propriety of giving money to private, for-profit companies, Brown said it was appropriate because the stations served the public during and after the storms.
"In disasters, in the immediate response, there is an accepted policy to help businesses if they were very involved in helping with managing the disaster and recovery," she said. "What the radio grants are, are grants to five stations that were on the air before, during and after the storms, who provided some of the critical live information," she added.
Brown also having those radio stations on-air especially benefited the elderly, the house-bound and those isolated from other areas.
"So although it was a grant for a business, it was a very special situation," she said.
Stations applying for grants were required to fill out information on their size, wattage, FCC licenses, business licenses and so forth.
"It was a process," she said.
She said the way the governor announced the benefits helped create the public stir.
"It kind of came in an isolated way and because of that I think it created confusion," Brown said.
On whether other stations should have received funds too, she said they did a thorough outreach to stations to find which are eligible, but "if there is a radio station we missed, we will place them under consideration."
She said the "IRS has very specific guidance for grants in disasters."
Do IRS guidelines for 501(c)3 tax exemptions support the position that doing good work can justify giving charitable money to private businesses?
The IRS guide for disaster relief (https://www.stayexempt.irs.gov/se/files/downloads/disaster_relief.pdf) does not specifically mention money to private companies. It does say "A charitable organization, when using discretion to distribute funds, must consider:
– Its charitable purposes;
– The public benefit of its activities, and
– The specific needs and resources of each victim."
And it refers to the general rule for all 501(c)3 organizations.
According to the IRS's guide for 501(c)3 charities for compliance with tax exemption rules, "A public charity is prohibited from allowing more than an insubstantial accrual of private benefit to individuals or organizations. This restriction is to ensure that a tax-exempt organization serves a public interest, not a private one. If a private benefit is more than incidental, it could jeopardize the organization's tax-exempt status."
The IRS does talk about charities giving to private radio stations. Another guide, about what types of private benefit are not allowed, cites an actual IRS ruling that denied a tax exemption to a charity for helping a private radio station. In that case, the private charity was set up to promote classical music. That charity did not give money to the radio station, but just solicited sponsors, gave out pamphlets and bumper stickers in support of a local classical music radio station.
"Although the organization's broad purpose of promoting interest in classical music and encouraging programing of classical music provides a public benefit, the activities served the private economic interests of the for-profit radio station to a substantial degree. Therefore, because private interests were served, exemption was precluded," the IRS guide says.
One difference between that case and what happened in the Virgin Islands, though, is that the classical music group primarily helped the one radio station, while the Fund for the Virgin Islands has given the vast majority of its donations to clearly charitable activities. In the same block of grants, the fund gave $2.4 million to an array of groups including Lutheran Social Services, My Brother's Workshop and three island-specific long term recovery teams, whose public benefits are unquestioned.