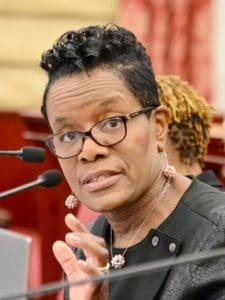 Many of the complaints received by the Division of Banking, Insurance and Financial Regulation since Hurricanes Irma and Maria relate to the issues of underinsurance and force-placed insurance, the division's director Gwendolyn Hall Brady said Tuesday.
The division, which falls under the Office of the Lieutenant Governor, has reported more than 1,000 complaints from residents attempting to make insurance claims on their damaged properties following Hurricanes Irma and Maria.
Brady testified before the 32nd Legislature's Committee of the Whole Tuesday and shed some light on some of those complaints.
Brady said a higher number of insurance claimants than the division expected were underinsured when the storms hit. This applies to homeowners who had insurance policies that covered less than 80 percent of their property's appraised replacement cost.
Brady said she could not give a percentage yet as to how many of the territory's post-storm insurance claimants have fallen under the underinsured category, but the number is high enough to warrant an emergency order issued by her division on Feb. 12.
The order mandates a second review of all insurance claim for which a determination of "underinsurance" was made. It followed a Jan. 23 bulletin from the division placing the responsibility on insurers to inform customers if they are underinsured by requiring them to sign a notice.
Senate President Myron Jackson asked Brady if, given the number of complaints about underinsurance since September, the community was fully informed and educated on the issue prior to the storms.
Brady responded yes, but acknowledged that buying property insurance can be a confusing process, and there are many reasons a customer may end up being underinsured, sometimes without knowing it.
"Some people have come in and said Director Brady, I made an informed decision to underinsure, and I realize that. But that's not everybody," she said.
One reason a homeowner may not be aware they are underinsured is if they made improvements to an insured property without disclosing it to their agent and updating their policy. Another reason may be if construction rates per square foot, which are market based and used to determine replacement costs, have increased since a policy was purchased without the policyholder being informed.
Brady said her division's emergency order was issued to get to the bottom of why so many residents have claimed being unfairly treated, and why so many were underinsured in September. The second review of each of those cases has already begun.
"That does not mean, and we want to say on the record, that every second review will be reversed," she added.
A number of residents who were underinsured at the time of Hurricanes Irma and Maria had what is known as "force-placed insurance." This occurs when coverage for a mortgaged property is purchased by a policyholder's bank or lender after a previous policy purchased by the owner is cancelled or lapsed.
In order to purchase force-placed insurance for a property, the lender is federally required to send multiple notices to its owner stating that an insurance policy is required under the terms of the mortgage. If the owner does not then purchase a policy, the lender can select one, but it generally only covers the amount owed on the mortgage, rather than the full value of the property. In other words, the lender only insures its own interest in the property.
Sen. Kurt Vialet, who admitted that his home was covered by a force-placed insurance policy at the time of September's storms, said that many residents might opt for the less expensive force-placed insurance due to the high cost of windstorm insurance in the territory. And as decades passed between disastrous hurricanes in the V.I., some homeowners might not have seen the value in restoring full coverage.
"Unfortunately, a lot of people got comfortable and allowed that force-placed policy to stay in place," he said.
Sen. Tregenza Roach added that force-placed insurance can create the additional problem of naming a lender, rather than a property-owner, as the insured. This make collecting money to make repairs a lengthier and more complex process than if the owner of the property is listed as the insured.
Dolace McLean, legal counsel to the Office of the Lt. Governor, responded, "At the risk of sounding unsympathetic, this is precisely why the division warns people: don't be force-placed."
"You become this person trying to navigate this maze for a policy that doesn't protect your interests. Don't put yourself in that position," she added.
Some residents' difficulties with their force-placed policy claims have even lead to a class action lawsuit filed in the District Court of the Virgin Islands on Feb. 14.
Daryl Richards and Loretta Belardo, both of St. Croix, filed the lawsuit against the Bank of Nova Scotia on behalf of themselves and others covered by insurance force-placed by the bank, who they allege refuses to file such claims and "is stonewalling borrower's attempts to get information."
"It has been five months since the hurricanes and, on information and belief, Scotiabank has not resolved a single claim on behalf of a borrower with force-placed insurance," a filing in the case reads.
When Sen. Alicia "Chucky" Hansen asked at Tuesday's hearing about the case, Brady said representatives of her division will respond to it at a hearing scheduled for March, during which a bill to reform the Virgin Islands Banking Code will be discussed.
As of Feb. 15, Brady testified, 53 percent of the territory's 10,114 claims filed as a result of Hurricane Irma have been closed, 4,738 with payment, and 596 without; 46 percent of the 6,002 claims filed as a result of Hurricane Maria have been closed, 2,221 with payment and 523 without.
Altogether those claims, only about half completed, amount to more than $750 million dollars. That is already more than the entire amount paid out in insurance claims after Hurricane Marilyn in 1995, which totaled $737.1 million. The cost to insurers of September 2017's two storms is on track to match or surpass the $1.5 billion paid out after Hurricane Hugo in 1989.
No votes were taken at Tuesday's information gathering session at the Legislature. Present in addition to Jackson, Roach, Hansen and Vialet were Sens. Jean Forde, Marvin Blyden, Janette Millin Young, Novelle Francis Jr., Nereida Rivera-O'Reilly, Dwayne DeGraff, Neville James, Brian Smith, Positive T. A. Nelson and Janelle Sarauw.