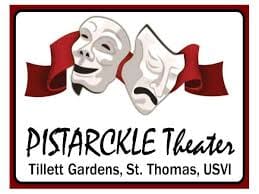 "Going To Come Back" is a sequel to a Susan Hunter comedy called "Catch and Keep," which was presented during Pistarckle's 2017-2018 season, directed by Frank Bartolucci. There will be seven performances of the play in May at the Pistarckle Theater in Tillett Gardens.
One year after inheriting The Catch & Keep, an old St. Thomas Manor Home that was turned into a guest house, the audience returns to find Nevilina, a sage island woman, still cheerfully helping Bo run things. Bo has had quite a year, missing her old friend and life, while learning how to fit in and get things done — island style.
As they prepare for a wedding in the guest house garden, they are hit with a couple of nature's tropical surprises… a small earthquake to really shake things up and the news a big storm is headed for the island.
But more urgently… they are running out of time to renew Bo's old car's inspection sticker, and a mouse shows that he likes cake. A lot.
Their guests' misguided agendas and learning why the Catch & Keep has had its young ghost for several generations adds to the melee of a few days of vacation in Paradise.
Welcome to the Catch & Keep, where everyone is just… for a bit… goin' ta come back.
Scheduled Performances for "Going To Come Back"
Thursday, May 10, will be the popular Pay-As-You-Can-Night, 8 p.m.
Friday, May 11 and May 18, 8 p.m.
Saturday: May 12 and May 19, 8 p.m.
Sundays are "Mimosa Matinees:" May 13 and May 20, 2 pm. Get a free mimosa with every ticket!
Group Discounts: If you are a member of a group, the group is eligible to receive a 10 percent discount for all its members. Contact Marketing Director Priscilla Lynn for more details. To purchase tickets, call 227-8451.