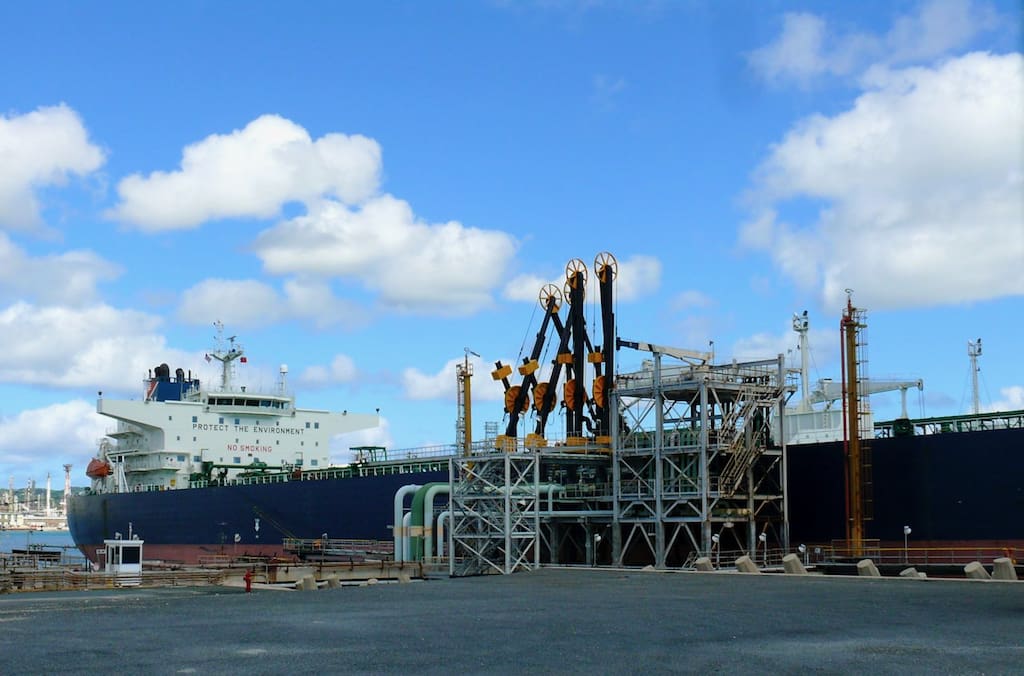 Limetree Bay Terminals is seeking a major Coastal Zone Management permit to install a mooring and underwater piping that will allow larger and fuller ships to transport oil to and from the storage facility.
On Wednesday representatives of the company presented their permit application to the 32nd Legislature's Committee of the Whole. The hearing's purpose was for senators to have a chance to vet the proposal before a vote is taken at a future full senate session.
The plan involves installing a single point mooring (SPM) off the coast of the facility. An SPM is a mooring used by tankers to load or offload crude oil or refined petroleum products in cases where shallow waters prevent them from docking.
Large tankers can dock at Limetree Bay, where the channel has a draft restriction of 55 feet, but because the largest of these ships have a draft restriction of 70 feet, they typically arrive at the facility roughly half-loaded, according to Jason Gleason, lead superintendent of Limetree Bay's marine department.
"Single point moorings have been used throughout the world since the 1950s. They provide a safe solution to draft limitations that face many ports," Gleason told senators Wednesday.
"This project will enable our customers to transport crude to and from the facility in a fully loaded VLCC [Very Large Crude Carrier], offering a much more efficient operation," he added.
Fully loaded tankers bring in approximately 2.5 million barrels of crude oil, and the SPM allows for the movement of 45,000 barrels per hour. Two miles of piping will be needed to transport the oil from the tankers moored at the SPM to Limetree Bay's storage facility.
Burying the pipeline will mean dredging and replacing an estimated 14,000 cubic yards of material from the sea floor. Limetree Bay representatives said Wednesday that is a less impactful alternative to dredging the channel to accommodate the full tankers, which would require dredging up to 3 million cubic yards of material.
The sea around Limetree Bay, the former Hovensa refinery, was dredged when it was developed for industry, but no dredging has occurred there since 1974.
"Today is the culmination of over two years of work by a large team of surveyors, engineers, environmental specialists and operators," said Gleason. "We have investigated many possible designs and developed this project around the least environmental impact and the safest operating procedures."
Limetree Bay's proposal includes transplanting coral found within the potential impact area of the project, which received the approval of the V.I. Department of Planning and Natural Resources' CZM division.
"What the department also included as part of its special conditions is, rather than just transplanting the coral immediately around the vicinity of the terminal in the same waters, we're actually partnering with Limetree Bay to try something a little different," said CZM Director Jean-Pierre Oriol. "And that is to take these corals that are living and doing OK in these sorts of stress-hardened environments, and bring them into coral nurseries and try to introduce those gametes into the ecosystem to strengthen the corals throughout the territory."
Senate President Myron Jackson said the legislature anticipated having the discussion about accommodating larger, fuller ships when it welcomed Limetree Bay to St. Croix in 2015, by a vote of 10-5. Most senators said they planned to support the permit.
Some senators wanted information from the company that wasn't a part of the hearing's agenda, however.
Sens. Positive Nelson and Alicia "Chucky" Hansen both grilled Gleason on employment at the storage facility with the aim of finding out if Limetree Bay is providing sufficient full-time employment to V.I. residents, a part of the company's agreement with the V.I. Government.
Gleason said neither he, nor others at the hearing, would be able to answer those questions. He said Limetree Bay has 90 employees, and 700 contractors working at the facility, but he said he did not know the residency status or demographic makeup of those groups.
Other senators were concerned that larger shipments of oil could magnify the effects of an accidental spill.
"You can see why we as a territory, isolated as we are in so many ways, could be concerned about bringing in this amount of potential contaminant," said Sen. Tregenza Roach.
Gleason said Limetree has a federally-mandated spill contingency and countermeasure plan that has been updated to reflect the proposed SPM.
Roach asked how quickly a breach in the planned pipeline can be addressed if one is discovered.
"Instantly," Gleason said.
Senators present at the Committee of the Whole hearing were Sens. Jackson, Hansen, Nelson, Roach, Marvin Blyden, Dwayne DeGraff, Jean Forde, Novelle Francis Jr., Neville James, Nereida Rivera-O'Reilly, Sammuel Sanes, Janelle Sarauw, Brian Smith and Kurt Vialet.