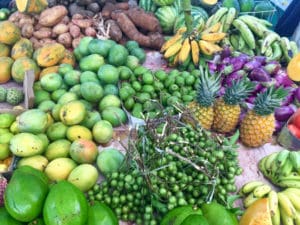 The Department of Education, State Office of Special Nutrition Programs has announced the availability of the School Year 2018-2019 Fresh Fruit and Vegetable Program (FFVP).  This program provides all children in participating schools with a variety of free fresh fruits and vegetables throughout the school day.  It is an effective and creative way of introducing fresh produce as healthy snack options.
All public elementary schools in the St. Thomas-St. John and St. Croix districts are encouraged to apply.  Applications can be picked up or emailed beginning Wednesday, May 2, at the Special Nutrition Programs Office, on St. Thomas, located at the bottom of Polyberg Hill in the former J. Antonio Jarvis Annex School. They can be picked up on at the Department of Education's Main Complex located at 2133 Hospital Street, Christiansted, on St. Croix.
The deadline for applying is 5 p.m., Tuesday, May 22.
For more information, contact Joeleen Carty at 774-0100, ext. 2812 or joeleen.carty@vide.vi  on St. Thomas or Clint Codrington at clint.codrington@vide.vi on St. Croix.