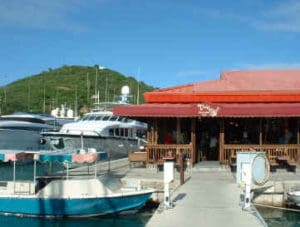 The Small Business Administration (SBA) has given its "2018 Resilient Small Business of the Year Award for the U.S. Virgin Islands" to Lou Morrissette, owner and CEO of Tickles Dockside Pub.
Morrissette was nominated for this award by the Virgin Islands Small Business Development Center (VI-SBDC) as a result of his hard work, dedication and commitment to the community in the aftermath of hurricanes Irma and Maria. May 13-19 has been designated Small Business Week in the V.I. An awards ceremony will be held at 10 a.m., Wednesday, May 16, at the University of the Virgin Islands, Albert A. Sheen Campus, NNW 102-103 (west of the Great Hall). The media and the public are invited to attend.
A ceremony will be held on St. Thomas at 4 p.m., May 24, at Tickles Dockside Pub so that local friends and patrons may honor Morrissette.