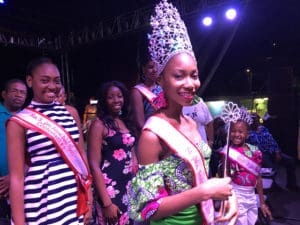 Community members mingled with St. John Festival royalty and government officials at the official opening of "Sessionsville" village in Cruz Bay Thursday evening.
Festival 2018's village is named for in honor of the popular and prolific St. John band Cool Sessions, who were recognized at the opening. The band has been together for 33 years.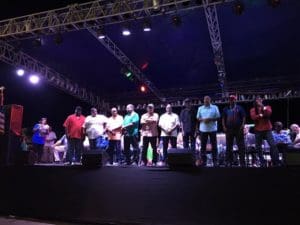 Attendees of the opening ceremony, who came out despite some light drizzle, were also treated to the sounds of the Love City Pan Dragons, a rendition of the National Anthem sung by Shikima Jones, the courtly smile of St. John Festival Queen Chenijah Dawson, some words by Gov. Kenneth E. Mapp and Lt. Gov. Osbert Potter, good food and good friends.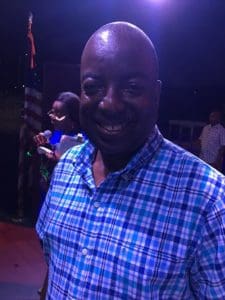 "It's great that after the hurricanes we're still able to do this," said Potter. "I don't think people even remotely thought we could do this. Carnival contributes to the recovery process. We enjoy good food, music, and let our hair down.
"It's a miracle that we're here, and we've come back so far," agreed Senator-at-Large Brian Smith. "It's a conglomerate effort with God's guidance. Love City is a special place to be."
Those from off-island who aided in St. John's recovery were among those present in the village. The medical team from Johns Hopkins who served right after Hurricanes Irma and Maria are back on St. John for a follow-up visit, and were able to enjoy the opening of Sessionsville.
"I've seen tremendous progress here," said team leader Dr. Christina Catlett.