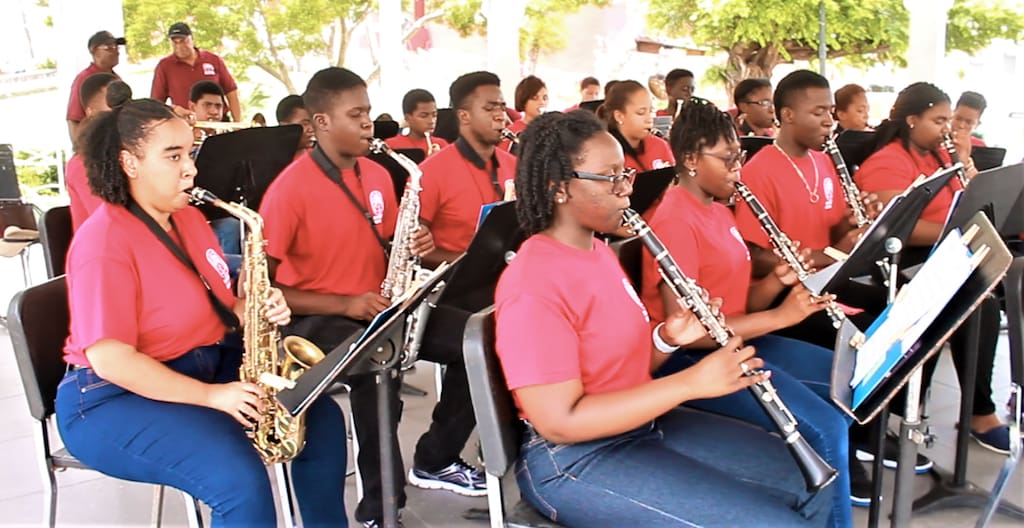 Crisp, harmonious live music rang through Emancipation Garden on Wednesday when some 25 graduates of the University of the Virgin Islands' 2018 Summer Band Camp showed off the fruits of their labor in their first concert of the season.
Wednesday's performance, the first of four Wednesday concerts scheduled through July 28, lasted nearly an hour and featured various styles, from classical to Beatles hits to television series soundtracks from the '70s. The young musicians took directions from senior counselors, music teachers working in local public schools, and junior counselors, Virgin Islands students attending college stateside who came back to gain experience running a band program.
The UVI Summer Band Camp began in 2006 at the university's St. Thomas campus under retired UVI music professor Austin Venzen through funding from the Law Enforcement Planning Commission. Since then, the camp has grown from 11 students in the first batch to roughly 40 every summer.
"When we first started, it was just a band camp," shared Venzen. "Three years later, we incorporated an opera camp."
Local students in their junior and senior year enter the program with varying levels of musical experience, from those who already have a confident handle on their instruments to students who are only learning how to sight-read. The camp also hosts a group of students from other Caribbean islands – this year, six from Anguilla – through an exchange program that the university uses as a recruiting tool for its music program.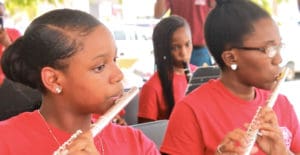 Acclaimed jazz drummer Dion Parson has been involved with the program for the last six years. Two years ago, when he accepted the chairmanship at UVI's Music Department, he played a central role in continuing to provide a venue for the band camp to thrive.
"It's a great group of students; they're wonderful and they're hungry," said Parson, beaming as he described their "hectic and intense" daily schedule.
This summer, band camp graduates followed a structured routine, warming up as early as 8 a.m. with junior counselors until the senior counselors take over for concert band rehearsals. In the afternoon, the camp broke up into sectionals, where students playing the same instruments – percussion, brass or woodwind – rehearsed in smaller groups.
"That gives the students the opportunity to deal with the sections one on one, and to understand how to function within it," said Parson.
While the camp officially got dismissed at 3 p.m., Parson worked an extra hour with the jazz ensemble, which will perform in the later concerts because of the amount of work their performance requires. Students also got a chance to rehearse on their own and receive at least two half-hour individual instruction sections twice a week in anticipation of their solo performances at various venues.
The storms took their toll on the band camp this year. The normal six-week schedule had to be condensed into four, and the camp hosted about 25 students instead of the usual 40.
"We lost a lot of students who left island, and a lot of the seniors decided to take summer jobs to kind of help economically before they go off to college," said Parson.
In spite of the smaller post-hurricane group, the band camp has been able to provide some sense of well-being to its students, said Parson.
"Despite the devastation and the distractions happening in the community because of the hurricanes, we try to keep the students engaged," he said. "Our goal is to keep them focused, keep them aligned positively and assist them in their needs. Some of these students are heading off to college and we try to prepare them for that."
Parson said that while the band camp's success is displayed in full volume at the end-of-camp concerts, measuring progress in students is an individual thing.
"Some students come in and they may not know all their major scales, and at the end of the camp, they can play all their major scales," explained Parson. "They may not be able to play certain registers of certain instruments, and our goal is to get their technique together to be able to play different levels of technical ability."
For Venzen, the band camp benefits not only its current students but future generations of Virgin Islands musicians.
"Some of the students who have been in the camp, and have gone away to school to make their music, they actually come back and they start teaching and begin their career," he said. "Now they're music supervisors and music chairpersons in the public schools here."