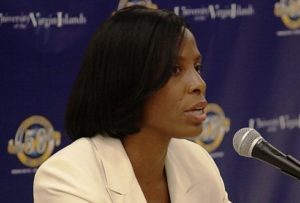 Delegate to Congress Stacey E. Plaskett (USVI), a member of the House Agriculture Committee, released the following statement after being named one of the House Democratic members to serve on a conference committee on the Farm Bill:
"I am thankful to the Democratic House Leadership for appointing me as a conferee to the conference committee for the 2018 Farm Bill. The conference committee is made up of selected members of the House and Senate to resolve disagreements on major legislation. I look forward to joining the other conferees to work on hopefully negotiating adjustments to the Farm Bill which can then be passed in Congress and signed into law that protects our farmers, ranchers and consumers.
With America's farmers, producers and ranchers facing plummeting prices, rising retaliatory tariffs, and natural disasters, we need a Farm Bill that puts their needs and our economy first more than ever. The Senate version of the bill was much more sensitive to the needs of Americans who rely on the Farm bill for sensible nutrition programs which fund SNAP and school lunch programs and is utilized for our own farm to school program.
The most vulnerable members of our community – children and our elders (along with many working families) rely on these programs which were cut enormously in the Republican House version of the Farm Bill. I look forward to being a part of the diverse House Democratic Conferees who will bring the strength of our values and wide-ranging expertise to the work of crafting a bipartisan Farm Bill that honors our responsibility to the farmers and people of the Virgin Islands."