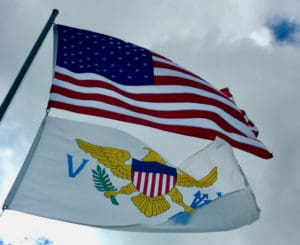 Hannah Y. Kim, ambassador of the Korean War Veterans Memorial Foundation and former chief of staff to Congressman Charles Rangel (D-NY), visited St. Thomas and St. Croix this week to thank and honor Virgin Islanders who fought during the Korean War Era (1950-53).
"It's an honor to be here to say thank you, as a messenger, to express our gratitude to those who are often doubly forgotten," Kim said to the veterans who gathered for the ceremony and luncheon organized by Alpine Securities USVI at Franklin D. Roosevelt Veterans Memorial Park on St. Thomas and the American Legion Post on St. Croix.
"There are two million Koreans thriving in America thanks to the sacrifices of those who went to fight for our motherland. We're all here because of you."
An estimated 750 Virgin Islanders (mostly volunteers) fought in the Korean War. While it's commonly referred to as the "Forgotten War," 1.8 million soldiers from the United States served during 1950-1953. More than 36,000 Americans were killed in action; over 100,000 were wounded in action; almost 8,000 remain unaccounted for. Official Department of Defense statistics show that 78 from the U.S.V.I. were killed in Korea.
In their honor, commemorative wreaths were placed at Roosevelt Park in Charlotte Amalie and the Verne I. Richards Veteran Memorial Park in Frederiksted.
"When we learned about Ms. Kim's mission to visit Korean War veterans across the U.S., we wanted to ensure that those in our islands were also recognized," said Jason Charles, chief of external affairs at Alpine Securities. "I'm so pleased that the leaders of American Legion District 10 stepped up to help us find the veterans and their families." Charles also expressed his sincere thanks to the Office of the St. Thomas Administrator and the Department of Sports, Parks and Recreation for their assistance.
Post Commander Hillis Benjamin presided over the event on St. Thomas, with welcoming remarks provided by Lt. Gov. Osbert Potter and Cletis Clendinen, a representative of Delegate to Congress Stacey Plaskett. On St Croix, District Commander Charles David moderated the program, which included Virgin Islands Sen. Sammuel Sanes and State Director Patrick Farrell of the V.I. Office of Veterans Affairs.
All veterans in attendance received a certificate of appreciation signed by Patrick Farrell, Charles David, Jason Charles and Hannah Kim.
Kim also individually presented each veteran with an American flag lapel pin in the shape of a heart. "It's a small token of love and gratitude to whom I'm proud to call my grandpas," she said as she hugged and kissed them. "I refer to all Korean War Veterans as my grandpas because if they didn't go to Korea almost 70 years ago, I literally wouldn't be here today."
Following the program, there was a screening of "Proudly We Served: Virgin Islands Veterans of the Korean War," produced by Jan Jay Productions for American Legion District 10.
To inquire about a Certificate for a Korean War Veteran, please contact Jason Charles at 714-2020 or via email Jason.charles@alpineusvi.com.