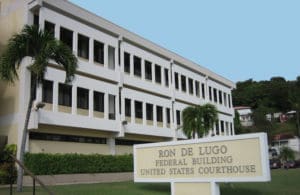 Gustavo Adolfo Jimenez Polanco, 30, a Dominican Republic national, was sentenced Thursday in district court for illegally re-entering the United States, U.S. Attorney Gretchen Shappert announced.
District Court Judge Curtis V. Gomez sentenced Polanco to 12 months and one day incarceration, three years of supervised release and a $100 special assessment.
According to court documents, Polanco appeared at the Cyril E. King Airport on Feb. 10 and was questioned regarding a Florida driver's license that he presented to the primary inspector at the Customs and Border Protection check point. The primary inspector referred him to secondary inspection, where it was determined Polanco was a Dominican Republic national previously deported from the United States on July 1, 2014.
The case was investigated by Homeland Security Investigations. It was prosecuted by Assistant United States Attorney Everard E. Potter.