Gov. Kenneth E. Mapp has signed the main budget bills comprising the territorial government's Fiscal Year 2019 budget week, and the final tally is about $1.32 billion, Government House announced over the weekend. That sum, approved by the Legislature Sept. 19, is about $40 million more than what Mapp presented to the Legislature on May 30.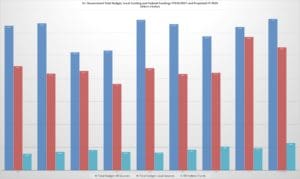 Completing the budget bills marks a partial return to normalcy, after twin hurricanes interrupted the budget process last fall.
As initially presented in May, Mapp's FY 2019 budget proposed total spending of $1.28 billion.
According to Government House, government operations will be getting $1.0725 billion in local funds, from the government's coffers, internally generated funds like fees and fines, and $238.66 million from federal sources. The FY2019 budget includes $150 million for debt service payments and $38 million for income tax refunds. As of Sept. 4, the V.I. government owed around $44 million for FY 2018 and prior year tax refunds. FY 2019 tax refunds are not due yet.
For comparison, from 2004 through this year, the lowest amount appropriated for tax refunds was in 2017 with $60 million and the next lowest was $68 million in 2004. Most years's refund budgets exceed $80 million and all exceeded $70 million except for the FY 2018 budget which was never enacted due to last year's storms.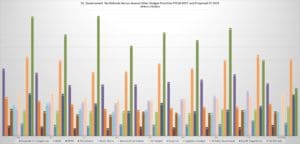 The storms have been a double-edged sword, massively harming the economy and closing businesses for months – but also bringing in many hundreds of millions of dollars in economic activity due to rebuilding and more than a billion dollars in eventual federal aid.
Government House projects $164.5 million in new revenue as the result of rebuilding activities, expanded refinery operations and other revenue sources. The budget includes millions of dollars for capital projects and lists numerous infrastructure initiatives planned for this fiscal year.
In a statement, Mapp said he intends to use growing revenues to improve government services and continue increases for employee salaries throughout the government to attract and retain capable staff in critical areas. He said these vacancies must be filled swiftly to implement the federally funded projects as part of the reconstruction of the territory. Revenue lost by the tourism industry through the temporary closure of the territory's major hotels will be partially offset by the revenues derived from the reconstruction boom, he said.
While Mapp has implemented permanent salary increases, his budget team has estimated the territory will see about three years of increased revenues due to reconstruction, before revenues drop to pre-storm levels. Mapp is also pinning hopes on potential revenues from a potential partial reopening of the former Hovensa refinery under the auspices of Limetree Bay and ArcLight. If all goes as hoped, the refinery restart is projected to potentially contribute about $22.5 million per year directly to the territory's budget going forward, and create a payroll of $100 million per year, which would also generate payroll taxes. The economic impact of that influx could also produce more tax revenue by fueling additional economic activity as workers rent home, buy groceries and so on. Revenues also could be lower, depending on market factors. V.I. government consultants told the Legislature in August that profits from the refinery are projected to be highest for the first three years of operation then decline.
Mapp's budget also proposes to merge operations of St. Thomas' Schneider Regional Medical Center and St. Croix's Gov. Juan F. Luis Hospital and Medical Center under one board. The budget calls for several initiatives addressing the needs of senior citizens, such as the renovation of the Herbert Grigg Home on St. Croix and the purchase of Seaview Nursing Home on St. Thomas. Governor Mapp announced this week that both Herbert Grigg and Seaview will be redesigned and hardened to serve as hurricane shelters for seniors.
While some areas see increased funding, support for the territory's two hospitals is being cut by almost 15 percent, $7 million, from FY 2017. They are budgeted at $41.7 million, with $19.9 million for Gov. Juan F. Luis Hospital and $21.8 million for Schneider Regional Medical Center. That is a $3.4 million cut for JFL and a $3.7 million cut to Schneider.
One bill covered General Fund appropriations for salaries and operating expenses for most central government agencies, from the Education to Police, Human Services and Corrections. [32-0267]
That one massive bill appropriates the majority of the entire budget. It anticipates spending $662.6 million from the government's General Fund, up by $50 million from $612.9 million for FY 2017.
That budget was repeated for FY 2018 due to last year's storms.
As usual, the Education Department is by far the largest single item, at $172.2 million, up $5 million from FY 2017 and $12 million from the year before.
The Human Services Department is the next largest item, at $65.6 million – a $3 million decline from $69 million for FY17 but up $6 million from FY16.
Next is the V.I. Police Department, budgeted at $60.8 million, down by $3 million from $63.1 million in FY 2017 and slightly more than the $59.9 million budgeted in FY 2016.
UVI is budgeted at $33.8 million, up $2 million from FY 2017. Separate legislation appropriates $3 million to pay for free tuition for up to 1,700 out of a student body of 2,500.
The judiciary as a whole, is budgeted at $33.3 million, down by $6.5 million from FY 2017.
The Waste Management Authority is seeing a slight increase at $25.4 million. That includes $4 million to pay some of the more than $16 million WMA owes to vendors and major contractors that haul trash, run the landfills and run the territory's sewage treatment plants. The government also owes the government-owned V.I. Water and Power Authority more than $40 million in past-due utility bills, let by the territory's two government-owned hospitals, who routinely forego paying utilities due to their own financial shortages.
The Legislature appropriated $23 million for its own budget – a $2 million increase from FY2017. As every year, there was no budget hearing for the Legislature's spending and no breakdown of the Legislature budget.
The main budget bill includes $41.4 million in miscellaneous spending. That is down from past years due to many of the expenses being folded into appropriations for Management and Budget and the Division of Personnel. One major new item is: $19 million for outstanding employer contributions to the Government Employee Retirement System. Senators said he governor had requested the money to fund a three percent increase in contributions, but felt it made more sense to pay past due contributions instead of paying new contributions and neglecting past-year's unpaid balance.
Over the past year the government has struggled to pay current employer contributions. It paid $38 million in May, June and July to catch up. It was falling behind again this month and just made a half-million dollar payment.
Here are the major budget expenditures for FY 2019:
– Education $172.2 million
– Human Services $65.6 million
– Police $60.8 million
– Division of Personnel: $43.1 million- of this $37.4 million is for health insurance for retirees. and $3.4 million for wages, taxes and benefits
– Hospitals $41.7 million; with $19.9 million for Gov. Juan F. Luis Hospital and $21.8 million for Schneider Regional Medical Center
– Management and Budget: $37.4 million: That sum includes $20.8 million in pay raises and funding for numerous community organizations from Sports and Recreation's Amateur Boxing Program to the Girl Scouts, that had previously been placed under "miscellaneous" appropriations.
– Corrections $35.3 million
– UVI $33.8 million
– Courts $33.3 million
– Health $32.7 million
– Waste Management Authority $25.4 million
– Legislature $23 million
– Fire Service $19.5 million
– Public Works $19.1 million
– Justice $16 million
– Finance $13.1 million
– Property and Procurement $11.5 million
– Labor Department $13.7 million
– Internal Revenue Bureau $12.6 million
– Office of the Lieutenant Governor $10.4 million
– Office of the Governor $10.2 million
– Bureau of Information Technology: $8.8 million
– Planning and Natural Resources $8.6 million
– Sports, Parks and Recreation $6.9 million
– VITEMA $5.8 million
– Agriculture $4.5 million
– Public Television $4 million
– Licensing and Consumer Affairs $3.9 million
– Tourism $2.4 million
– Bureau of Motor Vehicles $2.3 million
– Election System and Board of Election $1.8 million
– V.I. National Guard Adjutant General: $1.4 million
– V.I. Energy Office $1.3 million
– Veterans Affairs $816,625
– Law Enforcement Planning Commission $801,153
– Miscellaneous $41.4 million.