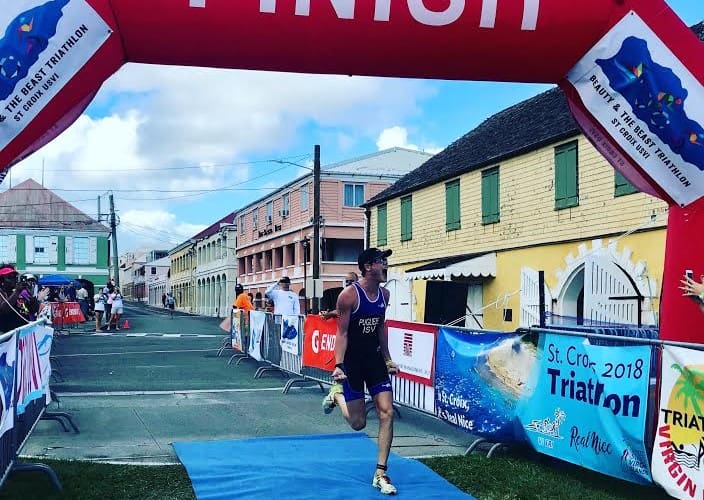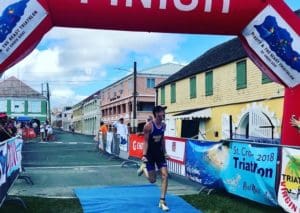 St. Croix drew athletes from across the globe to take part in the thirtieth anniversary of the island's triathlon Sunday.
The event began in 1988 as the America's Paradise Triathlon, the brainchild of Crucian promoter Renny Roker.  A few years later, the event continued as the St. Croix International Triathlon.
Through the efforts the non-profit organization VI Tri, the event returned on Dec. 2 as Beauty and The Beast Triathlon, a thirty-year comeback for the race.
Sunday morning's weather was well-suited for the race – clear skies and mild temperatures – accommodating athletes and volunteers alike.
Ironman legends from previous races came to join the event and share their experiences with other athletes. Wendy Ingraham, 8-time Ironman champion, two-time duathlon world champion Catriana Morrison and Karen Smyers, Ironman campion and hall of famer, returned to support the race as members of three relay teams.
St. Croix resident Stephen Swanton was this year's half-distance course winner, followed in second place by Travis Montgomery and Wayne Nichols in third place.
Julie Sommer was the first place winner in the woman's half-distance course, with Esther Ellis in second and Megan Lambert in third. Team Annaly Insurance took first in the half-distance relay. Dominic Pugliese, who recently represented the Virgin Islands in the 2018 Junior Olympic Games, won the sprint course. Dedrick Lukens came in second in the sprint course and Mason Lambert followed as the youngest competitor in the race. Team VING4, made up of Donna Prock, Garfield Ferdinand and Carl Christopher came in first in the sprint relay. The debut of the sprint aquathlon placed Savannah Logan first, Colleen Cooke second, and Kyle Suddarth third.
According to Race Director Theresa Harper the race raised $30,000. She announced at the awards banquet the monies would benefit the nonprofit organizations My Brother's Table, The Caribbean Center for Boys and Girls of the Virgin Islands and the St. Croix Animal Welfare Center. Crucian Gold and IB Designs were the donors of jewelry given to the winners at the banquet.
The V.I. Department of Tourism and many other supporters and sponsors made this year's race possible according to the race committee. Vi Tri looks forward to continuing St. Croix's triathlon legacy with the 2019 Beauty and The Beast race next year.
For more details on the race, visit www.virginislandstriathlon.com