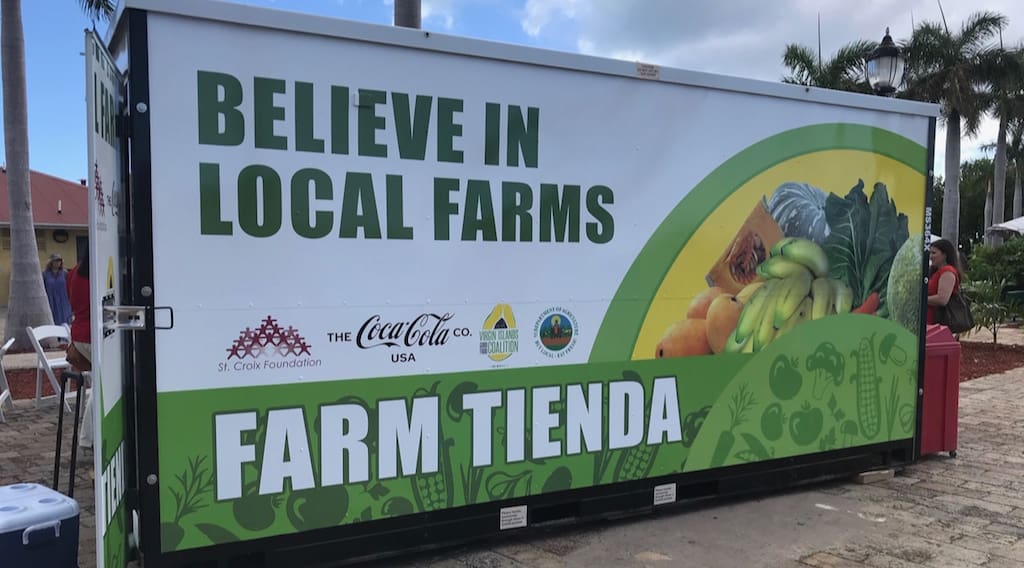 The St. Croix Foundation and the Coca Cola Company launched Farm-Tienda in partnership with local farmers on Friday at the Ann Abramson Pier in Frederiksted.
The project supports the agriculture sector on St. Croix by granting eligible farmers a durable and moveable "farm stand" for the expansion of their local business.
In December 2017, St. Croix Foundation was awarded a $100,000 grant from the Coca Cola Company to replicate a pilot initiative on Puerto Rico titled "Pop-Tienda" that is sponsored by the beverage company. Coca Cola is providing container 'stores' to Puerto Rican mom-and-pop small business owners who lost their businesses to hurricane Maria.
Through a partnership between St. Croix Foundation and the Coca Cola Company, the initiative has expanded to St. Croix to assist local farmers to rebuild from the 2017 storms.
St. Croix Foundation President Deanna James opened the event by assuring the crowd that the foundation works hard, really hard every day, to meet the high standard of civic leadership. Today is particularly special, she said.
"We are developing and refining a vision of 28 years of community development. Our work, our progress is rooted in community to provide background on how we got here today," James said.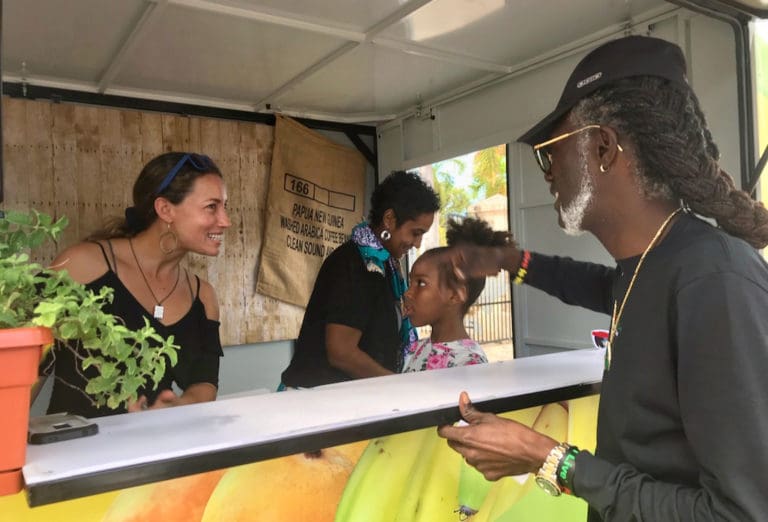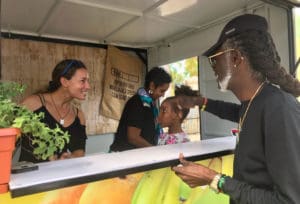 "It is important to note in December 2017 we were still in the dark – it was the early stages of our recovery, when I received an urgent call from the Coca Cola Company about the project in Puerto Rico," James said. "For us, having assessed the community's most pressing needs immediately following the storms, the foundation working in concert with its nonprofit consortium of local civic organizations and Coca Cola Company determined that one of the most vulnerable populations was and always remains our St. Croix farmers."
The organization decided the "mom-pop" eco-friendly farm stand will bring farm businesses back on line.
James thanked the Coca Cola Company and the Virgin Islands Good Food Coalition for financial support and partnership.
The "farm stands" are made from steel containers that will also be outfitted with solar panels, Wi-Fi and potable water, to allow farmers to stabilize and expand their businesses also providing community hubs in the aftermath of future storms, James said.
The farm stand presented at the launch event is a prototype of what will be offered to local farmers. The foundation has worked closely with Coca Cola and the Virgin Islands Good Food Coalition to develop sound criteria for awarding the farm-tiendas.
The project will officially roll out in May. Over the course of the year, the St. Croix Foundation will collect data in order to evaluate the community and economic impact of each farm stand on the farmer's business.
Sommer Sibilly-Brown of the V.I. Good Food coalition asked all the farmers in the audience to "stand up and scream and let people know you are a farmer."
"This event is your event," Sibiley-Brown said. "We are proud and honored that you took the time to come out of your farms to be here with us because we know a lot of times you guys are working on your own. The fact that you came out of your farms to be here to meet the people who have come to help and serve you is important and makes all the difference in the world," she said.
Commissioner of Agriculture designee Positive Nelson told the audience he was pleased that this is happening.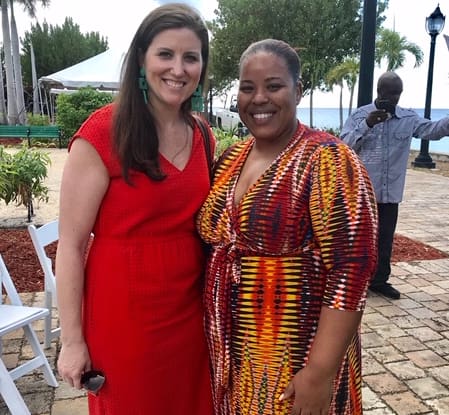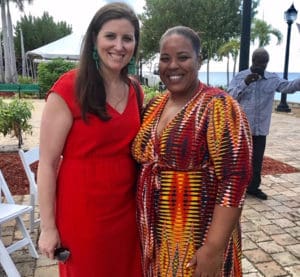 "We categorize the cultivation of food as agriculture. I want to bring the term down to its very basic – it's food supply. It becomes more relevant when you put it in that term," he said.
He added that "without food supply, none of us would be here.
"It's of most importance when there's a disaster, when the stores are closed, when we're surrounded by water, it is important that we're able to put food into the ground, especially after a disaster," he said.
"Waiting on food should not be waiting on food from ships. Waiting on food should be waiting for food to get ripe to pick. We have to change our thinking. When it comes to food supply, it should not be just for economics or good health, but for survival," he said.
Sibilly-Brown asked the audience to notice the logos on the Farm Tienda.
"It will take all of us – a non-profit agency, a global beverage corporation, a small grass roots non-profit and a government agency – to maintain a partnership that will create Farm Tienda," she said. "If we could do this with this, we could do anything. If St. Croix is going to take agriculture to the next level, we need to do lots more of this.
Dale and Yvette Brown of Sejah Farms were ecstatic at the prospects of seeing a Farm Tienda on Centerline Road.
"Imagine the value of this on St. Croix and giving more value to what the farmers are doing. Once again agriculture can make it happen," Brown said.
April 30 is the deadline to apply for a Farm Tienda by calling the St. Croix Foundation at 340-773-9898.