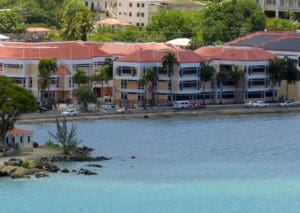 The future of the St. Thomas jail is the subject of legal arguments being waged in the District Court. After being the subject of a federal consent decree for the past 25 years, proponents of constitutional rights for jail inmates say little has improved and the prospects for improvement are discouraging.
A federal judge overseeing compliance recently asked legal parties to submit briefs on whether to place the jail under federal receivership. An attorney for the American Civil Liberties Union National Prison Project says the Criminal Justice Complex on St. Thomas is a dangerous place for inmates and staffers alike.
Prisoners have died by suicide there. Others have been brutalized by Bureau of Corrections personnel who were not disciplined for misconduct. A defendant accused of murder evaded jail security during an attempt to assault a rival housed in a separate unit while armed with a handcrafted shank.
In the days after the passage of Hurricane Irma, prisoners repeatedly set fire to their bedding with contraband lighters. Jail guards summoned the V.I. National Guard in an effort to regain control.
Those now calling for a receiver to step in also say that while reform minded Corrections Bureau directors have come in, they've been stymied by an indifferent central government that has failed to support them.
Justice officials say they have done their best to comply with the court's dictates. They also say there are less extreme sanctions available to the court short of imposing receivership.
Up until recently the federal court has supervised local compliance over more than half a dozen consent decrees. Most involve environmental matters; one deals with the tenuous state of the government retirement system. Three others apply to law enforcement.
Two involve the territory's prison system; one at CJC, the other at the Golden Grove Adult Correctional Facility on St. Croix. Most recently the Virgin Islands Police Department achieved compliance by establishing formal use of force policies.
In early March, the court signaled the CJC had not done enough to keep up with compliance steps set for completion every three months. District Court Judge Curtis Gomez wrote a March 5 order directing V.I. Justice and the NPP to "address whether the court should consider appointing a receiver."
By April 15, both sides submitted their arguments in writing. Both spoke to a multi-pronged test used to decide whether receivership is justified. Factors to be considered include:
– Whether the subjects of the system in question will be harmed if no remedy can be found;
– If other measures to force compliance have proved futile;
– Whether the court's continued insistence that compliance measures be met lead to further delay or confrontation; and
– If the agency lacks effective leadership.
The test also considers whether there is evidence of bad faith and whether appointing a receiver will lead to a quick remedy of long standing problems.
Responses submitted by V.I. Justice and by the National Prison Project differed widely.
Where local officials said CJC inmates are not subject to grave harm, NPP called the St. Thomas jail "a violent facility beset by security lapses."
Locally, Justice officials conceded the court has held those responsible for CJC in contempt of court four times over the course of 25 years. But, they said, the last citation took place in 2007.
They also credited the court's insistence on setting quarterly goals a big help, while NPP lawyers said the local government has used the compliance system to further non-compliance.
"The court has exhausted virtually all methods of prodding defendants into compliance short of appointing a receiver," NPP attorney Eric Baliban said in his brief.
In its most optimistic stance, V.I. Justice said the new administration of Gov. Albert Bryan had appointed a new director for the Bureau of Corrections. Winnie Testamark received the governor's nomination to head the bureau Feb. 9.
Representatives for the plaintiffs said other BOC directors have come and gone.
Some, they said, were dedicated professionals intent on making changes. But those intentions fell short when supporting agencies of the central government did not play their part. That is why the governor of the Virgin Islands is named as plaintiff in the case once known as Carty, Lawrence, et. al. vs. Alexander Farrelly. Farrelly was the territory's fifth elected governor.
While local Justice officials say the court has never accused them of wasting resources in their attempt to improve jail conditions, NPP said conditions at the St. Thomas jail were so substandard that the U.S. Marshal Service avoids housing federal prisoners there.
"As a result the territory has lost millions of dollars in potential revenue from boarding fees it is due under an agreement with the federal government," Baliban said.
In its final stance on the merits, V.I. Justice said it's unlikely a federal receiver would have more success in making the St. Thomas jail better.
Now, with both sets of arguments in hand, it will be up to the court to weigh the options. It could appoint a receiver. It could hold a show cause hearing, allowing legal teams to add oral arguments to the evidence to be weighed.
Or the court could sanction the BOC by issuing its fifth contempt citation in the ongoing struggle to improve conditions at the St. Thomas jail.
Late last year, Gomez also raised the possibility of placing the subject of another consent decree under receivership. But in that case – involving the Waste Management Authority — the call for submission of legal briefs has not taken place yet.
There was one instance in which a Virgin Islands agency was placed under federal oversight. It took the Virgin Islands Housing Authority more than seven years to free itself from receivership under the U.S. Department of Housing and Urban Development.