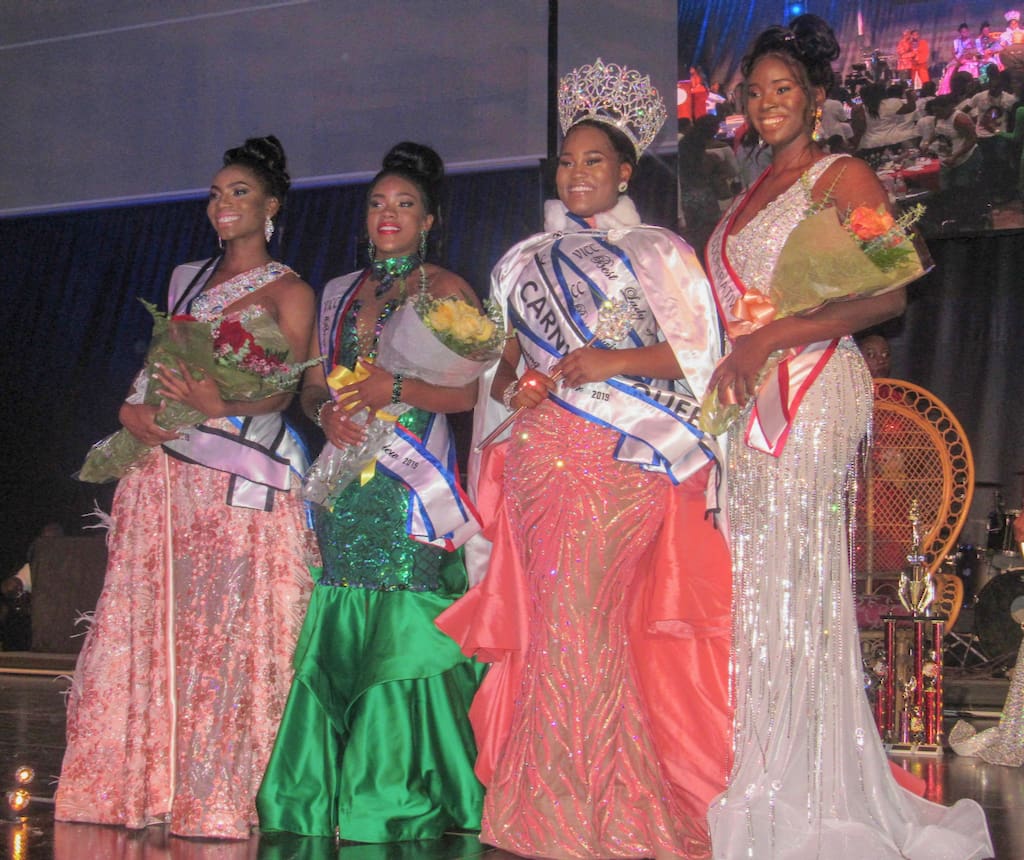 In the early hours of Easter, Ivanna Eudora Kean student S'Ence Watley was crowned the 2019 VI Carnival Queen.
Watley competed alongside three other young women, winning the titles Miss Photogenic, People's Choice, Best Evening-Wear, Best Talent, Best Lady of Yesteryear Costume, and Best Swimwear en route to capturing the crown.
Kimorah-Lin Blackett won the title of first runner-up. Cha-Niesha Rhymer, won Best Intellect, Miss Congeniality, and Best Personal Interview, and Shelaya Mathurin was named Miss Cooperative.
Mistress of ceremonies Shayla Solomon kept the energy of the audience up throughout the pageant, and Cool Session Brass provided music entertainment between segments.
The audience was also regaled with a selection from reigning Miss Black USA Talented Teen, Akira Pickering, and musician Jahquan Richards.
This year the event was held in the University of the Virgin Islands Sports and Fitness Center instead of the traditional Lionel Roberts Stadium. The new venue allowed for new seating options for attendees. Those in the VIP section sat at round tables instead of the bleachers and had servers to cater to them.
The Lady of Yesteryear segment has been a mainstay in the pageant since 2017. It gives contestants the opportunity to honor a prominent woman in V.I. culture and history with an elaborate costume.
Blackett honored the acclaimed Karen Samuel of St. John. Samuel owns and operates Kareso Studio in Coral Bay, where she displays and sells her art. Blackett's costume celebrated Samuel's skills with watercolor and quilting, as well as her love for baked goods.
Rhymer represented the late Mary Ann Golden-Christopher, a culture bearer responsible for cementing the cultural importance of Bamboula in St. Thomas through the Macislyn Bamboula Dance Company. Rhymer's costume consisted of the layered skirts worn by Bamboula dancers, with an intricate depiction of the Fireburn and drummers across the front.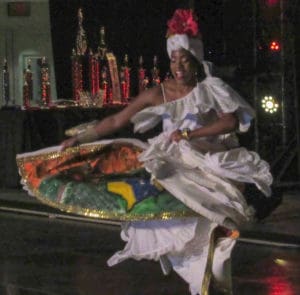 Mathurin honored Lucia L. Henley for her dedication to preparing and selling cakes, cookies, tarts, candies, preserves and other goods. Mathurin's costume was adorned with all sorts of sweets and drinks such as Henley would typically sell. During her presentation she also tossed tarts into the audience.
Watley honored the work of Gwendolyn Harley of Gwen's Historical U.S. Virgin Islands Dolls and Animals, her business enterprise centered around crafting and selling homemade dolls that depict aspects of V.I. culture. Watley modeled a massive regal gown that opened to reveal a display of dolls just beneath the skirt.
Each contestant incorporated both music and culture in the talent segment. Blackett's presentation depicted three pillars that directed her in finding herself. She played the flute and performed a short dance routine. In Rhymer's presentation, titled, "The Five-Star Search," she played a range of songs on the steel pan representing different regions of the world while on stilts. Mathurin played a makeup artist visiting home for the Carnival season, and played the saxophone, the clarinet, and performed a drum major routine. Watley performed multiple songs on the saxophone in tribute to Irvin "Brownie" Brown.
The question and answer segment had contestants explain their opinions on the legalization of recreational marijuana.
Sponsors for this year's pageant include Color Max, Cardow Jewelers, MASA Assist, and Lamarcca Prosecco.
Next on the Carnival schedule: The Mini-Carnival takes place beginning at 10 a.m. Monday at Schneider Regional Medical Center.