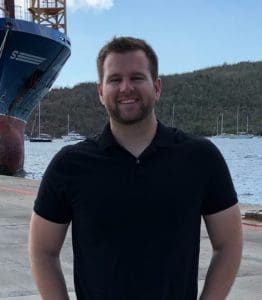 Captain Matthew J. Berry has joined the Virgin Islands Port Authority (VIPA) management team this week as the new St. Thomas-St. John District marine manager. Berry will manage all operations of the harbors, marine terminals, piers, docks, channels, bulkheads and other facilities directly related to maritime activities and services in St. Thomas and St. John. He will supervise a staff of 55 marine division employees.
Capt. Berry replaces former marine manager Capt. Angelo Raimondi, who has transferred to the VIPA harbor pilot's unit as a harbor pilot trainee.
Born on St. Thomas, Berry is a graduate of Antilles School and obtained a Bachelor of Science in Marine Transportation Operations at the Maine Maritime Academy. Prior to being hired as the new VIPA marine manager, he was employed at Crowley Maritime Corp. as a second mate navigation officer. Berry sailed supertankers for Exxon Mobil for six years between Alaska and California. He also worked as a second mate navigation officer on the Eagle Bay tanker for SeaRiver Maritime Inc. and onboard the MV Charleston for the U.S. Shipping Corporation in New Jersey.
VIPA Acting Executive Director Damian Cartwright said that VIPA's management and staff are excited to welcome Capt. Berry to the Port Authority. "He has a wealth of local and national marine experience, and he is acquainted with the V.I. and federal government agencies that regulate maritime activities. We are confident that he will be an asset to the agency, and we are delighted to have him onboard as we steer the V.I. Port Authority into the future."